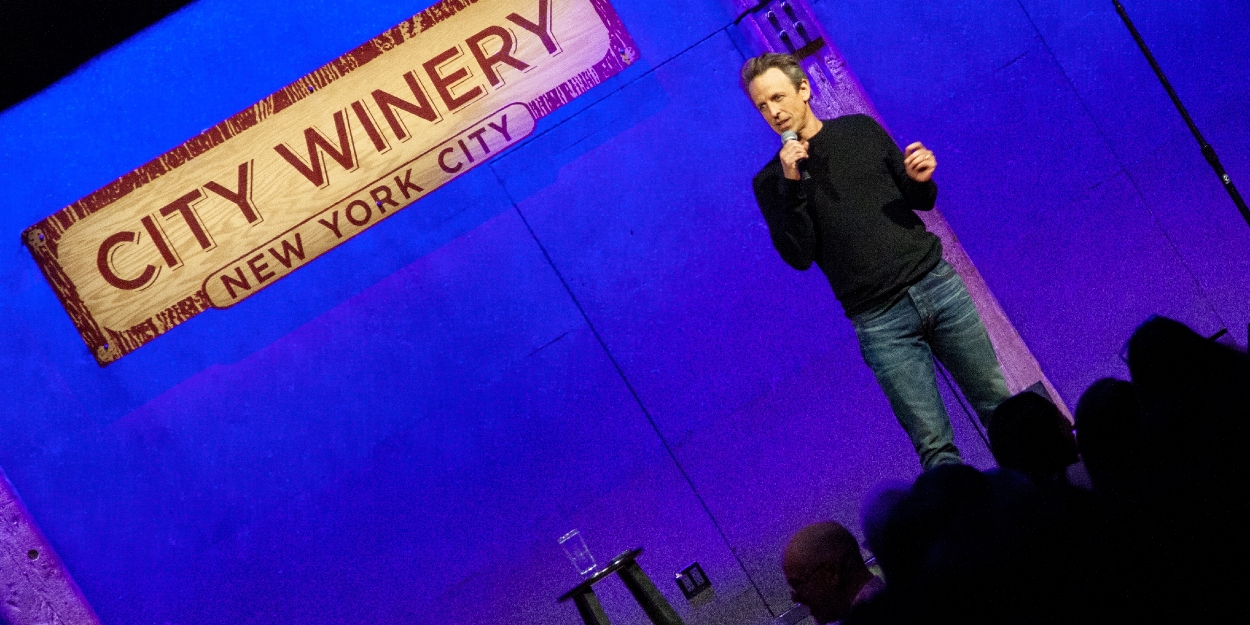 Review: Seth Meyers Is Comedy In A Bag Doing Comedy In A Winery In SETH MEYERS AT CITY WINERY
He Kills, & Then He Slays, & He Will Kill Again…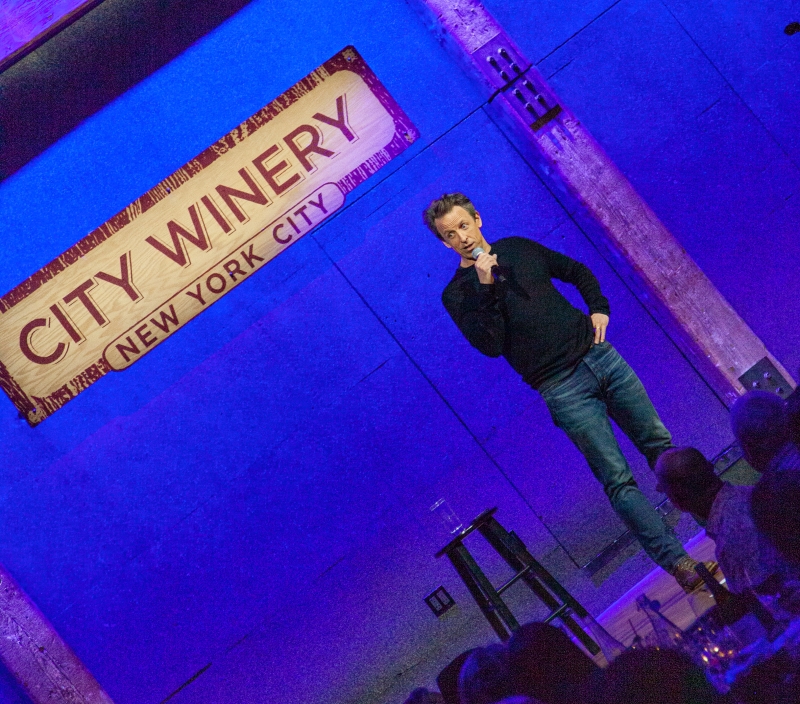 Heigh-Ho, My Merry Rainbow readers! Bobby Patrick, your RAINBOW Reviewer here. Putting the silent T in cabareT to bring you ALL the Tea!
So, my lamblings, you all know that Seth Meyers is, currently, one of the most popular funny men in show business. His positions at the desks for SNL News Update for ... a bunch of years and Late Night With Seth Meyers have brought him legions of fans/followers. His political tongue lashings and impressions of our old, fat, white leaders skewer the news, making it an almost palatable bitter pill to go with his comedy glass of water. With all this celebrity just dripping off him, as well as what must be hefty TV paychecks for his live audience show work, taking out time to practice the craft of standup comedy in a nightclub might seem an unnecessary field for him to plow any longer. Stand-up is hard work, my angels, and its infinitesimal (compared to TV) audience reach, and much lower paychecks (again compared to TV), might not seem worth the trouble unless you have the disease... The disease of performing... The need for that crowded room affirmation that says we love you because you make us laugh... OR he could have the need to work out material for his next NetFlix comedy special - who knows? Whatever the case may be, Seth played to an at-capacity house in the big room at City Winery Wednesday night, and, in the vernacular of the profession, he killed.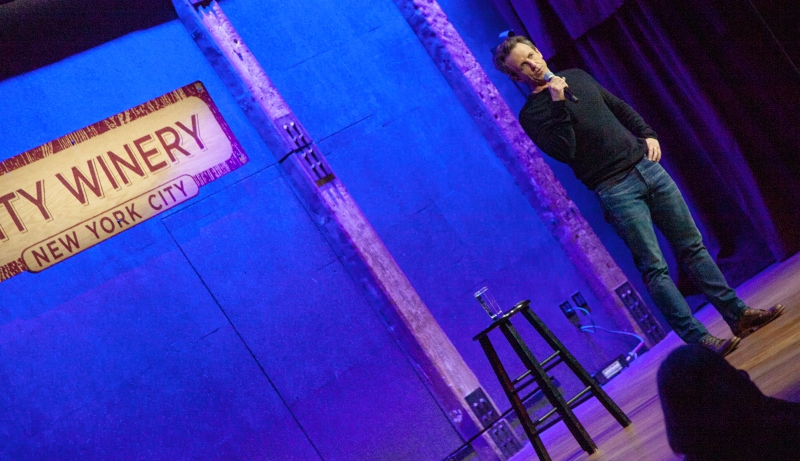 Now, you've already caught the scent in the wind that this review will wind up a rave and your sniffer would be correct. We had a wonderful, laugh-filled time at Seth Meyers AT CITY WINERY. Here is some of the WHY we had that wonderful, laugh-filled festivale...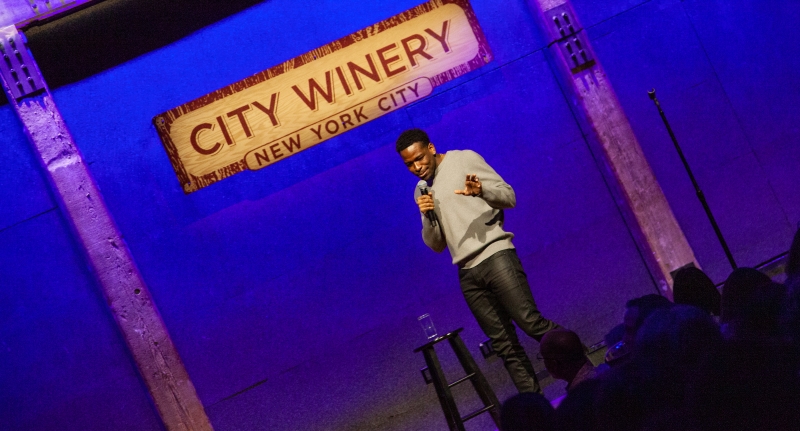 Opening the show with a warm-up act, Jeff Wright, a young up-and-comer comedian with a handsome face, big smile, 2.4M Followers on TikTok, and just 4-5 credits on his IMDB page (including writing for Seth), accomplished a couple of things. First, he clearly warmed up the crowd, giving them permission to find the evening funny, and, second, Seth gave a promising comedian some live performance face time during his show, and that is a really nice thing to do. Anyone can have a public face that's all warm and rosy, and a private face that is all demonic and ... rosy, but Seth gives off a genuine vibe, and handing a pal a nice bonbon like 13 minutes with his audience is the act of a star who does not mind giving someone a spotlight away from the TikyTocks. Wright brought some really funny material, including jokes about his "goofy" smile, and gave the crowd some solid prelim laughs. If there were one raindrop Bobby would let fall with this rainbow, it would be to ding Jeff for playing most of his act to the small portion of the crowd he could see, closest to the stage. Crowd work is an essential part of standup comedy and you have to be able to see the people you play with, and, so, that's a pass, but Wright seemed to be locked into those first few rows, even when he wasn't singling anyone out to jibe and joke with. This might seem a small and picayune (what? Bobby knows words?!) thread to pull, and it might have gone unnoticed ... until the arrival of his boss.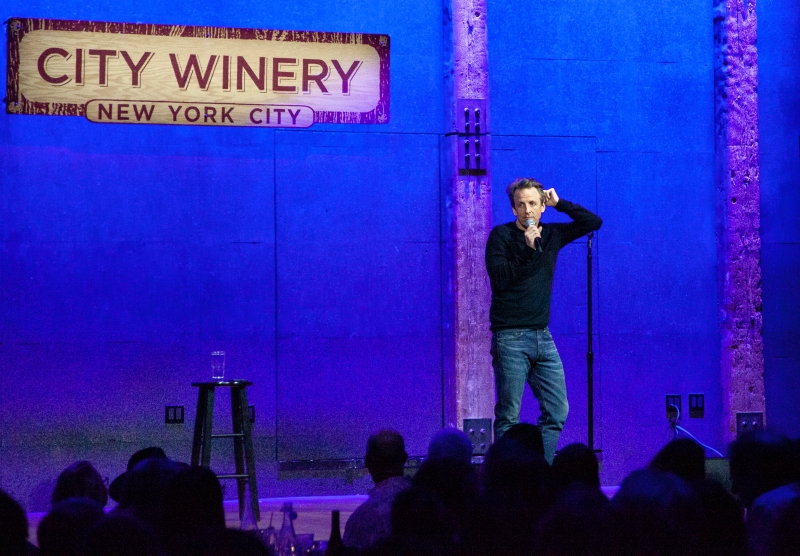 The big room at City Winery is VERY big. So big, in fact, that it really must be called an auditorium - a flat audience floor covered with tables and chairs that look up at a raised stage. The audience seating could easily be taken up to make a huge dance floor ... or a large high school cafeteria hosting prom night because the cheer squad thinks the gym smells. From our press seats at the back, Seth walked on stage looking like a tiny, casually dressed elf in his henley and jeans - pretty much what fans saw him wear in his first NetFlix special, Lobby Baby. As he took the mic in hand, he took the entire crowd into his world with him in that way that only a star can - without effort and without ever letting on that's what he was doing... and it was all uphill from there. Seth built his act brick by brick with topics that covered New York and living here with rats and steam heat, covid plus weddings and funerals in times of pandemic, as well as hawks that could swoop down and take his little dog, Snow White and men who don't acquire consent, Trans issues, Parenting sugar demons, bread, Jews, and Muppets, all mixed together with his slightly uptight anxiety at being a cis, white, hetero male (who is NOT actually Jewish, but crisis ready) who sees the problems in the world and knows that they are him. His perspective is that of the court jester who can look at the king and tell him he's a fool without getting his head chopped off. There are very few of those court jesters in the land, but Seth Meyers is definitely one of them.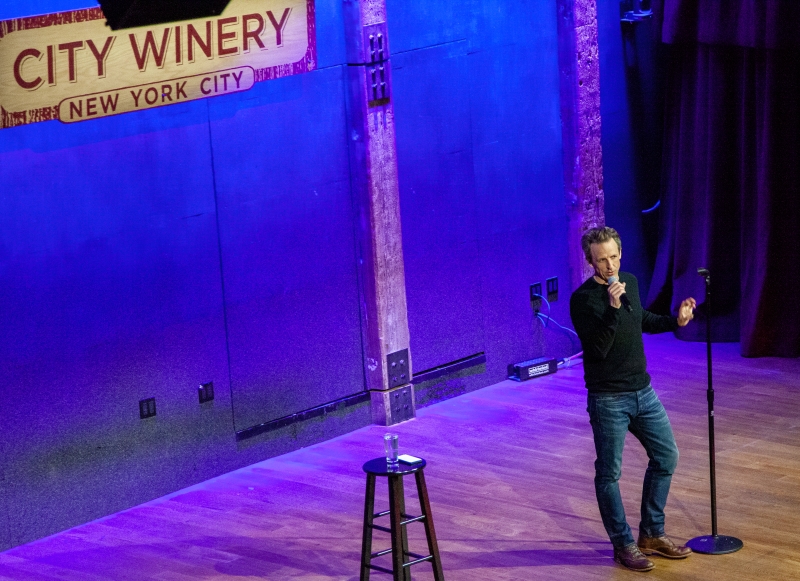 One surprising thing about the show was a total lack of Seth's favorite monarch to call an idiot, Donald Trump. For years, he has made meals out of The Donald's antics, but in a surprisingly refreshing turn (In Bobby's humble O) there was no mention of his favorite reality star cum politician and, finally, we are not mad at him for that. The act was terrific standup comedy constructed along classic lines and delivered with perfect pace, timing, and energy, with only a bulleted set list taped to the stage floor to keep things on track - not that we caught him looking at it even once, but it was there. (See Stephen Mosher's pic below). In all, what can one say about a comedy pro delivering a hilarious show in a well-conceived, professional way? We can say try and get tickets to his next sets at City Winery on February 6 & 9th because the adorable Seth Meyers gets our full...
5 Out Of 5 Rainbows
Get Your Tickets To Seth At City Winery on Feb 6: HERE
OR
On Feb 9: HERE
Become One Of Jeff Wright's 2 GAZILLION Followers on The TickyTocks: HERE
All Photos By My Boss, Stephen Mosher