Lane Bradbury will Present WE MUST REMEMBER THESE MOMENTS at Pangea March 18 & 25
Broadway's original Dainty June prepares to take the Pangea stage.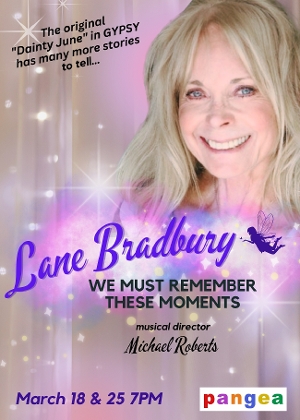 Lane Bradbury has announced her return to the stages of New York City with her new musical cabaret show WE MUST REMEMBER THESE MOMENTS. The actress of stage and screen has a special notoriety because she was the original Dainty June when the legendary musical GYPSY opened on Broadway, with Ethel Merman playing her mother, known the world over as Mama Rose. Since her experience in the Jule Styne/Stephen Sondheim musical penned by Arthur Laurents, Lane Bradbury went on to many acting experiences, creating an impressive CV for herself, but in recent years Ms. Bradbury has been enjoying the intimacy of the nightclub stage.
For her performances of WE MUST REMEMBER THESE MOMENTS, Lane Bradbury will tap into her memories from show business but also the reminiscences of her life as a Georgian Southern Belle, an avid horsewoman, a family woman, an author, a ballerina and so much more. Lane is joined in her efforts by Musical Director Michael Roberts and award-winner cabaret artist James Beaman, who has worked the nightclub stages on both sides of the footlights. Among the composers whose work will be featured in Lane Bradbury's new show are Stephen Schwartz, Rodgers and Hammerstein, Marvin Hamlisch, and Michael Roberts himself.
WE MUST REMEMBER THIS will play the cozy cabaret room of the downtown eatery Pangea on March 18th and 25th at 7 pm. Reservations can be made by visiting the Pangea website HERE.