Interview: Andrew Barth Feldman & Marc Tumminelli of BARTH MITZVAH BOY at Midnight Theatre
"I have a very niche set of interests, and I think it's a writer's job to draw inspiration from those, probably." -- Andrew Barth Feldman
Singing actor Andrew Barth Feldman is becoming widely acknowledged as an artist who uses his own life experiences to inform his storytelling but with his latest show BARTH MITZVAH BOY, Andrew is taking that propensity to a new level. Andrew and some of his best pals will present an adult version of his Bar Mitzvah in a concert of songs all of which have been written by Andrew himself. The piece, created in collaboration with Andrew's preferred director and personal friend, Marc Tumminelli, will play the Midnight Theatre on January 28th and 30th at 7:15 (ticket link HERE) in what will be the production's world premiere.
As the two cohorts and colleagues enter their last week of rehearsals, both gentlemen participated in a q&a with Broadway World Cabaret to share their thoughts and experiences re-making ABF's big day, on what it is that makes their partnership special, and
This interview was conducted digitally and is reproduced without edits.
Andrew Barth Feldman and Marc Tumminelli, welcome to Broadway World!
Andrew: Well hey, thanks for having us!
Marc: We love BroadwayWorld and we're so happy to be here!
Gentlemen, you are preparing to premiere a new show BARTH MITZVAH BOY at the Midnight Theater. May I congratulate you on one of the best show titles of all time.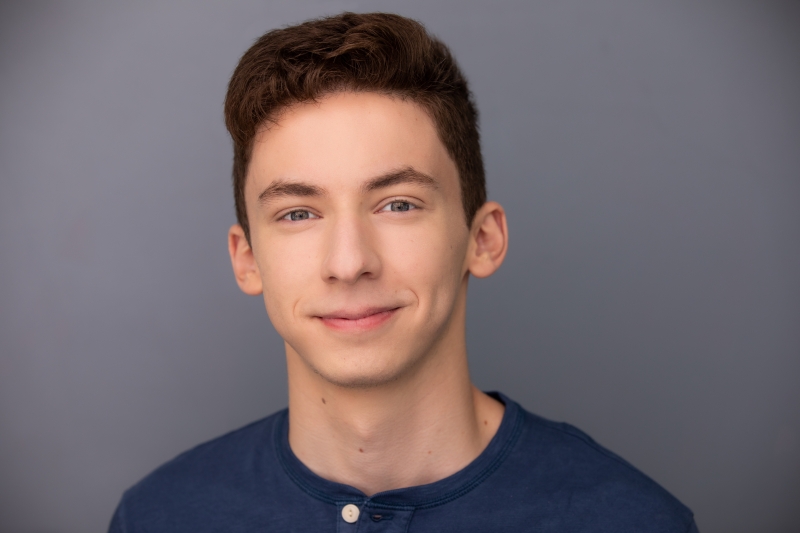 Andrew: I can't take any credit for the name; Marc was first to call it Bar Mitzvah Boy, and then my partner, Helen J Shen, pitched the "Barth." Two strokes of genius.
Andrew, the press materials for Barth Mitzvah Boy declare this to be an evening of your original music and a recreation of your bar mitzvah. Would you classify this as a cabaret, a concert, or a play?
Andrew: It's definitely closest to a concert, but more than anything else, it's an Adult Bar Mitzvah.
Was there a defining moment when you decided you wanted to musicalize this important event in your life?
Andrew: It was the folks at Midnight, specifically Molly Heller, who had the idea to do a Bar Mitzvah show, and I was totally taken by the idea. I mean, being offered the chance to relive your Bar Mitzvah, and do it as you would now, is not something you pass up.
Are there other themes or properties that have inspired you to translate them into a musical format?
Andrew: Barth Mitzvah Boy has some of my songs inspired by a bunch of different properties: Star Wars, Disney, Pixar, and a ton of other really weird ones that I don't want to spoil. I have a very niche set of interests, and I think it's a writer's job to draw inspiration from those, probably.
Marc, at what point in the artistic process of Barth Mitzvah Boy did you join Andrew in his brainstorming, and did he have you onboard immediately?
Marc: Andrew called me at the end of July and said he had just seen an amazing new venue called the Midnight Theater in Manhattan West, and I had to see it. That evening we went to a show at the Midnight and started brainstorming ideas that he had that would work in that space. After a lot of back and forth, we had the idea to do a showcase of his writing and we thought framing it as his Bar Mitzvah would elevate using his original songs in an evening of music at this really exciting new theatrical venue in Hudson Yards.
You have worked with Andrew before, do you think you would say yes to him, anyway, out of loyalty, or was there something about this project that sparked your creativity?
Marc: I would say yes to anything Andrew can dream up. He is the most amazing collaborator and working with him makes me better at everything I do. He is so committed to excellence as a writer, actor, and human, and whenever we have the opportunity to work together I feel fully creative. So between creating this show with him and thinking of ways we could make this feel like an event over another composer showcase has been such a fun creative ride and I can't wait to see it all come together.
Andrew, your show Park Map was very personally informed, and, obviously, so is this show. Put me in the picture of your creative objectives as a writer and performer that leads you to places personal and intimate.
Andrew: For me, being vulnerable with an audience is really fun, and I think that comes from a place of sending love to my younger self. It's hugely liberating. In Park Map, I was vulnerable in a very bittersweet way in talking about my family and the losses I've suffered. Barth Mitzvah Boy is vulnerable in that I am showing you the most cringe-worthy parts of my twelve-year-old self while trying not to judge him; I want to give him all the love in the world, and he'd lose his mind if he knew I was doing this.
Marc, you work with a lot of young people. There are those who experience a reverse ageism in the industry and in the world toward the young. What can we all do or say to those who deride the young, to make them see the value of their contributions?
Marc: The Cabaret world I grew up in has always felt a little bit geared towards people who have spent a lifetime in this business retelling stories and songs from their long careers. I love that type of show so much. But there are so many young artists selling out venues and creating cabaret performance events. These are the artists that will create the next generation of audiences for not only cabaret but for theater. I think as a community we need to support EVERY artist that is in the world making magic happen. Doing this kind of work is hard and when you are good at it and work hard to create events, performances, productions, etc. you should be celebrated.
Andrew, you will be joined by some friends for your show - what is the instinct inside of you that leans into this collaborative nature, and what would you like our readers to know about your guests for this show?
Andrew: Creating in a void has never been fun or productive for me. Having other people around gives me the chance to externalize the stuff floating around in my brain, cement it, and hear it through their ears. That's already been so informative with this project in particular, as I'm sharing this music for the first time with the people singing it, let alone with an audience. Park Map very much needed to be a solo show because of how personal it was and the journey that the character I was playing went on, but Bar Mitzvahs are about the people most important to you, and I've collected them all and made them dress in funny outfits to sing my songs.
Also, the chance to introduce people to their new favorite artists is so joyful for me. Some of these performers are names you know and love, and just as many are ones that you're about to know and love. That's the best.
Marc, your work with your directing clients tends toward the detailed and personal - when working with a full cast like the one Andrew has here, do you delve into the details with each actor?
Marc: My job on this will be so different than when it's a one-person solo show. The performers Andrew has lined up are incredible and I trust them fully to put their own spin on Andrew's songs. I will just help shape some of the performances and see what comedy moments we can create and make sure that the entire evening flows beautifully from one section to the next and help Andrew with anything he feels is not fully working. But this show is going to work extremely well and be such an event for the audience, I am actually just really excited to watch it all come together!
Andrew, get me excited about The Midnight Theater and seeing the show in this particular venue.
Andrew: 270-DEGREE PROJECTION SCREENS. ALL AROUND THE THEATER. It's the Mickey and Minnie's Runaway Railway of New York venues. It's the Star Tours of cabaret. And we are using it for everything it's worth.
Marc, tell me something joyful about working with Andrew Barth Feldman.
Marc: No one on earth is more joyful and creative as Andrew. Every rehearsal, production meeting, text message about this show fills me with so much joy. Hearing Andrew's ideas that come to him in a flash and then figuring out how they can work is such a creative gift to me. Also knowing Andrew for most of his life, I feel so protective of him and so proud to be working in his universe, it's been such a gift for me.
Andrew, Marc is a director that is in demand. Tell me what it is about collaborating with Marc Tumminelli that makes him so popular a director.
Andrew: Marc has this entirely unique sensibility that straddles the line beautifully between reverence and irreverence, and I think that comes from a place of honesty. Nobody in my life is more honest with me than Marc. To have someone around who doesn't pull punches, especially since I'm someone who really does tend to, is so much more creatively useful than somebody who wants to dance around the ego of an artist. He's one of a kind, and he was one of the first people to really believe in me as a performer and creator.
Marc, do you have any other clients' shows coming up that we can help you promote?
Marc: I am on a small cabaret break after Andrew's show, I am heading out of town to direct a production of School of Rock in Virginia and then my company Broadway Workshop will be producing our first Main Stage Season in 3 years and I will be directing Urinetown with our Broadway Workshop students and overseeing our production of Matilda. And of course, Farah Alvin will be releasing her new solo album ON VINYL that I am executive producing and we will be creating some kind of live event to celebrate the release of this unbelievable studio album. So stay tuned for info on that concert coming in the spring!
Andrew, if you were given an actual bar mitzvah do-over, what would you change, this time around?
Andrew: I'd do Barth Mitzvah Boy at the Midnight Theater.
Men, I am most grateful to you for sharing your BARTH MITZVAH BOY experience with us today. I look forward to seeing the show.
Andrew: L'chaim!
Marc: We can't wait for you all to see what we are cooking up! Thank you!