'In The Works' Comes to The Duplex Cabaret Theatre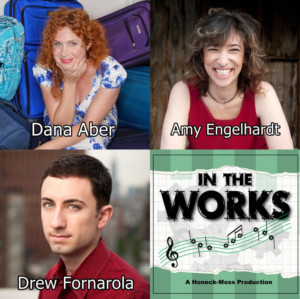 Honeck-Moss Productions presents "In The Works." This exciting series is in it's second season was conceived as an opportunity for composers to try out new work in front of an audience and see how it plays in a supportive environment. It is also an opportunity to create community among the composers and their performers.
In The Works is presented monthly and feature three composers or composer teams, each presenting about 20 minutes of new material. This month, Sunday August 19th at 9:30pm features the works of composers: Dana Aber, Amy Engelhardt, and Drew Fornarola. Hosted by: Thomas Honeck.
The Duplex Cabaret Theatre is located at 61 Christopher Street (on 7th Avenue, just off the 1 train). Tickets are $10 in advance and $15 at the door, and there is a two beverage minimum. $5 Ticket for Broadwayworld readers, use the Coupon Code: BWW at check out. Tickets are available at: www.purplepass.com/works0819
Dana Aber is a NYC-based professional performer and collaborator, particularly focused on new musicals and their development. Through her Big Thunder Productions company, Dana has created and helmed 8 concert-cabarets with upwards of 50 contributing musical collaborators and showcasing over 85 performing artists. Her first solo creation, utilizing personal essays & poems collaborated into song by individual composers, this piece marks the end (?) of a 7-year PTSD cycle of destruction and reconstruction. She is a survivor and advocate, and is honored to be able to use her voice to share for those who cannot.
Amy Engelhardt made her Off-Broadway debut last summer as composer/lyricist of BASTARD JONES, a rock adaptation of Henry Fielding's Tom Jones and a Richard Rodgers Award and O'Neill Finalist. Other credits: lyrics for commissioned adaptations of Carl Sagan's CONTACT (Puget Sound Theatre Award), NICHOLAS NICKLEBY, TESLA and music/lyrics for A COMEDY OF ERAS (with the Flying Karamazov Brothers). Amy was Creator/Artistic Producer of TUNE IN TIME, New York's Musical Theater Game Show at the York Theatre, a recipient of MAC's Dottie Burman Award for Songwriting and from 1998-2011, the sole female vocalist/writer/arranger for Grammy-nominated, genre-busting vocal band The Bobs.
Drew Fornarola is a songwriter and playwright from New York. He has written for DreamWorks' SHREK and VeggieTales franchises, and headlined concerts around the world. His play STRAIGHT was a 2016 New York Times Critics' Pick, and has been translated into several languages. Other shows include Claudio Quest (six NYMF Awards for Excellence, LA Ovation Award Nomination); Molly Shannon's Tilly The Trickster (Atlantic Theater Company); and Thucydides (pub Samuel French); among others. He is a seven-time MAC Award nominee as a cabaret artist, and hosts Madame's Soiree, an avant-garde variety show in the West Village. BA Princeton, JD Fordham, BMI Workshop. www.drewfornarola.com
Thomas Honeck and Lisa Moss of Honeck-Moss Productions were awarded The 2015 MAC Award for Special Production for the show "Dancing with Death" and were given a Bistro Award in 2014 for being an Innovative and Nurturing Creative Team.
$10 Ticket in Advance & a 2 Drink Minimum in the Cabaret Theatre*$15 Ticket at the Door (plus service fee) & a 2 Drink Minimum in the Cabaret Theatre*