IT'S GETTING WEIRD Brings the Music of THE REAL HOUSEWIVES to Arlene's Grocery
The performance is on Tuesday, February 7th at 7pm.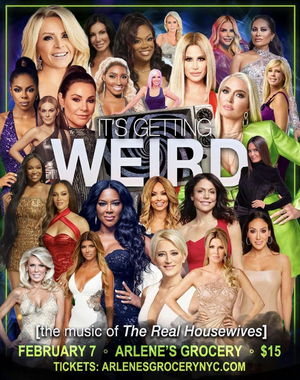 Don't be tardy for the party, baby! The Real Housewives are coming to Arlene's Grocery... at least all of their hit singles are! So lace up your Herman Munster shoes, take out a life insurance policy from Vicki Gunvalson, and snag your tix to this one-night-only gay fever dream featuring the music of Countess Luann, Erika Jayne, CANDIACE, and more! They say money can't buy you class, but it sure can buy you a front row seat to the most Shah-mazing night of your life.
Following the success of last year's sold-out gigs at legendary punk venue Arlene's Grocery (kurt + courtney, stevie + lindsey), performer Mark Mauriello (OSCAR at The Crown, The Neon Coven) is returning to the famed Lower East Side punk venue to tribute another band of "rock stars." IT'S GETTING WEIRD: The Music of The Real Housewives is on Tuesday, February 7th at 7pm. Proceeds from the night's ticket sales and donations accepted at the show will go to the Black Trans Liberation Fund, a local mutual-aid initiative which provides food, clothing, and other resources to homeless trans folks in New York City.
Joining Mark on stage are RuPaul's Drag Race All Star Jan, Gerard Canonico (Almost Famous, Be More Chill), Emma Caymares (Call Your Mother, ABC; Charlie and the Chocolate Factory), Andrew Barret Cox (Hot Haus, OutTv, OSCAR at The Crown), Mike Forzano, Liz Leimkuhler (Oratorio for Living Things), Danielle Lussier, Kelly McIntyre (A Night with Janis Joplin, Love in Hate Nation), Hayley Moir, Chris Murphy (Variety), performance artist and playwright Paris, guitarist Sub Q, Jada Temple (Speakeasy Times Square), Natlie Walker (Search Party, White Girl in Danger), Zofia Weretka, and Peter Yang.