Review: Sidney Myer Proves That Those Who Book Can Also Do At Pangea
Is This A Cabaret Or A Night Club?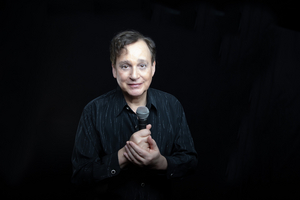 Heigh-Ho, My Merry Rainbow Tribe! Bobby Patrick, your RAINBOW Reviewer here. Putting the silent T in cabareT to bring you all the T!
Well, my angels, Monday night's trip to the lower east side to catch Sidney Myer's act at Pangea harkened us back to the days when smart New Yorkers went to every corner of Manhattan to smart locations that served food and drink and entertainment. Restaurants that also operated as theatres and vice-a-vers-a used to be called Night Clubs and they were everywhere and there was a distinction between these entertainment hot spots and the mirror ball dance hall set. Then nightclubs became discos and dance halls became clubs and the combo of food, drink, and a show split in two to make restaurants operating as Dinner Theatre and bars that presented Cabaret. Pangea though is not a bar, per se, but started its life as a restaurant (with a bar) and then moved into the entertainment business offering its fine menu and luminaries of the Cabaret world to entertain. Sidney Myer, being one of those luminaries, has a varied, nay even storied career as a singer, director, booster/cheerleader/member of the audience, and of course talent booker - a position he has held at the legendary Don't Tell Mama for who knows how many years. To know Sidney is to love him - ask anyone - and to have Sidney in your corner is a boon for any Cabaret artiste of freshman to senior status. When Sidney performs, though, there is magic in the air because his one-of-a-kind style, one-of-a-kind voice, and one-of-a-kind... well, Sidneyness brings a one-of-a-kind electricity to the room. Not the kind of electricity that fizzes and sparks and creates shocks, but more the warm, glowy kind that comes from that lovely shaded lamp you inherited from your Aunt Minnie that you love to read by.
Sidney's shows are collections of novelty numbers interspersed with beautiful love songs and heartfelt moments from the theatre, such as Bock & Harnick's HERE IN EDEN, the opening number to THE APPLE TREE that in Mr. Myer's eccentric voice, with his subtle acting choices brought tears to the eyes of his house. Eccentric is probably an overused word especially in the case of Sidney Myer, but it is inescapable where he is concerned. From his manner of dress to his effusively lovable personality, to his song choices, to his impressive mop of hair whose strands insist on curling at oblique angles all in opposition to each other, to his singular vocals, eccentricity is his moneymaker. Especially with his insurance number, IT'S SO NICE TO HAVE A MAN AROUND THE HOUSE, a song that his audience waits for all night and that he knows will always leave em laughing. But, Oh, that voice... a wide bright sound with a most peculiar rasp combined with his ability to act each and every moment through each and every note with character, with pathos, with humor or a combination of all of the above all at once. What La Sidney brings to a song, aside from perfect musicality, is the totality of all four acting Humors of head, heart, gut, and groin with never too much or too little intellect, emotion, drive, or passion - he is a study in how to fill the room with a performance completely without ever overfilling it. And speaking of the nether regions, one of the things he loves to do is sing songs that cast him in the role of the painted lady with a heart of gold, a male Mae West if you will that can lean into innuendo through the window of songs like EASY MONEY, WHEN I JUST WEAR A SMILE or his boffo novelty number PHEROMONES which elicited titters, then giggles, then guffaws by the end. Sydney doesn't talk much in his shows - a few words after his first number for the audience to warm themselves in the glow of his charm and then he sings through his setlist one song after the other making them laugh, cry and sigh... but mostly laugh. Comedy songs are his chief stock and trade and his timing and delivery are always impeccable and captivating, as in the Prentiss penned, MARY COHEN that had the audience laughing and singing along to a chorus that felt as though we all should have been swaying our beer steins in the air. But, then, Myer can take a hard pivot to Sonnenblick's DANCE WITH ME, a love song so filled with longing, "there was not a dry eye" as the saying goes. When Sydney does stop near the end of his show to talk to his crowd it is to amuse as much as inform and in fact, his few minutes of patter proved to this writer that Sydney Myer probably has some for real stand-up comedy chops as well. His 2 minutes of talking about his booking career and all the not-so-famous relatives of truly famous people he has booked into clubs, in the vernacular of the biz, KILLED - relatively speaking. Wrapping his show with the hilarious, toe-tappy Allan Sherman/Lou Busch song GOOD ADVICE it is safe to say that little Bobby watched a real pro named Sidney Myer hit one out of the park and so we have no choice but to give him...
5 Out Of 5 Rainbows.
Sidney Myer will be appearing at Pangea November 22 at 7 pm - Get TIckets: HERE
Sidney Myer will be appearing at Pangea November 29 at 7 pm - Get TIckets: HERE
Photos Of Sidney Myer by Albie Mitchell