BWW Review: Laura Osnes Invites Her Audience to Ponder What Ifs in THE PATHS NOT TAKEN at Feinstein's/54 Below
We've all wondered: What would my life look like today if I had chosen a different college? A different partner? A different career path? What if I had only done this instead of that?
For actors, these kinds of either/or scenarios happen with lightning rod-frequency and in more concrete terms. You either book a job or you don't. A show either moves to Broadway or it doesn't. But what, then, happens to the character that almost was?
Laura Osnes, Tony-nominated for originating title roles in BONNIE & CLYDE and CINDERELLA, has devoted an entire cabaret act to pondering that hypothetical what if. Bringing an updated version of her show THE PATHS NOT TAKEN back to Feinstein's/54 Below for a four-performance run beginning November 27, Osnes exclusively performed songs which have never seen the light from shows that she nearly booked and either didn't get or had to back out of for one reason or another.
The obvious qualm in doing a show such as this is, clearly, Osnes did not perform a single song from the beloved roles which have brought her to this point. And the absence of those trademarked numbers, like "Hopelessly Devoted to You" from GREASE and "Wonderful Guy" from SOUTH PACIFIC, was felt. However, it ultimately elicited no ill-will as her set list was subsidized by wonderfully eclectic and suitable selections. Spanning golden age musicals, showtunes of the last decade, and even one now-iconic musical television series, each song did exactly what it was intended to do: give fleeting life to what might have been.
Osnes began her set offstage, suitcase in hand, with an essential ingénue number, "Not for the Life of Me" from THOROUGHLY MODERN MILLIE. That suitcase would pull double-duty all night long as her bag of tricks to draw from--- literally. Inside, she charmingly stored props, as well as memorabilia from her life as a theater fan-turned-star, including a hard copy of the MILLIE cast recording, signed by the original Broadway cast. That kind of button-cute endearment has paved the way for Osnes to find her place in the theater community, and Millie certainly falls into that characterization. However, as was made clear by some of the other songs and stories she shared on this evening, she could right now occupy a very different space on Broadway, had one role or another only panned out.
For example, the role of Kate in AVENUE Q, the Tony-winning musical inhabited by racy puppets and racier tunes. Osnes performed one of the show's most touching numbers, "There's a Fine, Fine Line" and, yes, she was assisted by a puppet on hand (she endured a week of puppet classes while auditioning, she explained). Osnes also performed another song written for a show which debuted the exact same year as that debauch musical: "Popular" from WICKED. Her sparkling voice buoyant and crisp on the mega-hit musical's ode to congeniality, Osnes stunned audiences in an entirely different way. How is it possible she's never played Glinda the Good Witch?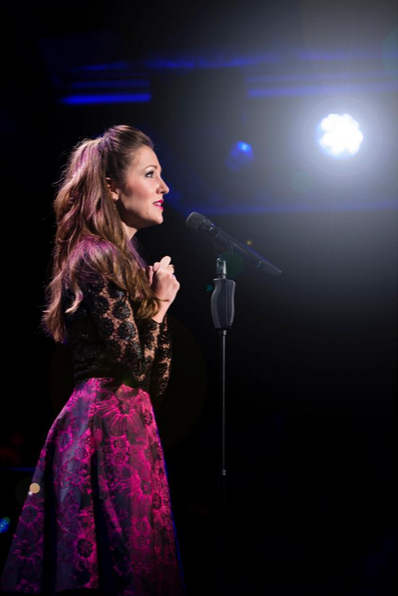 In addition to Kate the Puppet, Osnes was joined throughout the evening by her musical director and pianist Fred Lassen, as well as Pete Donovan (bass) and Sean McDaniel (drums).
Though her voice was impeccably adept at singing some of the most beloved numbers in the American songbook, including BRIGADOON's "Heather on the Hill" and Stephen Sondheim's "Soon" from A LITTLE NIGHT MUSIC, Osnes was most impressive tackling contemporary scores, the perky bloom in her voice never overshadowing her impressive belt and pitch. For example, there was recently a "24-hour period" in which Osnes was in talks to head to the pie diner as the lead in WAITRESS. Singing "What Baking Can Do," Osnes brought a softness to Sara Bareilles' plucky pop score that felt both sincere and wholly original. Similarly, Osnes revealed that several years back, she screen-tested for NBC's late musical series SMASH, before singing the show's anthemic "Let Me Be Your Star" infused with a quiet desperation.
Osnes was as wonderful on songs audiences had never heard--- performed by anybody, not just her. Specifically, "When I Fall in Love," an earnest but nevertheless rousing 11 o'clock number from the yet-to-materialize musical adaptation of Jane Austen's Pride and Prejudice. Though slightly demure, it certainly elicited a clamoring to hear more of the classical pastiche score. Osnes also revealed she lost out on the leading role in another film-to-stage joint, the Lin-Manuel Miranda/Tom Kitt adaptation of BRING IT ON. Performing the musical's title song which was cut from the show before its Broadway run, the mourning was two-fold for both the longevity of the tune as well as Osnes' never-was take on the ambitious role.
Interspersing her song selections with tales of which show replaced another, or the life event which made way for a job opportunity, I was repeatedly reminded of the 2014 musical IF/THEN, in which a woman makes a seemingly innocuous decision which sets her life on two very separate paths. In one song in that show, called "Some Other Me," the protagonist waxes on all the different existences of herself that may be out there somewhere, all stemming from choices big and small.
That was essentially what Osnes did with her 80-minute set--- play out through song all of the "other hers" that might be out there. Of course, in those timelines, the person who got the job over Osnes didn't, subsequently affecting their life and the lives of countless others. This sort of existential reckoning isn't exactly standard when one comes out for a night of cabaret, but in her tender warmth and buoyancy, Osnes framed the catechism as an invitation for introspection, rather than a mystifying black hole of "what if?"
She summed up the quandary nicely before taking her final bow of the evening, encouraging her audience to see these closed doors and windows, not as missed opportunities, but rather as adventures which have merely not yet been embarked upon.