BWW Review: Jeff Harnar Dazzles A Sold-Out Metropolitan Room With An Engaging Revival of His '1959 Broadway Songbook'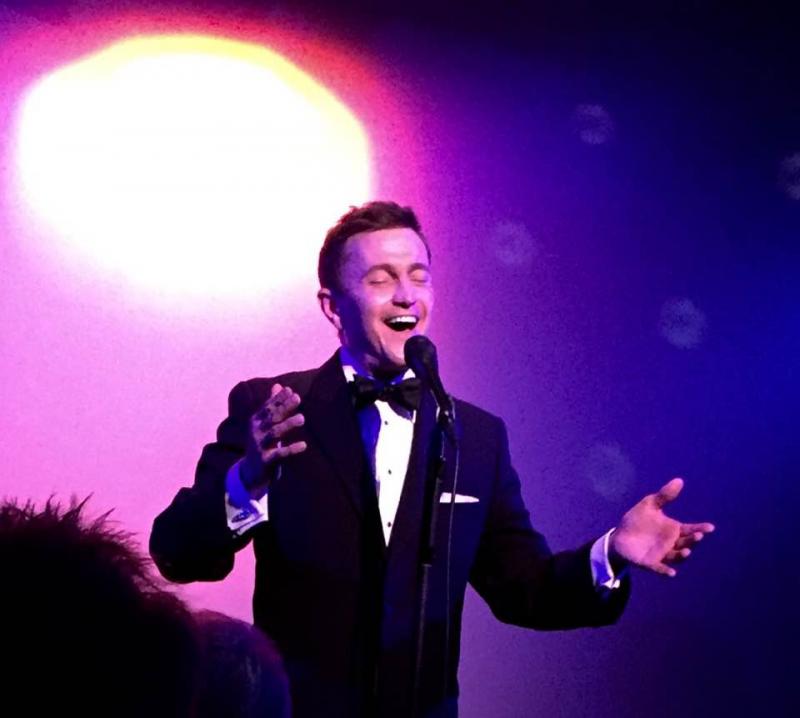 When a show at the Metropolitan Room starts over thirty minutes late because the staff is frantically trying to find chairs and room for the better part of New York's cabaret community, you know you're in store for something truly special. And unless there's a chair thief on the loose in Flatiron who doesn't like Broadway, someone clearly oversold this show and/or lost track of comps; this was extremely vexing with a heat advisory in effect.
Still, the mood was festive in anticipation of Jeff Harnar's 1959 Broadway Songbook, the 12th installment in Stephen Hanks' impressive (and increasingly well-known) New York Cabaret's Greatest Hits series. Harnar's show premiered 25 years ago at the Algonquin's Oak Room. Two years later, PBS filmed the collaboration with musical director Alex Rybeck, whose arrangements honor the original compositions but reimagine them in sometimes astonishing ways, making them genuinely creative acts.
As they say of political parties, cabaret is a big tent, which brings together many musical genres. At times it approaches musical theater with entirely scripted patter. But The 1959 Broadway Songbook isn't merely scripted and intricately organized. The show subsumes that year's extraordinary creative achievements---West Side Story, Gypsy, Fiorello!, The Music Man, My Fair Lady, Li'l Abner, Flower Drum Song, among others---within the structure of an original musical. (Not all songs were published in 1959, but every song in the show was still on the boards that year.)
In a play with music, Harnar reminds us, the protagonist's true feelings are "revealed not by what he says but what he sings." Other key components include a love interest, a subplot, and some bumps along the way to a more or less happy end ("The course of love is never smooth"). To pull this off, Harnar and Rybeck needed to select portions of songs that would evoke the song and musical as a whole but also work well with others in the service of "their" musical. Rybeck plays exuberantly throughout and the show felt tighter than ever under the direction of
Sara Louise
Lazarus
. Made up of two acts and an "intermission,"
The 1959 Broadway Songbook
includes 14 numbers which draw on 21 musicals and 45 songs. From a production standpoint, this is a mind-bending proposition. The sheer quantity of material Harnar commands defies belief. When one considers the range of tone and content, the performance is nothing short of a masterpiece (all the more when one realizes Harnar, with Rybeck, conceived this show in his twenties).
Upon seeing the set list, I was skeptical. But this music is part of Harnar's soul. With a large, lush baritone and impeccable phrasing, the performer joyfully took us back to 1959. References to the political, cinematic, and pop culture milestones of the decade's final year---Nikita Khrushchev at Disney, The Twilight Zone, and the hula hoop---helped set the scene, as did the poignant introduction of former musical comedy actors in the audience: Rita Gardner (The Fantasticks original cast member), Sondra Lee (Tiger Lily to Mary Martin's Peter Pan), and Bill Hutton (original Joseph in Joseph and the Amazing Technicolor Dream Coat).
Giving each number 110 percent (as the sweat pouring from his brow attested), Harnar nevertheless made it all look easy. His devilish smile and irreverence as he trots through so much history made me think of 1066 and All That. It's refreshing in a world increasingly governed (or strangled) by political correctness to hear a performer unafraid of jokes in no sense PC. If, as a performer, you never offend anyone, you're doing something wrong.
The "Overture" put to rest any doubt I might have had about this enormously ambitious project. In eight or nine minutes, Harnar sang parts of "Do Re Mi," "Everything's Coming Up Roses," "Saratoga," "Little Mary Sunshine," "Bells are Ringing," "The Party's Over," "I Could Have Danced All Night," "Take Me Along," "Together Wherever We Go," "With A Little Bit of Luck," and "The Sound of Music."
It's hard to single out numbers in a show this strong, but in Act I certainly "I Wish It Were So" from Juno (Mark Blitzstein) deserves mention, as does "On The Street Where You Live" (Alan Jay Lerner/Frederick Loewe), "I Don't Think I'll End It All Today" (Harold Arlen/E.Y. Harburg) from Jamaica, and the deliciously cynical but not entirely bitter medley of songs about marriage. One is struck by the modernity of Harburg's lyrics: "Away with the river/Away with the razor/Away with the pearly gate/Away with barbiturate/Away with the Seconal/The fall from the building tall/No, I don't think I'll end it all today."
"Love Look Away" (Richard Rodgers/Oscar Hammerstein II) fell flat, a definite letdown after the anti-ode, one might say, to marriage. But the "Intermission," two songs intended to simulate an actual break in a two-act musical, was well done. Audience members of a certain age enjoyed Bobby Darin's "Dream Lover" and the title song from Lerner and Loewe's Gigi. Act II opened powerfully with the "Entr'acte" featuring Tommy Wolf's and Fran Landesman's "Spring Can Really Hang You Up The Most" from The Nervous Set, which coincides with the introduction of a subplot involving a "sly inveigl[ing]" up to a man's "flat." What's not to love about that?
The razor sharp politics medley of songs from Jerry Bock and Sheldon Harnick's Fiorello! resonated in eerie and depressing ways, with Harnar at his best in "Little Tin Box" and "Politics and Poker." Harnar's wry quip that one turns to politics when one fails in love got a big laugh and in this insane electoral season, struck one as both true and profound. "Have Some Madeira, M'Dear" (Donald Swann/Michael Flanders) was pitch perfect, showing off Harnar's acting chops (he earned his BFA in drama from NYU).
The evening concluded with the most beautiful and poignant rendition of "Climb Ev'ry Mountain" I've heard. Altering a beloved song is always risky. And it doesn't always work; "I'm An Ordinary Man" didn't impress, but I admit to bias here, as
My Fair Lady
has been my favorite musical since childhood. With that one exception, the risks in
The 1959 Broadway Songbook
pay off richly, inspiring one to revisit songs not heard in years or to look up unfamiliar songs---a fitting and enduring tribute to Harnar's and Rybeck's fine show.
New York Cabaret's Greatest Hits is a monthly series at the Metropolitan Room produced by Stephen Hanks' Cabaret Life Productions and Associate Producer Fr. Jeffrey Hamblin, MD. The next shows feature Janice Hall's Grand Illusions: The Music of Marlene Dietrich (September 13 at 7 pm), Susan Winter's Love Rolls On (October 7 at 7 pm), Deb Berman with All In Good Time (November 16 at 7 pm), and Ellen Kaye with Ice Wine: Songs for Christmas and Dark Winter Nights (December 13 at 7 pm). For reservations and information, go to: www.metropolitanroom.com

Related Articles View More Cabaret

Stories

Shows
Victoria Ordin is a writer based in West Los Angeles and Manhattan. Raised in L.A. around film and television, she developed an early appreciation for (read more...)