Click Here for More Articles on NEW YORK CITY
BWW Review: Carmen Cusack Returns to Feinstein's/54 Below with a New Show Demonstrating Her Songwriting Prowess
One generally associates megaphones as the staple of high school gym teachers, used to amplify their punitive requests of portly students to run faster. Naturally, Carmen Cusack, the once-unsung supernova who made her craterous impact on Broadway in last season's BRIGHT STAR, subverted preconceived notions. Slowly making her way to the stage, Cusack began her show crooning into the piece of machinery.
If the very first notes of your concert will be heard projected via megaphone, well, you'd be wise to make certain you sound exceptional. That, of course, is a non-issue for Cusack. Following a sold-out engagement at Feinstein's/54 Below last summer, the Tony (and now Grammy) nominee returned to the venue for another four-show run on March 8, and was in her usual sublime voice.
Cusack was, at her own admission, a bit nervous as the show began. By the time she hurdled toward its end, though, with a self-penned number called "Rebellious Child," a soulful tune which she leavened with sinister gospel, she, along with her audience, had undeniably been enraptured by one holy spirit or another.
This return engagement as a whole dipped considerably further into the realm of soul than Cusack's first go-around, a surprising but entirely welcomed choice. Though having established an illustrious career in musical theater, a Broadway Baby she is not; Cusack's enigmatic, eluding attempts at classification, and this show felt specifically and authentically her.
Consequently, her set list contained nary a selection from the musical theater canon, the only exception being BRIGHT STAR. From that bluegrass-scored show, which catapulted the talent to leading lady stardom, Cusack pieced together a medley which included "So Familiar" and "I Can't Wait to See You." She also performed in full "Way Back in the Day" and, what could now be described as Cusack's signature song, "If You Knew My Story" (the phrase even titles her live album, recorded during her last set of shows).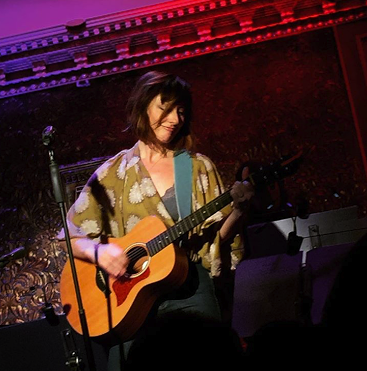 Though most had heard her sing these songs before, the confluence of Cusack's richly textured voice with that delectably whimsy score will manage to incite emotional resonance upon listening into the hundreds. But she did have one surprise for her audience when it came to BRIGHT STAR. Putting a drinker's slur in her belt for "Pour Me Another Round," a tune not sung by her character, she pleaded for more booze to "make the pain go away" and, despite concluding with a raised glass in hand, she relayed the despair of a woman unable to look at her life through a lens of sobriety.
That sadness was both augmented and diffused through some pre-song banter about child neglect, on which Cusack was joined by Joe Jung, also on guitar. Jung was accompanied by musical director Rodney Bush (on piano as well), Dean Sharenow (drums), Alex Echardt (bass), and a remarkable Martha McDonnell on the fiddle.
The evening's most compelling moments (which doubled as the most stressful for Cusack, she confessed) came in the form of her original songs. For the first time in front of an audience, she performed "You Dear," written for a man she'd been dating who, upon hearing it, realized, "Shit, now I have to marry her." With evocative lyrics including, "Take me to a small café / Where we can share a tall latte," the song was simplistic and personal, and also allowed for Cusack's impressive upper register to soar.
Another of her originals, "Middle Lane," paid homage to her group of girlfriends in London, with whom she lived for a time in early adulthood. The tune was melodically nostalgic and, cunningly, ends suddenly, just as that period in one's life tends to.
The most rousing of Cusack's penned tunes, also the most demonstrative of her skill as a songwriter, was the aforementioned "Rebellious Child," which she prefaced with a recollection of having demons cast out of her in her youth before the determination was made that she was ill-suited for the ministry. Again utilizing the megaphone, perfectly befitting this sort of fiery jaunt, the song could've been plucked from the underground-lurking HADESTOWN, ominously-scored by Anaïs Mitchell, or would even fit within Broadway's currently running opera NATASHA, PIERRE AND THE GREAT COMET OF 1812 (give or take a bit of accordion).
Cusack's songwriting, like herself, is elusive in that it combines elements of several genres including folk, pop, soul and gospel, but aligns most closely with the kitchen sink singer-songwriter style. It makes sense, then, that she wrapped up her show with songs by two of the all-time great singer-songwriters. Cusack's interpretation of Brandi Carlile's "Pride and Joy" made plain as to why she is inspired by Carlile's bare-bones musicianship, which puts an emphasis on lyricism while leaving room for towering vocals.
For her encore, Cusack employed the big guns which, in songwriting, means Carole King. Selecting the wrenching "Will You Love Me Tomorrow," she performed the song with minimal accompaniment, letting that magnificent instrument of hers work. In so doing, she unintentionally elicited an answer from her crowd as to the song's rhetorical question. Miss Cusack, of course, audiences will love you tomorrow, and for some time after that, too.
---
Carmen Cusack continues her run at Feinstein's/54 Below on March 15 and 16, and April 16. For tickets and information, visit 54below.com.
Casey Mink is BroadwayWorld's Chief New York Cabaret Critic and is an entertainment journalist in New York City, focusing on the performing arts. Follow her on Twitter @Casey_Mink.