Allan Nicholls' LET THE MUSIC PLAY Will Premiere at the Green Room 42 in April
The show is set for April 14.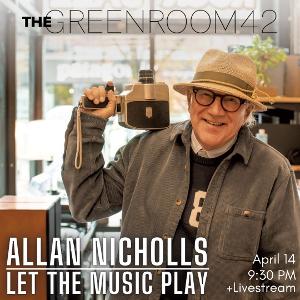 Fans of Broadway's rock musicals have an extraordinary opportunity to hear their favorite songs in the debut performance of LET THE MUSIC PLAY on Friday, April 14, one show only, 9:30 PM at The Green Room 42, 570 Tenth Avenue, New York City (inside Yotel, 4th floor). Tickets on sale now.
The show stars Allan Nicholls, who reprises his Broadway leading roles in HAIR, INNER CITY/MOTHER GOOSE, JESUS CHRIST SUPERSTAR and SGT. PEPPER'S LONELY HEARTS CLUB BAND ON THE ROAD while bringing a fresh approach to the music that rocked a generation and beyond.
The show will also be livestreamed on Facebook: https://www.facebook.com/events/s/allan-nicholls-let-the-music-p/166999599529409/
With the "Not Your Parents' Pit Band," featuring acclaimed music director Ben Covello on keyboards, Nate Repasz on drums and vocals, Gene Steficek on bass and vocals, and Eitan Prouser on guitar, Allan performs songs from his years on Broadway - from his first HAIR performance through the closing night of SGT PEPPER.
"The show offers musical nostalgia with a new twist on the songs and a very personal take on the stories happening behind the stage," says Nicholls, who is the only actor to have played both the lead roles of Claude and Berger in HAIR. "We hope audiences will look back fondly on a time when their own hair was "shoulder length or longer" and leave with a renewed sense of possibility about life's "long and winding road."
Allan Nicholls first arrived in New York City in 1969 from his hometown of Montreal, Canada, where he had been the lead singer in JB and The Playboys, a popular touring and recording rock band. That year, he performed as Claude in HAIR. In 1970, he took over the role of Berger. Later, he played King Herod in JESUS CHRIST SUPERSTAR, the Pusher and the Cop in INNER CITY, "33" in DUDE, Adam in UP FROM PARADISE, and Maxwell Hammer in SGT. PEPPER. Since then, Allan continues to work as an actor, assistant director, music supervisor, and screenwriter in Hollywood. He collaborated with legendary director Robert Altman on such films as Nashville, Short Cuts, and The Player, and many more. (additional bio information attached).