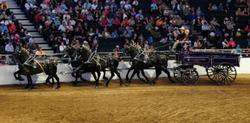 Draft horses are a blending of power and self-restraint in one super-sized package. These extra-large horses emerged in Europe during the ice age and were known to exist at the time of Caesar. By the early medieval period, when they toted iron clad knights; the breed was a deciding factor in many battles. Those same traits, massive, yet good natured, rendered Drafts indispensable in both town and country, whether pulling a plow, a wagon, or a carriage.
They helped settle the new world, hauling families across the frontier and tilling their land. From the tallest shire, who is just as comfortable pulling a wagon as ridden in fine gear, to the compact and mighty Suffolk Punch, a horse developed in England for farming in small quarters (and is nearly extinct), the presence of Clydesdales and Percherons commands attention. Thus the reason why they have become a great marketing tool for companies like Budweiser, Express Ranches and Jackson Fork Lodge.
The symmetry, teamwork and control with which the large hitches must be maneuvered are feats to be admired. Draft horses have found their place in movies, most recently Warhorse, Elf, The Mask of Zorro and Dracula. Their widebacks make a perfect platform for circus acts and cavalla or ballet on horseback.
You
Latest Tweets from officialrfdtv
7/9 @ 7:55 AM

officialrfdtv - The USDA's Animal Plant and Health Inspection Service announced the initial purchase of a foot-and-mouth disease va… https://t.co/nlZPkfqWUi

Retweet | Reply | Original Link
7/8 @ 12:00 PM

officialrfdtv - American Farm Bureau Federation President Zippy Duvall tests positive for COVID-19. https://t.co/o5Zbn3zs4T https://t.co/CB7J7ZAEvw

Retweet | Reply | Original Link
7/8 @ 9:30 AM

officialrfdtv - House lawmakers have introduced a bill to help processors upgrade to federal inspection. https://t.co/3mfNwRXFu2 https://t.co/Q3RgUObTyW

Retweet | Reply | Original Link
7/8 @ 6:15 AM

officialrfdtv - Apples, berries and potatoes make up a large portion of Washington's ag portfolio and as sales have dropped, specia… https://t.co/aVvR4SUS36

Retweet | Reply | Original Link
6/23 @ 12:00 PM

officialrfdtv - A federal judge refused to allow California to label Roundup products as carcinogens, saying that it would be misle… https://t.co/MBxiY6YVxA

Retweet | Reply | Original Link
Latest Articles About Gentle Giants on RFD TV