Andy Statman Releases New Album 'Monroe Bus'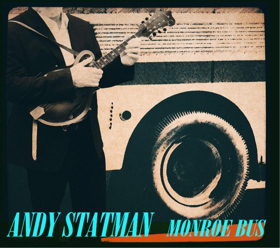 The title of Andy Statman's CD, inspired by Bill Monroe, may be Monroe Bus, but we are really on the "Statman Bus" -- with the spirit of Bill Monroe riding shotgun. Be sure to buckle up -- with Statman at the wheel on musical highways, it's hard to keep the bus in a single lane.
"This CD was originally conceived to be a collection of interpretations and improvisations on the instrumentals of Bill Monroe," says Statman, who releases Monroe Bus on Shefa Records on March 15. "Bill's music had a tremendous influence on me when I started out as a mandolin player, and has continued to do so ever since."
But so has Albert Ayler, Dave Tarras, Junior Walker...
A recipient in 2012 of the NEA National Heritage Fellowship (the nation's highest honor in the traditional arts) Andy Statman is a true master of multiple genres - and multiple instruments, string and reed - in a career stretching back to the 1970s. Statman has made dozens of recordings, and some do fit comfortably into one record store bin or another - bluegrass, klezmer, jazz.
But not this one.
Several tracks fit beautifully on bluegrass playlists. Statman's soloing on the slow, mournful "Brorby's Blues" evokes Monroe at his deepest. "Mockingbird" is as driving as bluegrass gets. And though "Reminiscence" contains a clarinet choir, and an organ (Monroe himself used one for a gospel album) played by Glenn Patscha, it's still bluegrass at its core.
Bluegrass has been described as endorphin music, in which case the fleet "Statman Romp" could have just as easily been titled Endorphin Romp, with patented Lester Flatt G-runs delivered by flatpicking guitar star Michael Daves. "Raw Ride" is another cut that would work at bluegrass picking parties, as long as the beginners sat this one out. The opening title cut, "Monroe Bus," is classic, bouncing bluegrass swing. It also speaks to the heart of the album.
"After the second day of spending fourteen hours in the recording studio," Statman says, "on the way home, I realized that I needed to have a medium-tempo, 'Brown County Breakdown' type of melody on the CD. When I got home, I spent the next two or three hours writing one, and then went to sleep. I dreamed that I was on the Texas prairie at night, by a campfire. Bill Monroe appeared out of the shadows. He was in his late 30s-early 40s, fit and trim, dressed like one of the old Texas Rangers. He looked a little upset. I said, 'Bill, what's wrong?' He replied 'Nobody respects me!' I told him, 'I respect you, Bill.' He seemed appeased, and nodding his head, said, 'I appreciate that.'
"The next morning I was heading back to the studio. As we got on the highway, a bus appeared, with the words on the masthead: To Monroe (which is a town in upstate New York). As a teenager, the Monroe bus - nicknamed 'Bluegrass Breakdown,' due to its old and battered condition - captured my imagination. With this sighting, my new tune was given its name." And so was the album, the fifth of his releases produced by Edward Haber, owner of the Shefa Records imprint.
"As the project progressed," Statman says, "I found myself writing my own tunes, inspired by some of Monroe's musical ideas. The songs are either connected by an expansion on certain melodic ideas and forms, or just in my overall approach as a mandolinist. Monroe was and continues to be a huge influence in terms of sound and tone. Some melodies more closely reflect the master's influence; others go to other places, but still bear that influence."
"Other places," indeed. How about the moon? "Ice Cream On the Moon" blends progressive rock with jazz fusion, and comes complete with Statman's virtuoso avant-garde soloing and a sizzling bluegrass blast from IBMA 10-time fiddler-of-the-year Michael Cleveland. Oh, and there's also a choir on board, to deliver one single chord. Fans of Frank Zappa and the Mahavishnu Orchestra, lick your chops.
"Old East River Blues," on the other hand, will sound familiar to long-long-time Statman fans -- a modal drone evoking Central Asian tones. Jeffrey Werbock's gaval(Azerbaijani frame drum) and kamancheh (Persian spike fiddle) help give this musical stew its richness and depth.
If the title, "Reflections," brings the classic Thelonious Monk tune to mind, so might Statman's soloing on his composition of the same name. Not that they sound alike -- absolutely not -- but each personify what has been called in jazz the "sound of surprise." No surprise, then, that Statman is a Monk fan. During his teenage years, at the same time he was hitting early bluegrass festivals, Statman somehow was finding ways to sneak into the Village Vanguard to hear Monk in person, along with other jazz giants like Charles Mingus and Elvin Jones. So it's no real surprise that Statman's "Reflections" glisten on similar waters, a gentle, languid jazz ballad, with double bassist Jim Whitney and drummer Larry Eagle, the other members of Statman's long-time regular trio, given chances to shine.
Wrapping up the disc, we're danced out the door with some relaxed, swaying rock via "Burgers and Fries."
Andy Statman possesses that rare trait shared by all the great musicians -- a unique sound and approach to music, and that is not something you want to reign in. No matter what kind of music he chooses to play, one mandolin lick is all you need to know who you're hearing. The same with his clarinet, which he studied under the mentorship of the great Dave Tarras, who was himself an NEA National Heritage master. But that's another equally remarkable story.
Just a month or so ago, a photo came Andy's way that thrills him.
"I didn't know that it existed," he says of a shot of Bill Monroe standing in a field near a backstage entrance, with the 16-year-old Statman a few feet away. "That was at the second Fincastle Bluegrass Festival [in Roanoke, VA in 1966]. There were maybe 300 people there, all of them either musicians or fanatics. In that picture, I was walking somewhere behind the stage, and I saw Bill Monroe!"
The photo of the future giant walking behind the founding father is included in the CD package. One might think that, in some way, it closes a circle. Wrong. When it comes to Andy Statman, as long as he chooses to create music, that circle will never close. Luckily for us.
Related Articles View More Music

Stories