Sydney Underground Film Festival Announces 2018 Program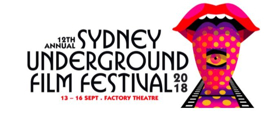 Sydney's leading festival for cult and UNDERGROUND film, the Sydney UNDERGROUND Film Festival (SUFF) is back for another year! From 13th to 16th September SUFF will once again blow Sydney's mind with its most diverse and whacked out line-up to date. The festival will be packed with wild, head-spinning feature films, killer music documentaries, tributes to UNSUNG cinematic heroes and a tonne of unforgettable shorts. Plus, a brand new program of dedicated filmmaking workshops and the inaugural Inhuman Screens conference.
Opening the festival this year is the hilarious, NZ sci-fi action-comedy, Mega Time Squad, about a bumbling, two-bit criminal stumbling upon an ancient time-travel device. Mega Time Squad follows in the footsteps of The Breaker-Uppers and Hunt for the Wilderpeople, proving that New Zealand is creating some of the best comedy films in the world today. The Opening Night screening of Mega Time Squad will be followed by a special Q&A with Writer/Director Tim van Dammen and lead actor Jonny Brugh best known from his stand-out performance in Taika Waititi's What We Do in Shadows.
The 2018 Sydney UNDERGROUND Film Festival will also feature cinematic treasures like the ground-breaking acid-Spaghetti Western, Let the Corpses Tan, the psychotropic, blood-drenched masterpieces, Revenge and Tokyo Vampire Hotel, a bizarro-comedy starring Aubrey Plaza and Jemaine Clement, An Evening With Beverly Luff Linn and newly RESTORED classics Liquid Sky, Spirits of the Air, Gremlins of the Clouds. There will also be a special 30th anniversary screening of the cult classic Maniac Cop. There's also all manner of homegrown head-f@#kery from Bugs to The Foaming Node, blistering music documentaries like Here to Be Heard: The Story of the Slits plus a bunch of trailblazers including Madeline's Madeline (starring Miranda July), Blaze by Ethan Hawke, and The Misandrists by the iconic provocateur Bruce La Bruce.
Another stand-out of the festival this year is Scott Christopherson's unexpected masterpiece, The Magic of Groo which follows Stephen Groo, who, in Tommy Wiseau fashion, is one of the best worst filmmakers in Hollywood! Not one of Groo's 180 films has ever secured distribution or turned a profit. Despite this, Groo's odd style, tenacity and questionable talent has gained him a loyal Hollywood fan-base. The Magic of Groo is a hilarious yet sincere look at Groo's world as he seeks to remake his 2004 human/elf fantasy drama The Unexpected Race, this time starring Groo-fan, Jack Black.
Sydney UNDERGROUND Film Festival will again host a bountiful side-show of spectacular films in the Shorts Program Sessions Love/Sick, LSD Factory, Reality Bites, Ozploit and WTF. This year, SUFF will not only screen the latest feature by acclaimed Canadian filmmaker, Guy Maddin, The Green Fog, but will also be showing 2 of Maddin's greatest short films; Accidence and Luce Vigo: Lines of the Hand.
In 2018, the Sydney UNDERGROUND Film Festival is proud to present the very first Inhuman Screens conference, hosted by the Faculty of Arts and Social Sciences at the University of Sydney. Inhuman Screens will focus on post-humanism in film with talks from Professor of Film and Television, Sean Cubbitt, and American academic, philosopher and cultural critic, Steven Shaviro. The speakers will engage in fascinating explorations of post-humanism in film along with other forms of digital culture and new narrative methods.
Closing the 2018 festival is the epic, action-horror film Mandy from visionary writer-director, Panos Cosmatos. This remarkable follow-up by Cosmatos to his cult hit BEYOND the Black Rainbow stars Nicholas Cage in his most over-the-top performance yet. Cosmatos grinds up beloved genre tropes into a fine pulp and sculpts them into something altogether otherworldly and unforgettable. Mandy premiered at the 2018 Sundance film festival to huge critical acclaim.
The Sydney UNDERGROUND Film Festival is dedicated to nurturing an alternative film culture through the promotion of independent and experimental films. The Festival seeks to support filmmakers (especially those who operate outside established film industry infrastructures) by providing a platform for exhibition, exposure and critical discussion. The festival is devoted to renewing local interest in independent and experimental film as part of an international UNDERGROUND film culture and aims to change an ingrained culture of cinematic complacency and revitalise an enthusiasm for cinema.
12th SYDNEY UNDERGROUND FILM FESTIVAL
DATES: 13th - 16th September, 2018
LOCATION: The Factory Theatre, 105 Victoria Rd, Marrickville
TICKETS: On sale now via www.suff.com.au
Related Articles View More TV

Stories