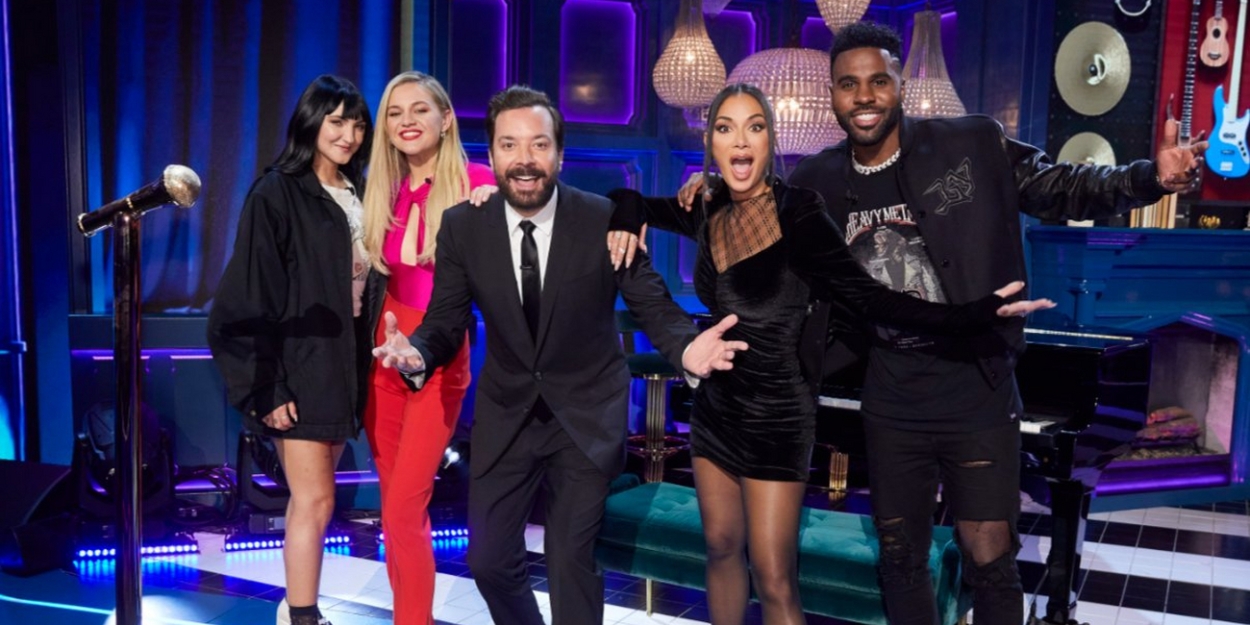 Renee Elise Goldsberry, Billy Porter & More to Appear on Jimmy Fallon's THAT'S MY JAM Season Two
The new season kicks off Tuesday, March 7 at 10 p.m. ET/PT.
NBC's first-year hit "That's My Jam," hosted and executive produced by Jimmy Fallon, returns for season two with fan favorites, new games and unforgettable performances with the best band on television.
The new season kicks off Tuesday, March 7 at 10 p.m. ET/PT after night two of the season premiere of "The Voice," with episodes available to stream next day on Peacock. Season two is jam-packed with 40 celebrity guests, expanding to 10 all-new episodes, plus a one-hour special of the series' greatest hits.
The new season is bringing more laughs, music and a stellar lineup of Grammy-, Tony- and Emmy-winning celebrity guests, including Chloe & Halle Bailey, Kelsea Ballerini, Jabari Banks, Alexa Bliss, Big Boi, Quinta Brunson, Chance The Rapper, Darren Criss, Jason DeRulo, Jenna Dewan, Renee Elise Goldsberry, Nikki Glaser, Taraji P. Henson, Sarah Hyland, Kesha, Patti LaBelle, Adam Lambert, Simu Liu, Joel McHale, Julia Michaels, French Montana, Keke Palmer, Jay Pharoah, Billy Porter, Diallo Riddle, Craig Robinson, Bashir Salahuddin, Nicole Scherzinger, JoJo Siwa, John Stamos, Kenan Thompson, Mike "The Miz", Quavo, Will.I.Am and Saweetie.
Celebrity all-star teams will go head-to-head to battle it out in music, dance, and trivia-based games, as well as musical performances, all while playing for a charity of their choice. The premiere episode features celebrity guests Kelsea Ballerini, Julia Michaels, Jason DeRulo and Nicole Scherzinger putting their music skills to THE TEST as they compete to win the coveted golden boom box.
New games will be incorporated, including Turn the Beat Around, a musical charades-style game where celebs dance out clues on a giant spinning turn table while their partner guesses the name of a song; DON'T Fear the Speaker, a team game where celebs alternate singing songs using only ridiculous words for their partners to identify; Drawing a Blank, a virtual reality-based game where celebs attempt to draw out music-based clues for their partners to guess; More Than a Feeling, a musical take on the popular "Tonight Show" game Can You Feel It?; and Bop Quiz, "That's My Jam's" music-based retro trivia game.
There will also be elevated additions to Wheel of Impossible Karaoke, including Baby Got Back-Up, One Song Many Genres and Megamix - alongside returning fan favorites such as Perfect Mashup, Vinyl Countdown, Air Guitar, Disco Charades, Get Outta My Face, DON'T Drop the Beat, Undercover Covers, Launch the Mic and Random Instrument Challenge.
"That's My Jam" is an hour-long music and comedy variety game show that draws inspiration from popular "Tonight Show" games. Each episode features two teams of two celebrities competing for a charity of their choice in a series of music, dance, and trivia-based games and musical performances.
"That's My Jam's" premiere episode, which aired in November 2021, is now up to 2.5 in the 18-49 demo and 8.8 million viewers across all platforms.
"That's My Jam" is produced by Universal Television Alternative Studio, a division of Universal Studio Group, in association with Fallon's production company, Electric Hot Dog. Fallon, Jim Juvonen and Mike Yurchuk serve as executive producers.
Catch up on the series' first season now streaming on Peacock.  
"That's My Jam's" first season recently won Best New Format at Realscreen, the Rose D'Or Award for Best Unscripted Format at MIPCOM in Cannes and Best New
Format at the International Format Awards in London.
The hit entertainment series, licensed by NBCUniversal Formats, is also heading to Italy, Spain and Mongolia following recent success in the United States, United Kingdom and France.