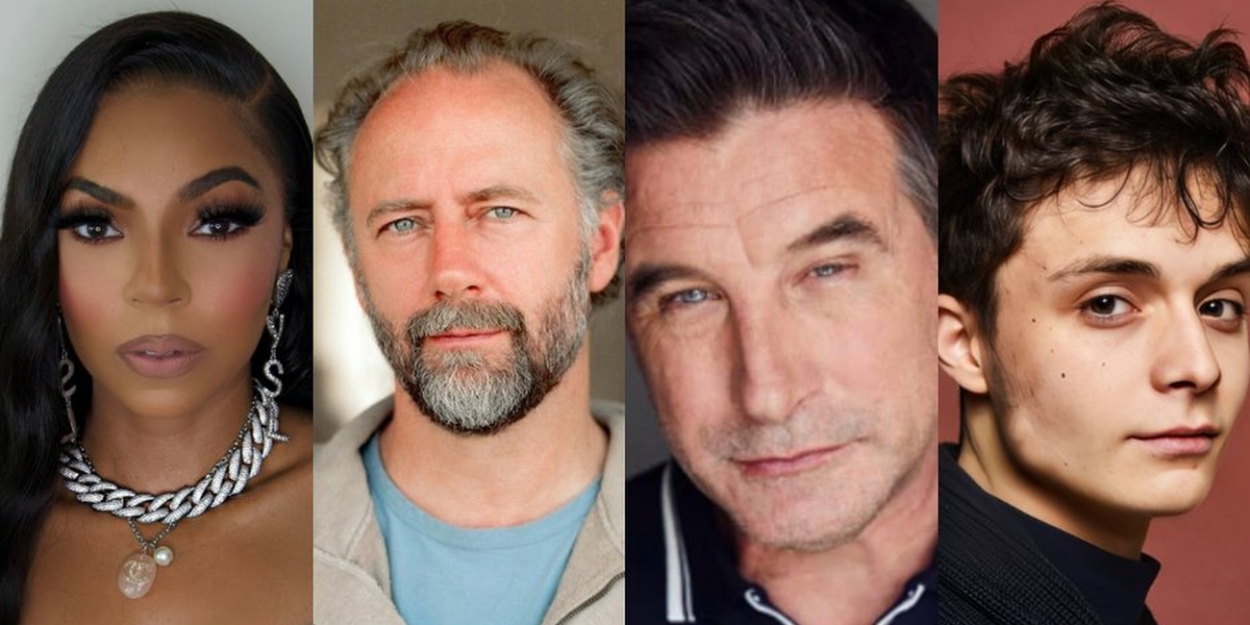 Ashanti, Beverly D'Angelo & More Join NO ADDRESS Feature Film
Principal photography is underway in the greater Sacramento area through the end of March.
Robert Craig Films announces TODAY the principal cast of the full-length feature movie "No Address", a story about those experiencing homelessness, including William Baldwin, Xander Berkeley, Ashanti, Beverly D'Angelo, Ty Pennington, Lucas Jade Zumann, Kristanna Loken, Patricia Velasquez, and Isabella Ferreira.
The film, directed by Julia Verdin and written by award-winning writers Verdin herself and James J Papa, pulled characters' touching storylines from the countless hours spent by the producing team visiting shelters, missions, and organizations across the U.S. The hope is that "No Address" will encourage viewers to engage deeper with compassion in their own communities and incite personal participation by audiences when it hits theaters in winter 2023. To date, the No Address screenplay has won over 60 Best Screenplay Awards from film festivals all over the world.
Principal photography is underway in the greater Sacramento area through the end of March. Cast members have personally connected with the storyline motivating them to eagerly be a part of this social impact film. It is a means for them to highlight the personal stories of those experiencing homelessness, in order to bring more awareness to society that these are real people, with real hurts, needs and dreams, just like you and me.
Character descriptions:
William Baldwin ("Backdraft", "Sliver") as Robert. Robert is a gambler, living above his means. An arrogant, judgmental, financially strapped businessman. He wants to buy the encampment property in a deal that would bring significant financial gain but needs to find a way to get the residents off the land.
Actor and producer Xander Berkeley ("Terminator 2: Judgement Day", "The Walking Dead", and "24") as Harris. A war veteran, former addict and protector of the group. He is an excellent artist who paints and sells his pieces to make money for the group. The gang members try to blackmail Harris and he is forced to handle the situation and try to do what he thinks is best for the group.
Grammy Award-winning singer and actress, Ashanti ("Coach Carter", "John Tucker Must Die", "Resident Evil: Extinction") as Violet. An Iraq veteran who suffers from PTSD and has turned to drugs as a coping mechanism. She has a tough exterior. When Lauren first arrives, Violet sees her as a threat but grows to care about her and eventually accepts her into the group. With help from the group, she quits drugs, but her health deteriorates due to other reasons.
Golden Globe nominee Beverly D'Angelo ("Coal Miner's Daughter", "National Lampoon's Vacation", "Entourage") as Dora. A former successful actress whose memory and early-onset dementia has led her to a life on the streets. Dora is constantly lost and almost childlike in the way she behaves. She welcomes Lauren into the group with open arms and makes her feel comfortable. The gang intimidates her and it eventually leads to her demise.
D'Angelo is repped by Atlas Artists.
Ty Pennington ("Extreme Makeover: Home Edition") guest starring as Mr. Mills. Mr. Mills is a man who owns a hardware store. He is a man of faith and a strong believer in second chances. He's a very fair and kind-hearted man who recognizes Jimmy's need for help and creates a position for him at his store.
Lucas Jade Zumann ("Anne with an E", "Sinister 2" and "20th Century Women") as Jimmy. Warm, a fighter, a beam of light. He's been living on the streets since leaving his abusive home. He helps Lauren and invites her to join his makeshift family on the streets. What drives Jimmy most is his desire for a family and he's ready to go to any lengths to protect his new street family he loves fiercely.
Kristanna Loken ("Terminator 3", "The L Word", and "Killer Jane") as Kim. Robert's wife is a hardworking, practical mother who cares most about providing a good life for her son. After Robert spends irresponsibly on their house and his car, Kim returns to her job of being a nurse. She's concerned and upset about the bills piling up but buys into Robert's promise that all is about to change. As their money stretches thin, she picks up more nursing shifts and exhausts herself, acting like everything is alright while trying to keep THE FAMILY afloat.
Patricia Velasquez ("The Mummy", "The Mummy Returns", "The Curse of La Llorona") as Gabrielle. Gabrielle is an active member of the local church group. Gabrielle always goes out of her way to help and support the community of people who are homeless however she can. She makes it her business to get to know as many as she can personally. She dedicates herself to protecting people who have found themselves on the streets and is very fond of Jimmy, who has the same generous spirit as she does.
Actor and Producer Isabella Ferreira ("Love Victor", "Crush" Hulu, "Marvel's Wastelanders: Wolverine") as Lauren. A foster kid coming home from her high school graduation, she finds her possessions on the doorstep. She has been kicked out with nowhere to turn to. She ends up on the streets and has a run in with local gang members, leading to her meeting Jimmy and a new family.
No Address - Feature Film
The narrative feature film, No Address, written by Julia Verdin and James J Papa, also to be directed by Verdin, shares the story of a group of individuals experiencing homelessness. Their touching storylines were pulled from the countless hours spent by producers visiting shelters, missions, and organizations that are on the front lines of providing services and solutions to this national crisis. www.NoAddressMovie.com
Americans With No Address - Documentary
Robert Craig Films has just wrapped principal photography on a documentary titled Americans With No Address, which vividly portrays America's leading crisis and the millions of people that suffer as a result. The documentary will be directed by Stephen Wollwerth and Julia Verdin and produced by Robert Craig, Robert Marbut, Rebekah Rivkaent, and Angela Lujan.
The production team toured 17 cities by bus to visit rescue missions and encampments and talked with individuals living there about their experiences, challenges, hopes, and dreams.