Review: SAN DIEGO OPERA: THE MARRIAGE OF FIGARO at the Civic Center Theater
The San Diego Opera's production of Mozart's The Marriage of Figaro featured expressive singing, clever attractive sets, beautiful costumes, and strong comedic and dramatic acting. The work is generally called a comic opera, but as director Stephen Lawless pointed out during my interview with him, "There are tears behind the laughter." The difficult political and social issues hiding behind laughter came from the Beaumarchais play on which the opera was based, and Mozart and librettist Lorenzo Da Ponte had to make light of them or risk censorship. The play's depiction of royal abuses probably contributed to the start of the French Revolution. Napoleon went so far as to say the it was, "the Revolution already put into action."
Mozart's extraordinary music perfectly matches the actions and emotions of Da Ponte's complex characters and, in spite of many intervening revolutions, the conflicts depicted by Beaumarchais remain unresolved today. Delighted #MeToo-driven applause followed Marcellina's, "The wildest of the beasts in the forest or the plain, his mate does not constrain or use with force." And, sung with strength and sly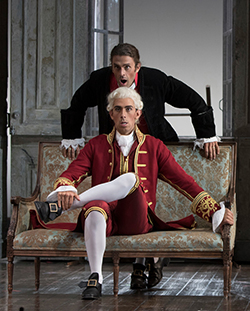 wit by bass-baritone Evan Hughes, "Open your eyes,," Figaro's politically-incorrect aria on the untrustworthiness of women, garnered laughter. It's no wonder that Figaro remains one of the most popular operas ever written, fifth in performances last season worldwide.
Lawless's production got off to a promising start. Conductor John Nelson led San Diego Symphony Orchestra musicians in a spirited performance of the familiar tuneful overture. In the opening scene four silent liveried servants of Count Almaviva (John Moore) entered through separate doors to light faux candle chandeliers. The chandeliers began a stately ascent as servants left and singers entered.
But a favorable impression of conductor, orchestra, and Leslie Travers' sets and costumes soon gave way to concern. The orchestra, perhaps carried away by the exuberant overture, overpowered Hughes and Sarah Shafer (Susanna) as they discussed preparations for their imminent marriage. Shafer's lovely, but non-Wagnerian soprano was at times barely audible. Fortunately, Maestro Nelson soon adjusted, and the orchestra meshed well with the singers for the remainder of the performance.
The Marriage of Figaro's plot centers around Count Almaviva's attempt to bed Susanna on her wedding night, even though he had previously proclaimed an end to that lordly prerogative. First recorded as "the right of kings" in Babylonia nearly 5,000 years ago, there is little evidence the practice was common, much less legal, in 18th Century Europe, but that didn't discourage its use as a plot device nor as an ire-rousing issue during the French Revolution.
Figaro and Susanna aren't the only ones discomfited by the Count's intentions. The Countess (soprano Caitlin Lynch) joins with Susanna in a plot to embarrass her husband. Though it is her wedding night, she reluctantly agrees, and farce-like complications ensue, especially since Susanna doesn't entirely trust Figaro either. Cherubino (mezzo-soprano Emily Fons in a "pants role" as an older boy with burgeoning desires) adds to the comedic confusion with a pure clear voice, almost like that of a very good counter tenor. She pops in and out of the set's many doors, hides
under beds, and finally jumps out of a window to avoid the jealous Count. Lawlesses's long history with Figaro productions, this is his sixth, makes him well qualified to milk as many laughs as possible out of the action without underplaying the "tears behind" them.
Vocal highlights included Lynch's smooth buttery voice as she lamented the Count's loss of interest with the famous arias "Oh, love" and "Where are the lovely moments." John Moore as the rakish Count Almaviva excelled in the Act III aria "Must I see a serf of mine made happy while I am left to sigh."
Susanne Mentzer (Marcellina) acted and sang recitative, but on opening night was a bit under the weather. To save her voice, soprano Julia Metzler stepped in with little time for preparation to sing the more taxing vocal passages from the side of the stage. The two coordinated so well that the substitution did little harm to the effectiveness of Mentzer's performance.
Also featured in the production are the powerful bass Ashraf Sewailam as Dr. Bartolo, Joseph Hu as Don Basilio, Scott Sikon as Antonio and Lisa Frisque as Barbarina. San Diego Opera's chorus master Bruce Stasyna enhanced recitative passages as continuo harpsichordist.
At nearly three hours and 20 minutes, Figaro is a long opera, but the San Diego production held attention from beginning to end and garnered a well-earned extended standing ovation when the excellent cast took its bows.
October 28th is this production's final performance of four. For information on that and the rest of the season visit the San Diego Opera website.
Photos courtesy of San Diego Opera.