BWW Review: MACBETH at WA Opera
"Double, double, toil and trouble" has made its way to His Majesty's Theatre, but instead of this famous line being spoken by the usual three witches, it (or an approximation of it) is sung in Italian by eighteen classically trained witches. WA Opera's production of Giuseppe Verdi's Macbeth opened Saturday night, delivering a dark, dense and demanding rendition of Shakespeare's classic play.
Straight away, we are introduced to the titular character, sung by the formidable baritone James Clayton. He's dressed in a kilt, strapped with leather and metal accoutrements, big black boots, and two swords crossing his warrior's back. His stride and stance are wide, and his voice rich and clear; his presence immediately, easily fills the stage and the auditorium.
Even so, the set that he and Banquo (Jud Arthur) find themselves in, designed by Roger Kirk, towers and looms above and around them - a Brutalist cavern of pillars standing on a fairly steep rake. This puts us in a non-specific setting, and allows the designers to play with lighting and costumes to achieve a nightmarish quality that would haunt the viewer in any age. The palette is red, black and white, spattered with stage blood and bathed in ghoulish green and deep blue lights, designed by Trudy Dalgleish.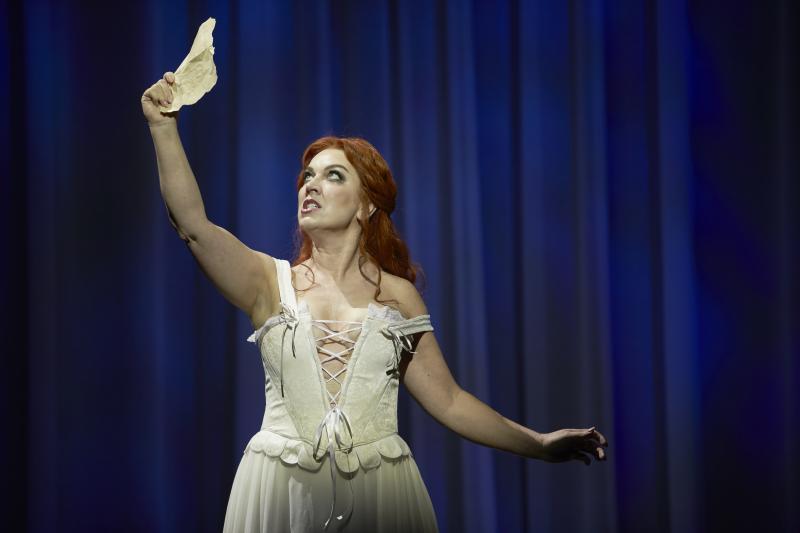 Soon we are introduced to the very embodiment of the nightmare at the heart of the story of Macbeth: Lady Macbeth. Antoinette Halloran arises from a slumber dressed in gauzy white undergarments; a cascade of red hair frames her lovely face, which morphs quickly into something otherworldly and demonic as we learn of her ambitions and her murderous plans.
Halloran's Lady Macbeth projects boldly out of her fiendish eyes, and as she executes her runs, the devil inside seems to shove its way out of her throat to the top notes and scream out to the heavens. It's quite an unusual, disturbing sound, such that I thought my ears were playing tricks on me; I can only assume this was done with intent, in line with Verdi's requirement that the performer be none-too-pretty in her interpretation. And I have to say, this being the case, Halloran is a truly remarkable performer, committing to this character so fully that she would distort her vocals to embody this torment.
For my part, she was the focus of the piece, so compelling was her portrayal, and after she disappeared from the stage, I thought, well, can we not get these men to just get on with their sabre-rattling? I can't, of course, overlook the beautiful aria by Macduff in the same act Ah, la paterna mano, performed by Paul O'Neill, who swept the audience off its feet. And finally, we must note Clayton's final lament, Mal per me che m'affidai, after he is mortally wounded by Macduff; it's a tender moment from Macbeth after a long and arduous journey of moral and psychological torment.
WASO, under the direction of Brad Cohen, drives the score forward relentlessly, almost mercilessly at points, while the chorus morphs into various groups, witches, soldiers, refugees, and banquet attendees, with the aid of costume and wig changes.
An evening with Macbeth is a rich, rewarding, penetrating experience, so prepare yourself well.
Related Articles View More Opera

Stories