BWW Review: Houston Grand Opera's FAUST Pulls Out All the Stops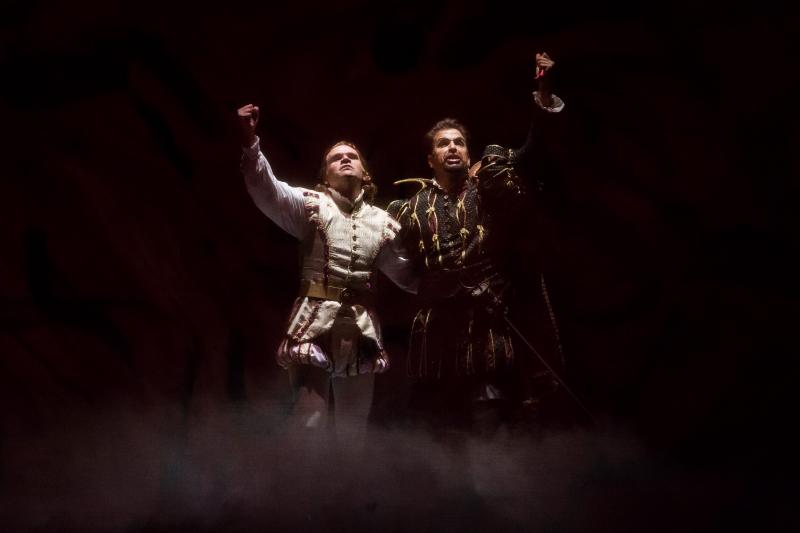 Houston Grand Opera's production of Gounod's FAUST puts the "grand" in grand opera. The current production has all the bells and whistles - a timeless story, a top-notch cast, the costumes, sets and lighting of an all-out extravaganza. In short, it has everything the word "opera" conjures up. And it's at the Wortham, all for you.
The story of Faust has had several iterations, and although the plot changes in detail from genre to genre, the basics are the same - what happens when a man sells his soul in exchange for his heart's desire. And the answer, predictably, is never good. It's a story as old as greed, and as universal as longing. It's a cautionary tale.
As the action begins, dimly, through a scrim, we first see Dr. Faust (Michael Fabiano) in his study, old, bent and tired of living. He bemoans his youth and yearns for death. He cries out for it, but it will not come. Instead, Mephistopheles (Luca Pisaroni) answers his call with a very different proposition. In return for his eternal allegiance, Mephistopheles will restore the doctor's youth and vigor, showing him a glimpse of what he can attain in the distant image of the beautiful Marguerite (Ana MariA Martinez). The temptation is too great; Faust succumbs.
When we next see Dr. Faust, it is as a radiant and gorgeously-dressed youth. The village is in the midst of celebration, with wine, women and song. Jugglers juggle, conjurers conjure, and in the background a morality play takes place, the story of The Fall, complete with Adam, Eve and the serpent. Wine flows, drunkards drink, and dancers dance with abandon. Faust quickly spies Marguerite, as chaste and innocent as she looks, and is determined to have her. Mephistopheles assures him that he shall.
Valentin (Joshua Hopkins), Marguerite's devoted brother, and his friend Wagner (Ben Edquist), along with a band of villagers, are off to war, brandishing swords and waving flags as they accept the blessings and applause of the crowd. Marguerite gives her brother a medal that will protect him, and he kneels for benediction and sings his first aria, O sainte médaille , a sweet ode to the sanctity and efficacy of the holy medal. He and his troop march bravely out with much fanfare, and the party resumes, with Mephistopheles extolling the more worldly pleasures, encouraging the villagers to eat, drink and be merry. They need no further encouragement. Marguerite prepares to leave, and Faust offers her his hand in escort, but she politely turns him down. She is no lady, she says, and is in no need of protection. And besides, she has her faithful friend Marthe (Margaret Lattimore, who has promised Valentin that she will look after her. Faust is gently spurned.
The festival scene, as realized by Revival Director Garnett Bruce and Producer Director Francesca Zambello, along with Set and Costume Designer Earl Staley and Lighting Design by Michael James Clark is pure joy. The chorus was infectious in their celebratory spirit, and the color, motion and atmospherics delight throughout. As with any really good party, I was sorry to see it end.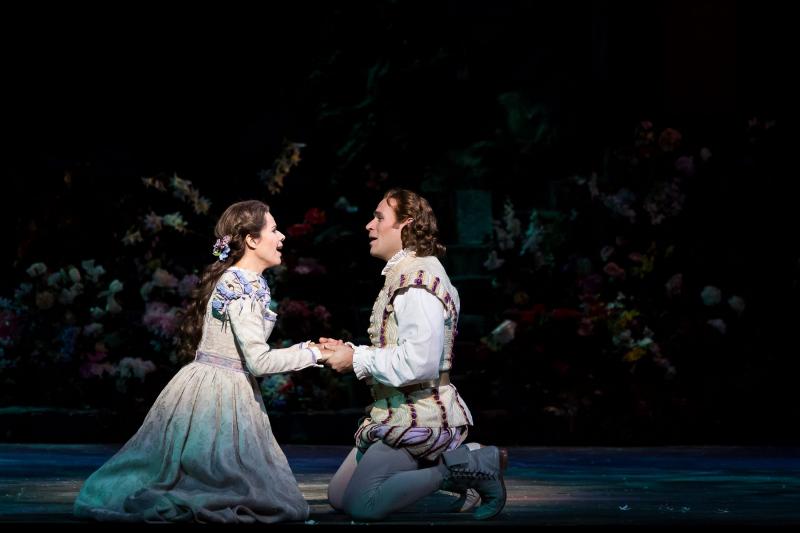 But end it did, and Faust is left with the task of wooing and winning the fair Marguerite, a more difficult task than he imagined. He finds he has a rival in the person of the boy Siebel (Mezzo-soprano Megan Mikailovna Samarin) who has loved Marguerite from afar, and now presses his suit with an offering of a bouquet picked from her own garden. Highly amused, Mephistopheles takes Faust firmly in hand, explaining that the way to a maiden's heart is jewelry, which he forthwith provides, in a richly bejeweled casket, left on Marguerite's doorstep. It does the trick, and Marguerite, after faintly protesting to herself that the jewels don't belong to her, nevertheless proceeds to put them on while singing the Jewel Song, and laughing at her own vanity. Faust appears, assures her that the jewels are hers, and Marguerite finds herself in love. Mephistopheles begins to flirt with Marthe, so as to leave the lovers alone, and this results in a genuinely comic duet, as Marthe, clearly smitten, plays coy, to Mephistopheles' despair.
The lovers find themselves together, un-chaperoned, in a moonlit garden. Fade to black.
As Act III opens, it is bleak winter, a snowy scene reminiscent of a Dutch master, as children play and the villagers go about their tasks. Marguerite, alone, deserted by Faust, and carrying an infant in her arms, is taunted by the young girls. Only Marthe, and faithful Siebel, take her side. All is misery as Marguerite Calls out for her lost love. Valentine and his troop return from war after suffering terribly. Valentin rushes to see his sister, but, discovering her condition, turns against her. He encounters Dr. Faust, who has also returned, and challenging him to fight, is himself killed. He dies cursing Marguerite for her faithlessness and sin.
It is all too much for Marguerite, who flees to the church for absolution, but finds none, and goes insane, killing her infant. She is imprisoned and sentenced to die. Faust, by now conscience-stricken at his actions, tries to rescue her, but she hardly recognizes him. Mephistopheles calls in his agreement, and the two descend into Hell, as Marguerite dies and is carried away by angels.
The production is thoroughly satisfying, although the compression of five acts into three left out scenes I would have liked to see, but even cut, it runs close to three hours, with two intermissions.
Michael Fabiano is a shining presence as Faust, and performs the role beautifully.
Luca Pisaroni is a strutting peacock of a man as Mephistopheles, reveling in his fine clothes and ladies' man manner. He never threatens, he never frightens; there is simply an air of inevitability about him which is irresistible. The truth be told, there is something decidedly more attractive about him, compared to Faust. I wonder why? I leave it to you.
Ana MariA Martinez's long-suffering Marguerite is sweet and exasperating by turns, and sometimes you just want to shake her, but her voice carries the day. Joshua Hopkins is all swagger and bravery as Valentin, and plays the valiant soldier with verve and bravado. His death scene is particularly touching.
Megan Mikailovna Samarin is sweetly lovelorn in the boy's part of Siebel, her crystalline voice protesting his love and disappointment, and Margaret Lattimore is fun as Marthe, the earthy friend and companion. Ben Edquist does a fine turn as Wagner, the romantic and dashing friend of Valentin.
This production of FAUST is maybe a tad overblown, but it's all an opera can be, and more. No expense or talent has been spared, and Houston is fortunate to have such a company to perform it.
Sung in French with projectEd English translation.
FAUST runs November 5, 8, 11. Houston Grand Opera, Wortham Theater Center, 501 Texas. For information, call 713-228-6737 or visit houstongrandopera.org. $15 to $290.