Review: DINNER Now Being Served at NYU's Opera Lab and American Opera Projects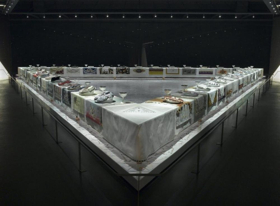 Co-author, Sydney H. Sasanow
What's left to say about Judy Chicago's "The Dinner Party"--that milestone of 20th century feminist art now on permanent display at the Brooklyn Museum--that hasn't already been said? After all, it has put women, some famous, some not, front and center and brings their importance in history into context. It celebrates their accomplishments and unceremoniously gives them "a way of reclaiming the fact that women were degraded for their bodies...," as the artist herself put it.
The artwork has also been the center of a multitude of literary arguments and angry posturing, from male and female critics alike. So, what's left to say? Actually, quite a bit, according to the students from the Opera Lab of NYU Tisch Graduate Musical Theatre Writing Program (GMTWP), who have taken a handful of the pieces and used them--and the work as a whole--as inspiration for a series of short operas, under the guidance of the Lab's co-directors, Randall Eng and Sam Helfrich.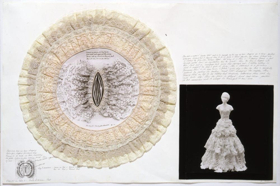 The result: Some remarkable insights and burgeoning talent aplenty on display. While the composer-librettists are still early in their artistic journeys, no one could accuse them of not taking up the challenge and running with it. They ran the gamut from the dramatic heft of royal intrigue to the ghostly presence of a famed poet to the humor of life in a household where there's witchcraft.
About a dozen pieces were performed last week--each under 15 minutes--with a game cast of professional singers (thanks to the project's co-sponsor, American Opera Projects) and first-rate music direction/accompaniment from Mila Henry (Part A) and James Lowe (Part B). The mini-operas in Part A were directed by students from The New School and designed by students from the NYU Tisch Design Department; Part B had a professional director, Luke Leonard, and a professional costume designer, Sabrina Bianca, with lighting by Tisch student lighting designers.
The project was a collaboration of NYU's Tisch School of the Arts, American Opera Projects, and the Brooklyn Museum. Part A was given at NYU's Black Box Theatre, while Part B was performed at the Brooklyn Museum, in close proximity to the Chicago installation in the Elizabeth Sackler Center for Feminist Art.
The operas in Part A:
AN UNBROKEN LINE, music by Spencer Robelen and libretto by Seth Christenfeld, directed by India Marie Paul, was inspired by Queen Hatshepsut of ancient Egypt and it skillfully showed how a woman needs to watch out for both women and men in protecting one's legacy. Mezzo Yoojin Lee made a strong, if naïve, Hapshetsut; mezzo Kathryn Krasovec a conniving Iset; and countertenor Jordan Rutter a feckless Thutmose III.
Inspired by Goodwife "Goody" Ann Glover of the Salem Witch Trials, with music by Benedict Braxton-Smith, libretto by Nick Stephens, directed by India Marie Paul, AR N-ATHAIR was an interestingly crafted, musically dramatic look at how (as Shakespeare put it) "Misery acquaints a man [and woman] with strange bedfellows," when dealing with a force like the devilish Cotton Mather, sung by countertenor Rutter. Baritone Nathanial Sullivan was the pirate and mezzo Krasovec was the accused (?) witch.
PETRONILLA (inspired by Petronilla de Meath, the first Irish woman burned at the stake for heresy) was perhaps the most amusing of the pieces, with Kent Jeong-Eun Kim's music, libretto by Zackry Childers and directed by Pauls Macs. Broadly played and filled with party tricks (eg, men turned into creatures), the piece found good casting in mezzo Lee (Petronilla), mezzo Krosovec (Lady Alice) and baritone Sullivan as the Bishop.
With music by Jacinth Greywoode, libretto by Deepali Gupta and directed by Pauls Macs, MASTER was inspired by poet Emily Dickinson and I found it one of the most dramatically sophisticated renderings of the group. I found the ghostly presence of Dickinson (Krasovec) particularly well handled, with Kim as the poet's sister and countertenor Rutter the embodiment of the poet's "master," AKA verse/rhyming poetry.
In a piece inspired by "The Dinner Party" itself," AVERY AND AINSLEY, music by Jonathan Fadner, libretto by Scott R. Ritter, directed by Diane Machlin, showed a deft hand for comedy along with sociological insights, not the least being: When do we treat history as myth? Yoojin Lee and Nathaniel Sullivan were the winning couple. I found the jazz-inflected score quite appealing.
Last in this section of the artwork-inspired works was A DROP IN THE OCEAN, inspired by Christine de Pizan, a medieval writer/ historiographer who advocated for women's equality. The music by Bryan Blaskie and libretto by Christine Claudel Lilimonova, directed by Diane Machlin helped define the story about the sleazy use of power--so appropriate for our times.
The operas in Part B of THE DINNER PARTY, reviewed by Sydney Sasanow
The part of the program performed at the Brooklyn Museum's Cantor Auditorium began with WAITING FOR THE RAIN, focused on medieval heroine Hildegard von Bingen, a 12th century figure who was both a scientist and a nun.
As Hildegard, contralto Nicole Mitchell fully embodied a woman straddling conflicting worlds--her emotive singing in this role was one of the highlights of the performance. Although the libretto by Clara Luthas was perhaps overly literal at points, the music and the supporting performances by tenor Keith Browning and soprano Amelia Watkins worked well to help the audience imagine they were with Hildegard in her cloister, praying for clarity.
The next three operas placed their subjects in modern settings, in order to remind us that the more things change, women are still subjugated by the patriarchy.
THEODORA finds its heroine, Alanna (soprano Jarvis) humiliated by her coworkers on her birthday, who dismiss her ideas during a meeting and applaud her male counterpart for saying almost the same thing. In a sly reference to "The Dinner Party," Alanna's logo is vertical, unsubtly vaginal, "evoking passion." Rotated ninety degrees by the man who one-ups her, suddenly the logo reminds us of the horizon, of a different kind of passion.
Theodora makes an appearance as Alanna reads from "39 Feminist Quotes for Female Empowerment," a birthday present from her roommate Justin (tenor Browning) In a turn of events Sheryl Sandberg would be proud of, Alanna is inspired by the fearless words of Theodora to persist. The audience laughed in recognition at the libretto by Benji Goldsmith, to Minhui Lee's interesting score, throughout.
Although Pope Joan does not make an appearance in "The Dinner Party," her story fits in well with the others in the program. Contralto Mitchell shines again as President Joan, a very pregnant head of state with an even faker mustache. PRESIDENT JOAN (OR THE UNEXPECTED VIRTUE OF SANDWICHES), music by Boram Han and libretto by Cal Silberstein, manages to raise many of the questions plaguing modern feminism:
- Are women, with their hormones and their ability to get pregnant, physically-emotionally-intellectually capable of holding the highest office in the land?
- How is maternity regarded as one of the most sacred human states, yet America has inadequate and overly expensive maternity care and family leave?
Jarvis, as the Chief of Staff, and Mitchell, as a very pushy sandwich lady, play off Joan well.
In WOMEN'S WORK, Seth Christenfeld's libretto directly addresses Sojourner Truth's place setting in "The Dinner Party." A white artist (Jarvis) reveals her latest artwork to her friend (Browning), a literal depiction of Harriet Tubman. The friend confronts her--why are the rest of her portrayals of women throughout history abstract, and her portrayal of a famous Black woman so literal? A visit to Chicago's work after the performance showed Sojourner Truth's place setting which was not vaginal like every other place setting, depicting two faces--one realistic, in tears, one resembling a racist caricature.
Program B's final opera, JUDITH AND HOLOFERNES, bookends the previous comic operas in modern settings. As in WAITING FOR THE RAIN, Lily Dwoskin's libretto shines a light into Judith's inner monologue, as she plots to slay the Assyrian general Holofernes in order to save her people. Both Mehmet Salih Yildrim's score and performances by the whole cast, in particular Alexa Jarvis as Judith, convey the sensuality and danger of the encounter.
"The Dinner Party Operas" is the most recent production of Tisch GMTWP's Opera Lab, through which students write, compose, develop, and design original operas performed by professional opera singers. The Opera Lab was started in 2015 by Professors Eng and Helfrich and is open to both students and alumni.
This isn't the first time that the Opera Lab has done a project like this; one of the works first heard as part of the NYU-AOP effort on Brooklyn's historic Fort Greene Park, THE BONE KEEPERS by Casey O'Neil and Sophia Chapadjiev (an AOP project), was further developed and recently shown with some interesting new material at the Hunter (College) Opera Theatre, particularly a new scene sung by Jacob January, under the banner of the NY Opera Fest. (Another project revolved around New York City's International House, which houses and supports international students and entrepreneurs.)
For 25 years, AOP has been identifying, developing and presenting innovative works of opera and music theater by established and emerging American artists. Only time will tell how these young writing teams from NYU will fare--but, in any case, it was good to be there at the beginning.
###
"The Dinner Party Operas" was produced with support from NYU Tisch Institute of
Performing Arts. AOP's participation was made possible through a multi-year award
from The Andrew W. Mellon Foundation, an OPERA America Innovation Grant,
funded by the Ann and Gordon Getty Foundation, and by public funds from the
New York City Department of Cultural Affairs in Partnership with the City Council
and NY State Assembly member Walter T. Mosley, District 57.