Review: City Opera's Chamber Version of DOLORES CLAIBORNE Proves Fitzgerald Was Wrong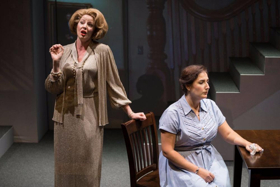 "There are no second acts in American lives," wrote F. Scott Fitzgerald in his unfinished novel, "The Last Tycoon." New York City Opera proves him wrong, with its new chamber version of the Tobias Picker-JD McClatchy opus DOLORES CLAIBORNE, which premiered at the San Francisco Opera in 2013.
Based on a novel by Stephen King--though perhaps better known from the film starring Kathy Bates--this terse retelling of murder and misery among the rich and poor in Maine is never less than intriguing and sometimes compelling in the quickly moving production directed by City Opera's General Director Michael Capasso at the tiny 59East59 Theatre in New York.
This is one of those "did she or didn't she?" murder stories and the answer is yes (her miserable spouse, Joe)--and no (her sometimes sympathetic employer, Vera). McClatchy's lean storytelling unfolds in a handful of scenes (King took over 400 pages to tell it), aided enormously by John Farrell's projection and production design, with lighting by Susan Roth and costumes by Janet O'Neill.
Picker's dark score, neither modernist in the extreme nor falling back on the melodic norms of another age (though sometimes coming close to turning romantic), provides some interesting opportunities for the singers, the women in particular. None of them really gets the chance to be happy but at least they get a chance to soar musically, under conductor Pacien Mazzagatti and the City Opera Orchestra's excellent work. I liked Dolores' aria with Selena on the deck of a ferry--where she finds out the worst about her husband's child abuse--Serena's pair of Act II arias (her ode to an eclipse and reflections on her troubled life) and Vera's smart aria advising Dolores to take action, reminding her that "Men have accidents."
Not surprisingly, Claiborne is the best drawn of the characters, doing whatever she must (including murder) to protect her daughter's future, even though her efforts go unappreciated in the end. She was well cast with mezzo Lisa Chavez, whose stage presence and powerful voice easily capture the audience's compassion. The opera counts on her ability to switch from pitiful to avenging angel on a dime, and she pulls it off with aplomb.
As Vera, soprano Jessica Tyler Wright was extremely effective as the socialite with lots of secrets, smart-mouthed here, pathetic at the end, using her sharp-edged soprano to cut like a knife. Soprano Lianne Gennaco and her lyric voice easily made the transition from waif to hard-bitten, though successful, attorney, in a surprisingly demanding role.
The male characters were pretty thankless, though large-voiced baritone Thomas Hall threw himself handily into the repulsive role of Joe, Claiborne's husband. As Detective Thibodeau--who tries to pin Vera's murder on Claiborne though the evidence is slim (as pointed out by Selena, who is now a successful lawyer)--tenor Spencer Hamlin tries hard but doesn't have much to work with in his role.
CLAIBORNE started out as a large-scale work at the San Francisco Opera, where a last-minute casting change--in the title role, no less--captured much of the attention, along with its graphic physical violence, which seems to have been toned down now. In many ways, this production showed that "less is definitely more."
###
There are two remaining performances of DOLORES CLAIBORNE: Saturday at 2:30pm and Sunday at 3:00pm. For more information, see City Opera's website