BWW Review: A Powerful Production of Weill's 'Lost in the Stars' Closes Union Avenue's Season
- T
he Union Avenue Opera has opened a wonderful production of Lost in the Stars, with music by Kurt Weill, book and lyrics by Maxwell Anderson. It is among the most beautiful productions the company has ever produced--visually, in the simple but dramatic scene design, in the deeply evocative lighting, and in the graceful, natural movements of the large cast--and musically, in the gorgeously effective use of chorus and (most especially) in the simply towering performance of baritone Kenneth Overton in the central role.
Lost in the Stars premiered in 1949. It was Kurt Weill's last work for theater. (He died the following year.) It is based on Alan Paton's Cry the Beloved Country, an immensely popular novel which was published in 1948. Weill's gravestone bears an epitaph taken from Lost in the Stars:
This is the life of men on earth:
Out of darkness we come at birth
Into a lamplit room, and then -
Go forward into dark again.
The story begins in Ndotsheni, a remote village in the Natal province of South Africa in the days shortly before Apartheid became the official racial policy. Tribal lands have been mismanaged into infertility. There is an ongoing exodus into the big cities. Tribal culture is decaying, shattering. Villages are dying.
Stephen Kumalo is a black Anglican priest, a Zulu. His son, Absalom, has, like so many of the tribe's young, disappeared into Johannesburg. Rev. Kumalo's younger sister has similarly dropped out of sight into the big city. The plot follows the reverend's journey into the depths of this wicked city to rescue his loved ones. It is not unlike that journey of Orpheus into Hades to retrieve his beloved Eurydice. But it is not a careless backward glance that destroys Kumalo's hopes; it is South Africa's failure to look forward that brings tragedy.
Poverty and hopelessness have driven young Absolom to join two friends in a burglary attempt. He's desperate for money to support his beloved Irina and their coming child. Things go wrong and Absolom shoots and kills the white master of the house. Ironically, the victim, Arthur Jarvis, was one of only a few voices supporting racial equality. In his trial Absolom pleads guilty and is sentenced to hang. (No spoiler alert; in a tragedy you really should know what's going to happen.)
It is in the grief of Rev. Kumalo and that of the dead man's father, James, that the drama plays out. And in the end the elder Jarvis overcomes his own prejudice to meet as equals with Rev. Kumalo and say, "Let us forgive each other"
Kenneth Overton is simply perfect as Stephen Kumalo. His deep rich voice fills the hall, and Kurt Weill gives him some glorious songs to sing--none more moving than the title number, "Lost In the Stars". Overton could make a career of this role.
Other outstanding singers in the cast include Krysty Swan as the anguished Irina, and Melody Wilson as the naughty Linda.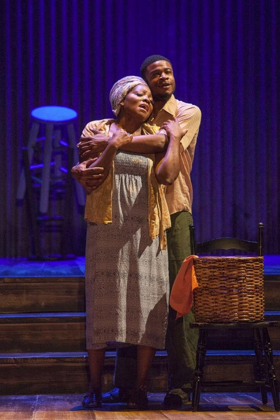 Ms. Swan's rendition of "Stay Well" is heartbreaking. Ms. Wilson, whom we've recently seen in dignified roles in Doubt, Regina and Nabucco, here displays a vivaciously different aspect of her talent in a rowdy, bawdy "Who'll Buy", which is not really about selling vegetables. Roderick George shows a beautiful voice as the leader of the chorus, and young Sherrod Murff charms us in a mining song, "Big Mole".
Myke Andrews is deeply moving as the doomed Absolom, whose courage to tell the truth only leads him to the gallows.
Excellent work is done in many other (mostly non-singing) roles, including:
- Tim Schall as James Jarvis, the grief-stricken father
- Reginald Pierre as the reverend's cynical brother John
- Jeanitta Perkins as the reverend's wife Grace
- Stephen Peirick as Arthur Jarvis, James' son
- Anthony Heineman as a beautifully crisp English barrister
-Abraham Shaw and Carl Overly, Jr., as Matthew and Johannes, accomplices in the burglary
- Chuck Lavazzi as a kindly parole officer
- Mark Edward Kent and Randall McGee as political pals of John Kumalo
- Maika Miller as Matthew's girlfriend
- Charlie Mathis as the bright and spirited young grandson of James Jarvis
- Evan Adams, Paul Herbert Pitts, Ross Rubright, Rose Fischer, Michael Hawkins, Joel Rogier, Mark Saunders and Moses Anthony Weathers in supporting roles.
The set, by Roger Speidel, consists of a few steps separating up-stage and down-stage areas, backed by surrounding tall walls of corrugated steel and wooden posts. The floor is of worn heavily-grained wood. It all gives a subtle but striking suggesti
on of both a shanty-town and . . . organ pipes! It's wonderfully effective and very flexible. A few chairs, stools, a box or two are simply and gracefully positioned as needed by members of the chorus. Lighting, by Joe Klapper, is dramatic indeed with much use of side and under-lights to cast silhouettes.
Costumer Teresa Doggett once again does quite perfect work. All the clothes are properly period and appropriate, mostly in soft earth-tones. We see none of the flow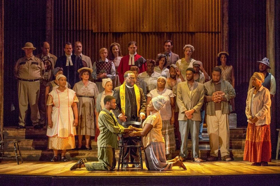 ing colorful robes we associate with African presence on the Modern Stage; no, that would present a bright spirit, an air of hope. Ms. Doggett is absolutely correct to banish such things from her Ndotsheni and Johannesburg in these dark and hopeless days.
It's a large cast-thirty-six by my count. And stage director Shaun Patrick Tubbs places and moves them all gorgeously. Every moment is like a painting. And every member of the chorus is given real individuality. It is superb directorial work!
Musically Lost in the Stars is a little odd. It is all solos and chorus. There is not a trace of duet, trio or quartet. Even the tragic lovers, Absalom and Irina, are denied a love duet. Some of the most passionate feelings are expressed in scenes that are spoken, not sung, whereas in a normal opera the most passionate music always supports those passionate feelings.
But the chorus is worth more than all those missing duets and trios. Weill has lavished wonders on the them and they sing gloriously with quite astonishing power and synchrony.
Maxwell Anderson's book is a little flawed. The elder Jarvis's enlightenment on racial matters seems to spring suddenly upon him. (In the novel he had long pondered over his son's writings.) And his choice to visit Rev. Kumalo a quarter-hour before Absolom is to be hanged is unthinkably cruel.
And the lyrics: Now Anderson was a poet as well as a major playwright, and he and Weill had already collaborated to write Knickerbocker Holliday, which contains that undying standard "September Song". In Lost in the Stars there are a few lovely poetic moments, but many of the lyrics are simply pedestrian.
But these are minor flaws in a visually and musically beautiful evening.
When Kenneth Overton's glorious voice and that irresistible chorus swell together into the title song they will overwhelm your heart. (A hanky in your pocket would not be inappropriate.)
Music director Scott Schoonover has guided all these singers and musicians into yet another stunning evening of opera.
Kurt Weill's Lost in the Stars continues at the Union Avenue Opera through August 25.
(Photos are by John Lamb.)
Related Articles View More Opera

Stories