BWW Interview: Meeting Mr. Wright (Nicholas, That Is), MARNIE's Librettist, at the Met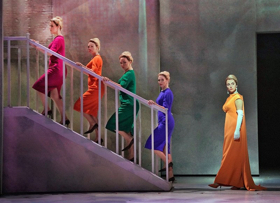 Librettist Nicholas Wright--an acclaimed, award-winning playwright--was so keen on collaborating with composer Nico Muhly and director Michael Mayer that he initially said yes to the wrong opera.
"When the Met's dramaturg (i.e., literary advisor) Paul Cremo, asked me what I thought about doing the libretto for MARNIE, I said yes because I was really interested in working with Nico and Michael. I must admit, though, I was somewhat reserved about whether it was a good opera subject," Wright told me. That was understandable, of course, when he admitted, laughing, a case of mistaken identity: He'd confused MARNIE for MARTY.
MARNIE, as you probably know by now, is a 1950s British novel, a psychological thriller about a woman who takes on multiple identities, set in drab, austere post-World War II Britain by Winston Graham. (He also wrote the "Poldark" novels that are the basis of the long-running PBS series.)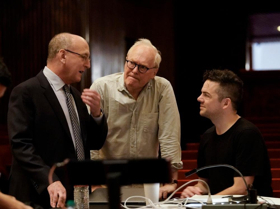 The novel was famously (or infamously) made into a film by Alfred Hitchcock in 1964, and the opera opening at the Met this week stars mezzo Isabel Leonard in the title role, baritone Christopher Maltman as Mark Rutland, countertenor Iestyn Davies (Terry Rutland) and mezzo Denyce Graves (Marnie's mother), conducted by Robert Spano.
MARTY, on the other hand, was a low-key drama about a Bronx butcher by Paddy Chayefsky that made its way from the Golden Age of television (1953) to Hollywood, where it won four Oscars, including Best Film, Best Actor for Ernest Borgnine and Best Screenplay for Chayefsky. (Wright's friend, Betsy Blair, the female lead, was nominated for another.)
An interesting movie, in a kind of meta way
Did he know the Hitchcock film, I asked Wright? "I'd seen it when it came out," he recalled, "and had possibly seen it again but can't quite remember." When I admitted that I'd never seen it, he said, "Really, it's such an interesting movie, but in a kind of meta way, if I could say that--because of what it reveals about Hitchcock.
"He was past his best mentally and there are things that are inexplicably bad for a great director like that, but also because of his great obsession with Tippi Hedren. That's what the movie is all about--a kind of weird homage to this woman who had no interest in him whatsoever, but with whom he'd become completely obsessed." (Hedren was the last in a line of "Hitchcock blondes.")
Was there a concern among you and the others about any audience expectations because it was a Hitchcock film, I wondered? "No," affirmed Wright. "We sort of put that out of our heads."
Of course, Hitchcock made it a "Hitchcock" film--glamorized it in an East Coast setting, with Hedren, his star from "The Birds," and Sean Connery, fresh off the first James Bond movies, but rather inexperienced as an actor. ("I wonder whether it would have done better if Grace Kelly, Hitchcock's first choice for the title role, and Cary Grant had been in it. We'll never know, will we?" he mused.) The film was only a modest success--the NY Times called its script "inexplicably amateurish" and the film "a clear miss"--but that had no bearing on the viability of the source material, says Wright. (According to the program, it is a favorite of director Mayer.)
"We spent quite a bit of time talking about where to set it and decided on taking the original from the novel," said Wright. "We all came to that--Michael, Nico and myself. Actually, I was quite tempted at the start to make it a super-modern Marnie, in the enormously moneyed world of finance. But then we realized soon on that you can't do that because it's entirely about someone who changes her personality and disappears and reappears," he recalled.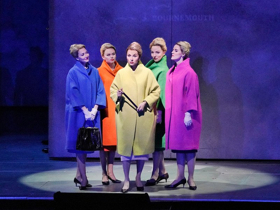 "That's fine for the 1950s, because all you needed was a driving license and a bank account to establish yourself. Today, you can't do it, with the Internet, because every instant of our lives is being scrutinized somewhere or another. And everybody has everything about you somewhere out there, at their fingertips."
A key figure in British theatre
Well, Americans may not exactly have Wright at their fingertips, though he has been a key figure in British theatre for years. He not only wrote award-winning plays including the Olivier Award-winning VINCENT IN BRIXTON (which Lincoln Center Theatre brought here), MRS. KLEIN (also an off-Broadway hit, starring Uta Hagen), and the huge success, HIS DARK MATERIALS (an 800-page script!) at London's National Theatre, but has been part of the theatre establishment at the National and the Royal Court.
He came to opera rather late ("I was old," he laughed) and, in fact, MARNIE is the first big dramatic opera for him, though he's written a couple of well-received music dramas before: Rachel Portman's THE LITTLE PRINCE, which opened at the Houston Grand Opera in 2003, based on the Saint-Exupery novella, and Jonathan Dove's MAN ON THE MOON, in 2006, an opera for British television about the first moon landing, of which he's particularly proud. (It starred Nathan Gunn and Patricia Racette.)
"MOON was exciting, because what I did which I thought was quite new was to write it like a film script so that you could break it up into lots of different scenes but the rhythm was such that the music could cut over in a symphonic way. I didn't think anyone had done that before--written it as if it were a shooting script for an opera."
The importance of the libretto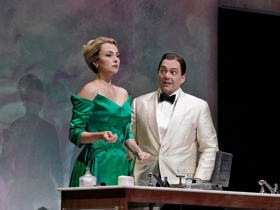 Wright takes his work on an opera very seriously, because he's very clear about the importance of the libretto in an opera's success. "You can see how that is true in works that have really lasted. How fantastically LA BOHEME is constructed, for example. Every time I see it I say, 'My god, that's a brilliant piece of dramaturgy.'
But it's more than simply the story-telling for Wright. "There is an element of opera that's terribly important, which is part of the experience for the audience: you have something to sing about. Nico was quite hot on this, actually, quite rightly saying from the beginning, 'I need stuff that could become arias.'
"It can't be to and fro, to and fro, to and fro (i.e., dialogue and more dialogue); it's got to be stuff that people can let rip a bit. You have to be striving toward something that's quite exalted--finding moments that will inspire the composer to write something that somebody can sing full out, fill their heart. Because that's something people are coming to see."
When he read the novel before getting to work on this, were there things that immediately sang to him--things that said 'we must turn this into an aria,' I ask? "No, I don't think there were, immediately. I had to find them."
Play versus libretto
Is there a big difference between writing a play and a libretto? I received a resounding YES to that. "In a play, when you're writing what people say, you're also writing the subtext-- also trying to convey what they might be thinking and not necessarily saying, what they're not being quite transparent about.
"in an opera, what reads is just the surface intention of the dialogue. The music does the subtext, for me, the music conveys the atmosphere, the feeling about it, what's going on, etc. That for me is the big difference: The opera libretto is more on the nail--more primary colors.
"What I learned from the first opera I did, is that you've got to have the whole libretto complete before the composer starts composing it; the music is the whole package--themes that may start at the beginning may be picked up at the end. He or she has to know how it's going to finish, what the whole arc of it is going to be.
"What I always do is to work on a synopsis or a scenario--maybe 12 pages. And really hammer that through in some detail, in this case with Nico, Michael and Paul Cremo [the dramaturg] and via Paul, to Peter Gelb [the Met's general manager] who's very hands on. That must be settled-and, honestly, I don't write a word of the libretto till all the details are resolved. It can be quite a long business but that's the way I do it.
"I don't remember whether I sent any of it to Nico before it was finished, possibly a bit but not much. On the whole, I wouldn't want Nico to start composing until I'd written it all. A lot of what you're trying to do in a libretto is give the composer something that's worth setting to music--to fire them up. Also of course, while construction is very important in a play, it's super-important in an opera because that's what has to come over the footlights."
Many protagonists
Once you gave Muhly the libretto, I asked, did the composer say, 'Ok I'll see you in three weeks?' Wright laughs. "You asked about the difference in writing a play and a libretto, there's another thing I didn't mention: It's much more like writing the book of a musical--or a movie script. In other words, you're the writer, not the big cheese you are if it's your own play. Because there are several other people are just as much the protagonist as you are, legitimately; their input is as determined as yours. You listen to the director and, in this case, the composer very, very seriously and everybody has a part in it. I love rewriting, talking to Michael, Nico and Paul, who speaks for the Met, let me know where to go."
When Muhly read the manuscript, did he start working on it or did you have conversations? Sounding rather amazed, Wright said, "I think he started working on it immediately, but soon, very soon, he'd start emailing: very distinctive, hilarious emails, saying 'can I do this, what about this, etc.,' a lot of them all the way through.
"I don't ever remember disagreeing with him--because we worked together on it. It was a real collaboration. The nice thing about Nico is that he's very respectful of the librettist. James Fenton, the English poet, who was the original librettist of LES MIZ (the sung-through musical, LES MISERABLES), he said to me once when I told him I was writing the script for an opera--not this one, by the way--'Well, if ever you're in danger of getting above yourself, the very best thing you can do is write an opera libretto--because you'll soon discover that you're of no importance whatsoever.'
"By contrast, Nico is very respectful, the way in which we were collaborators. I'm not just giving him bits of wood to chop up."
A continuing process
After MARNIE first opened in London at the English National Opera (ENO), about a year ago and with a different cast, the collaborators found they still had some work to do before moving it 'across the pond.' GM Gelb was there and the creators--Michael, Muhly, Wright and choreographer Lynne Page--talked about things that needed to be done to make it better before opening in New York.
"There was quite a lot we wanted to do, though much of it had to do with tightening in up. But there was something larger," he admitted. "Shortly before we opened in London, we cut a scene, the first scene of the second act, because it didn't seem to be going anywhere. But then we found it left a hole in Marnie's trajectory--something terribly important that wasn't dealt with in her story. It was all about Marnie's recovery and journey from the act of violence at the hands of her husband--to make sure that was adequately dealt with.
"When the book was written and the film made, I don't think there was a concept of a husband raping his wife--a husband would be exerting his marital rights. Rape was something that was done by dark strangers who jumped out from the bushes in the popular mind," he explained. "It had been implied in the scene that was cut--but because it was implied it wasn't very strong and out it went, but it left that hole.
"Of course, our times are enormously different from when the novel and film came out--our own feelings are enormously different. So while we weren't trying to please anybody or mollify anybody with what we were doing, we were very keen to tell the story in the right way. And so an act of violence within a marriage can't just be passed over as normal behavior but has to have serious repercussions.
"We felt we had to write something that actually dealt with it, and we came up with a very short, important solo scene for her, which now opens the second act. We talked a lot about it throughout the process: Have we got this right? I hope people will find it very responsible--we have tried to be very serious about it."
I had one more question for Wright: Now that you've done this, are you ready to go back and be a playwright? "Yes, I am," he answered frankly, noting that he's already at work on something new. "I loved the collaboration but playwrighting--that's really what I do."
###
The opera has set and projection designs by Julian Crouch and 59 productions, with costumes by Arianne Phillips and lighting by Kevin Adams.
After opening on October 19, MARNIE will be performed at the Met on Oct. 22 at 7:30 PM, Oct. 27 at 8 PM, Oct 31. at 7:30 PM, Nov 3 at 8 PM, Nov. 7 at 7:30 PM and Nov. 10 at 1 PM, when it will be broadcast in the Met's Live in HD series to theatres around the world. For more information, see the Met's website.
Related Articles View More Opera

Stories