The Town Hall Presents The PHILIP GLASS ENSEMBLE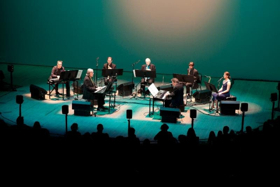 Philip Glass' Music in Twelve Parts, one of the milestones of contemporary music, returns to The Town Hall, the stage where it premiered in 1974, for a rare performance on Saturday, October 27th beginning at 6:00pm
Written between 1971 and 1974, Music in Twelve Parts was originally an "open score", meaning it could be played by various ensembles, but by the time of the premiere, the instrumentation was set: three winds (flutes and saxophones). three keyboards (electric organs), and soprano voice. Running over 4 hours, it's the longest and most ambitious concert piece written for the Philip Glass Ensemble.
In fact, Music in Twelve Parts marked the last time Glass, now 81, would write an extended piece of purely instrumental music for his own ensemble.
The term "minimalism" had not yet become common currency about his work. That would happen a couple of years later, after Glass' success with Einstein On The Beach -- and the premiere of Steve Reich's Music for 18 Musicians, which also took place at The Town Hall.
The Guardian's classical music critic Christopher Fox, who attended a performance of Music in Twelve Parts by the Philip Glass Ensemble in Liverpool in 1975, was so moved by the experience that he wrote that it "changed the way I thought about music." He also noted "there weren't many of us in the audience, perhaps a dozen, perhaps fewer." After an intermission, he went back to his seat to discover that "the original dozen of the audience had shrunk to a handful."
Music in Twelve Parts "is a manifesto of some of the ideas that Philip was playing with at that time," explained Philip Glass Ensemble's singer Lisa Bielawa in an interview with SFist. "It's the first time he partnered the new ideas he got after he went to India, working on these repetitive patterns that change slightly in their repetitive cycles ... with the large-scale forms that evolve over hours. It's an amazing result. "
Each section runs between 15 and 20 minutes, and over that time Glass establishes and works subtle variations of a particular set of harmonic and rhythmic patterns. The processes Glass uses are so subtle, so gradual, that they're hard to detect. The entire set is over four hours long plus three intermissions: two short ones, lasting 15 minutes, and a so-called "dinner intermission" that is 75 minutes long.
Playing and listening to Music in Twelve Parts requires certain stamina, suggested Bielawa, who also noted that, for the audience, there is also the challenge of letting go of standard musical expectations.
"It's a marathon, very literally," she said. "The way that people train for a marathon is the way we prepare for this piece." As for the audience, says Bielawa, "their usual set of expectations is not going to work anymore."
While Glass's repetitive use of cells and structures is associated with musical minimalism, this work displays a great deal of variety and invention. As it unfolds, as repetition both masks and allows for subtle changes, it suggests a summation of Glass' fundamental musical interests and compositional strategies at the time.
The Guardian's Christopher Fox asserts "it makes sense to call Music in Twelve Parts a masterpiece - in the traditional sense of the word as a work in which the artist displays all the distinctiveness and diversity of his craft. What I found so arresting and then beguiling was that the music managed to be both abrasive and smooth. It was the aural equivalent of standing at the top of a giant waterfall."
PHILIP GLASS ENSEMBLE:
Philip Glass composer, keyboard
Lisa Bielawa voice
Dan Bora live sound mix
Jon Gibson flute, soprano saxophone
Peter Hess alto and tenor saxophones
Ryan Kelly onstage audio engineer
Michael Riesman music director, keyboard
Mick Rossi keyboard
Andrew Sterman flute, piccolo, soprano saxophone
Music in Twelve Parts is produced by Glass' longtime producers, Pomegranate Arts (Linda Brumbach, Director and Alisa E. Regas, Manager Director).
Philip Glass is managed and published by Dunvagen Music Publishers Inc. (Jim Keller, Director)
Photo Credit: James Ewing
Related Articles View More Music

Stories