Skate-Funk & Soul Duo The Jack Moves Releases RED LIGHTS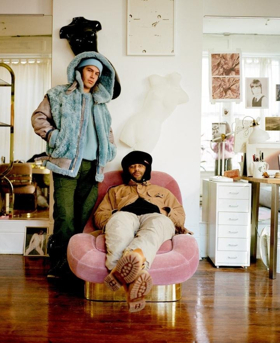 "Red Lights" is the infectious fourth single from Newark, NJ-based skate funk & soul duo The Jack Moves and can be heard HERE. The new album from Zee Desmondes and Teddy Powell, Free Money,
is out Oct 19 via Everloving and was produced by
JP Plunier
(Ben Harper, Jack Johnson, John Lee Hooker, The Growlers, more). The group also wrap up their fall tour with Jupiter & Okwess tonight in Sacramento.
Painted by a sound reflective of Newark's seaside soul, skate-funk punks and the Newark Jack Swing played from transistor radios and boom boxes placed on competitive window sills, The Jack Moves narrative is artfully carried out on the band's sophomore offering and Everloving debut, Free Money. Passion of the Weiss noted that "Money Clouds," the album's first single, is "a shimmering, intimate reverie... one that feels more appropriate whispered in a stranger's ear than belted out under the glare of a spotlight. Impeccably produced by JP Plunier..."
As with most art created in earnest, the band's music has the ability to occupy spaces beyond its origin city... a vehicle spanning coasts and subcultures, perhaps unintended. Out west, it wouldn't be surprising to hear some Jack Moves ballad billowing from a lowrider during a backseat make-out session. Meanwhile in Japan, their hit song was hawking Big Macs™ at Mickey Deeznuts. The band's self-titled Wax Poetics debut drew comparisons to Off the Wall-era Michael Jackson, The Escorts and the Whatnauts. The Jack Moves then hit the road playing supporting dates, traveling the world--from Brixton Academy and Red Rocks Amphitheater, to the strange familiarity of the cherry blossomed avenues of Osaka and Tokyo.
And so it should come as something of a surprise that The Jack Moves would record most of their latest material on the fringe of Los Angeles, placing their intrinsically east coast essence into the hands of idiot-shaman and occasional platinum record producer, JP Plunier. But way out west, the music was unshackled and this new sound was soul, untethered from the chains of the past. These are the songs young beat-choppers will be sampling in the post-millennial era.
FREE MONEY SINGLES
"Red Lights"
"Nasty"
photo by JP Plunier