Nygel D. Robinson to Release Debut Single, 'One More Chance'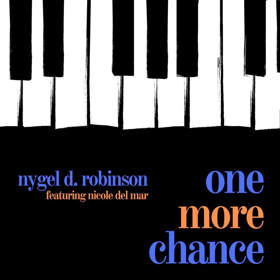 Hollow Sprit Studios is excited to announce the upcoming release of Nygel D. Robinson's debut pop-soul single, "One More Chance." The track will be released digitally worldwide on Friday, February 22nd. A FREE Spotify PRE-SAVE of "One More Chance" is available NOW here - https://show.co/pB0e6Or.
With its throwback, soulful vibe, "One More Chance" showcases Robinson's vocals alongside those of Atlanta-based singer Nicole Del Mar, who is featured on the track.
"One More Chance" was written by Barry Anderson (Broadway's Jersey Boys & Legally Blonde), and produced by Dominique Scott and Daniel Bailey of Hollow Spirit Studios.
Nygel D. Robinson is a North Carolina native, and a 2015 Musical Theatre graduate of UNC - Pembroke. Since arriving in New York City, Robinson has been quickly making a name for himself in the music and theatre scenes, performing throughout the city, including shows at the iconic The Bitter End. The actor/musician has been featured onstage in Freedom Riders: The Civil Rights Musical (NYMF 2017), Lady Day At Emerson's Bar & Grill (as Jimmy Powers) for JAG Productions, and most recently, The All Night Strut! at Milwaukee Rep.
Dominique Scott and Daniel Bailey, both actor/musicians, began Hollow Spirit Studios in 2017 after discovering an untapped source of talent among their peers. They have recently produced music for a variety of artists, including Christiani Pitts (Broadway's King Kong), Veyebs, Dom Scott, Josh Hobbs, Miss Ginger, and Skye Scott. Hollow Spirit Studios is continuing to expand, ushering in an era of inspired, cutting-edge music and video.