Lauren Ruth Ward New Single HUNGRY BARBER via CoS Feature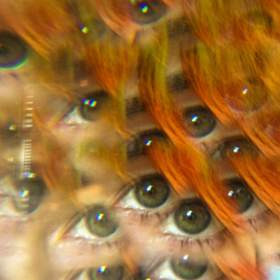 Today, Lauren Ruth Ward struts her 70s psych chops and blends enchanting folk stylings on poignant new track, "Hungry Barber" via Consequence of Sound "Origins" feature. Described by Lauren and longtime collaborator Eduardo Rivera, "Hungry Barber" is "...a departure from our usual sound and process. The main percussive elements were done by tapping and flipping the pages of my songwriting journal. First pass, stream of conscience lyrics about the inner dialogue when chasing the night. Recorded by Eduardo and produced by us both. It's the antithesis of what we songwriters are asked to do: write a 3 minute-ish song, use budget to work with bigger names, hire players, etc. Ed and I wanted to see what it would sound like to create in-house and not think 'what genre are we?' or 'what will the label think?'"
Ward previously shared the soulful single "Pullstring", dubbed as an "introspective slow burner", via EARMILK. She will continue to tour in support of LP and will embark on her west coast headlining tour in April.
Listen / Share "Hungry Barber" HERE
DON'T MISS LAUREN RUTH WARD ON TOUR!

With LP:
4/22: Seattle, WA @ Showbox SoDo
4/23: Vancouver, BC @ The Orpheum

Headlining:
4/24: Santa Cruz, CA @ The Catalyst Atrium
4/26: Portland, OR @ Bunk Bar Water
4/27: Seattle, WA @ The Sunset Tavern
4/28: Vancouver, Canada @ Biltmore Cabaret
5/1: Berkeley, CA @ Cornerstone Craft Beer & Live Music
5/3: Los Angeles @ Museum of Natural History
5/2: Santa Barbara, CA @ Velvet Jones
5/4: San Diego, CA @ The Casbah
Lauren had a spectacular 2018. In addition to releasing her critically acclaimed debut album Well, Hell, she has shared stages with Keith Urban, Shirley Manson, Eddie Vedder, Yeah Yeah Yeahs, Shakey Graves and Liz Phair, played to sold out crowds in LA & across the US. She also celebrated Grace Slick's birthday by releasing her rendition of Jefferson Airplane hit single "White Rabbit" and a seven song Doors tribute album for Jim Morrison's 75th, called "Happy Birthday Jim". Ward's trajectory continues to ascend with accolades from NYLON, Noisey, Consequence of Sound, The Los Angeles Times, Indie Shuffle and Wonderland. She was also featured on on Spotify'sNew Music Friday Playlist, along with American Apparel as a part of their "Meet Lauren" campaign. Most recently, Ward went into the studio with renowned hitmaker/songwriter writer Billy Steinberg and Australian legend Mark McEntee -- the founder/guitarist of the Divinyls. The trio had a blast together and recorded a beautiful rendition of Divinyls' "I Touch Myself".
A prolific artist in every medium she touches, Lauren has been a hairstylist for 9 years, while at the same time shifting her creative focus to her music in partnership with her co-writer and guitarist Eduardo Rivera. On Well, Hell,Lauren's arresting vocals slice through classic rock instrumentation delivered through the perfect modern filter of her band. "Did I Offend You?" and "Blue Collar Sex Kitten"are two of the many standout tracks on the album, showcasing the duo's intricate yet playful songwriting and lyrical wit. Stay tuned for more opportunities to experience the band's effervescent brand of modern psych-pop in a city near you!
Related Articles View More Music

Stories
More Hot Stories For You