Jill Barber Premieres MERCY From Upcoming Album METAPHORA Out June 22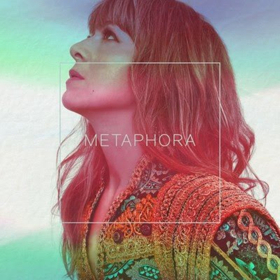 Today, Jill Barber released the video for "Mercy," the second single from her upcoming album Metaphora. It premiered at Billboard, and was shot by Juno Award-winning director Christopher Mills, whose work includes videos for Modest Mouse, Leonard Cohen, and Broken Social Scene.
"On 'Mercy,' Barber implores listeners to practice self-compassion in the form of showing mercy to themselves," says American Songwriter, who debuted the track. "She contrasts the powerful narrative with spare piano and gently swelling strings, an arrangement that also provides ample space for her nimble vocals to take center stage."
The song was inspired by a weekend spent with a friend struggling with depression. It's a reminder that "if you're loved you're not alone," the Canadian songwriter tells Billboard. "There are people that are standing with you and want to see you get better. It's really a love song but also I'm trying to add my voice to a growing chorus of voices trying to remove stigma from mental illness, trying to put it out there in the world so we can all be more connected to one another."
"Mercy" follows the female empowerment anthem "Girl's Gotta Do," which bowed at #1 on Apple Music Canada's Singer-Songwriter Chart. PopMatters says, "If the women's movement of the 21st century - whether it's #MeToo or #TimesUp - needed a hashtag theme song to carry its message, this versatile vocalist who can handle jazz, pop, blues, folk and rock 'n' roll on any given night, delivers it with genre-fender-bender style."
A bold entrée into the world of contemporary pop music, Metaphora reveals a Jill Barber we've never heard before. Metaphora showcases her power and vulnerability as both an artist and a woman. Evolving over the course of many albums from folk to jazz, R&B and pop, Jill's success is defined not by genre, but by her undeniable songwriting chops and distinctive voice. Metaphora is a continuation of Barber's musical story that confidently tackles everything from issues of empowerment, sexual politics, the COMPLICATIONS of love, and depression.
Mutual friendships and living on the same street led Jill to sit down with Ryan Guldemond, the enigmatic lead singer of Mother Mother, for inspiration and creativity. Ryan's commitment to Jill and unwavering enthusiasm garnered co-writing credits on four of the nine songs on Metaphora, including the instantly catchy lead single, "Girl's Gotta Do," a hook-filled and very timely call to arms that aims to "challenge the patriarchal status quo, as we usher in a new era of equality," says Barber. "Writing with Ryan was a big departure for me, and very exciting. He's extremely creative and not afraid to push my creative boundaries," recalls Barber. "The sessions became part songwriting and part therapy because I was writing about things that felt pretty raw; politics, sexism, being a mother. I started to realize that this was going to be a very different kind of album for me. I had more that I needed to say and Ryan helped bring that out with his uncanny knack for melody and song structure."
Metaphora's opening track "The Woman" generates a sense of anticipation with its pounding bass drum, an urgent HEARTBEAT for what is next to come from the fearless multi-Juno nominated performer. "It's a song about how a woman is required to be everything to everyone, but may still be a mystery to her own self," shares Barber. "She is part of nature, but also has a nature of her own, ever-changing and elusive." On "Bigger Than You," Barber explores a personal experience that she hopes may inspire others to take a stand against tactics like power plays, bullying and manipulation. "Hooked Your Heart," "Clumsy Heart," "Cage Without A Key," "Love Is," and "Hold On" round out Metaphora.
On the advice of trusted friends, Jill reached out to producer Gus Van Go(Whitehorse, Arkells, Terra Lightfoot), who immediately took on the project and began to craft a complete vision for Metaphora. They recorded at Van Go's studio in Brooklyn, NY, with creative partner Werner F and multi-platinum Grammy nominated producers Chris Soper and Jesse Singer, collectively known as Likeminds, who perform all the drums, piano and analogue synths on the album. Additional tracks were recorded and produced by Gavin Brown and Maia Davies at Toronto's Noble Street Studios.
On Metaphora, Jill Barber bursts back onto the stage with a bold and daring offering of music, confidently executed with the style and grace of a woman who knows exactly what she's doing.
Jill Barber North American Tour Dates:
6/18 - Winnipeg, MB - Winnipeg Jazz Festival
6/28 - Montreal, QC - Le Gesu
8/4 - Kaslo Bay Park, BC - Kaslo International Jazz Festival
9/22 - Chicago, IL - Schubas Tavern
9/24 - New York, NY - Rockwood Music Hall
9/25 - New York, NY - Rockwood Music Hall
9/26 - Boston, MA - Regatta Bar
9/28 - Ottawa, ON - Ottawa National Arts Centre Theatre
9/29 - Knowlton, QC - Theatre Lac-Brome
10/9 - Fredericton, NB - Playhouse Theatre
10/11 - Charlottetown, PEI - Confederation Centre
10/12 - Truro, NS - Marigold Cultural Centre
10/13 - Halifax, NS - Rebecca Cohn Auditorium
10/16 -Toronto, ON - Roy Thompson Hall
10/18 - Gravenhust, ON - Peter's Players
10/19 - London, ON - Aeolian Hall
10/20 - London, ON - Aeolian Hall
10/24 - Saskatoon, SK - Broadway Theatre
10/25 - Regina, SK - The Exchange
10/26 - Calgary, AB - Bella Concert Hall
10/27 - Edmonton, AB - Triffo Theatre
11/1 - Vancouver, BC - Vogue Theatre
11/2 - Campbell River, BC - Tidemark Theatre
11/3 - Victoria, BC - Capital Ballroom
Related Articles View More Music

Stories