J Majik Announces First Album In Over 20 Years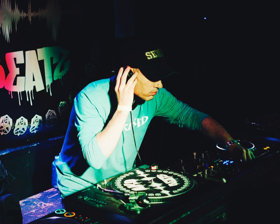 'Full Circle' is the forthcoming new album from J Majik. Officially announced a few weeks before it's release on 1 May, the 10-track album has been something of a best-kept secret, with only a handful of producers and DJs with their hands on any 12" or files.
Following overwhelming support from the underground, Paul Woolford aka Special Request had the first radio premiere on Radio 1, dropping'The Crow Knows' (premiered digitally by Red Bull and now available to stream on J Majik's SoundCloud page). Critical acclaim has come from Mixmag (d&b album of the month), Resident Advisor, DJ Mag, and more. And most important of all, the tracks that have been circulated have gone down an absolute storm on the dancefloor, as the scenes at the last Rupture can testify, when J brought mayhem to the night's room 2.
No-one has been more surprised about all this than J Majik, who, other than being one half of Deep Jungle and releasing on the highly respected Infared label, purposefully stopped producing and left the "dance artist" game several years ago, having run the gamut of problems that faced an electronic music producer during the industry's most turbulent period. For him, 'Full Circle' is a passion project, a chance to reconnect with his past to create something new. The catalyst for all this being his 2017 set at Rupture, where he drew renewed inspiration as a DJ and producer from an atmosphere he hadn't seen since the 1990s.
His first release came in 1993, the 'Hysteria EP', produced under the name Dexxtrous; with his debut under the name J Majik coming onMetalheadz in 1994. As well as spending his Saturdays in Lucky Spin's record shop, he was always fascinated by Detroit techno through to US house producers like Kerri Chandler; you'd witness that in his DJ sets as a resident at the legendary Blue Note Sunday Sessions, and you can hear this melting pot of influences across 'Full Circle'.
As both a drum & bass and house music producer turned hitmaker, his releases on labels such as Metalheadz, Mo' Wax, Reinforced, Defected, and Ministry of Sound, showed multiple sides to his talent, and after decades of underground kudos under his belt he suddenly found himself breaking into crossover territory, scoring Top 30 hits with 'Love Is Not A Game', and 'Crazy World'. As well as being the first crossover d&b artist of that era, he can also stake a claim as the first upload on UKF.
With echoes of mid-1990's jungle, 'Full Circle', is what J Majik describes as an "homage to the sounds I enjoyed making so much back then". Although consciously harking back to that golden era of jungle, the drum & bass on 'Full Circle' sounds futuristic (again), in contrast to the once disruptive but now ubiquitous neuro/tech sound that once claimed that mantle.
Moody and atmospheric, 'Full Circle' is rich with filmic soundscapes a la John Carpenter that are torn apart by ricocheting snares and heavy bass; glacial strings and swirling synths phase in and out over killer rollers, and there's an optimism amongst the album's more epic moments. With what could be a landmark 2019 release, J Majik can look forward to a very bright future.
'Full Circle' will be available in a limited edition box set of four 12", the LP will also be released on USB featuring both the Infrared and Full Circle logos housed in a printed box. An exclusive coloured vinyl version of 'Full Circle' will be available in very limited numbers at Clashmouth on Saturday 13th April.
'FULL CIRCLE' TRACKLIST:
1 - Serenity
2 - Hold You
3 - Meridian
4 - The Red Moon
5 - Escape From Lando
6 - Point Of Return
7 - The Crow Knows
8 - Codebreaker
9 - Full Circle
10 - Eclipse