Brandi Carlile Releases Acoustic Version of 'Right On Time'
The stripped-down performance features three-part harmonies with Carlile's longtime collaborators Phil and Tim Hanseroth.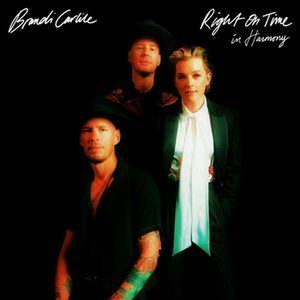 "Right On Time (In Harmony)," an acoustic version of Brandi Carlile's acclaimed new single, is out today. The intimate stripped-down performance features signature three-part harmonies from the 6-time Grammy Award-winner with longtime collaborators Phil and Tim Hanseroth and was recently recorded at their home studio outside of Seattle.
Released to widespread acclaim last month, Billboard calls "Right On Time" "gorgeous... [Carlile] has always had a knack for writing emotionally evocative lyrics-and that certainly remains true of her newest single," while Stereogum declares, "a tremendous lead single" and NPR Music asserts, "Just when we needed her, Brandi Carlile returns." The single was accompanied by an official music video directed by Courtney Cox.
"Right On Time" is from Carlile's highly anticipated new studio album, "In These Silent Days", which will be released October 1 on Low Country Sound/Elektra Records. Inspired by the mining of her own history while writing this year's #1 New York Times Best Selling memoir Broken Horses (Crown), In These Silent Days was conceived of while Carlile was quarantined at home with Phil and Tim Hanseroth.
The ten songs chronicle acceptance, faith, loss and love and channel icons like David Bowie, Freddie Mercury, Elton John and Joni Mitchell-the latter two who, by some sort of cosmic alignment of the stars, have turned out to be close friends in addition to being her biggest heroes and inspirations.
In These Silent Days follows Carlile's 2018 breakthrough GRAMMY Award-winning album, By The Way, I Forgive You, which Rolling Stone declared, "...an Adele-meets Joni Mitchell tour de force." In the years since-in addition tocollaborative projects with The Highwomen, Tanya Tucker, Soundgarden, Alicia Keys, Dolly Parton, Barry Gibb, Leslie Jordan, Brandy Clark and more-she has earned six Grammy Awards recognizing her work as a performer, songwriter and producer.
Listen to the track below.
Spotify Releases Final Live at Electric Lady EP Of The Year Featuring Indie-Pop Band Whitney

December 8, 2022

To conclude this year's series, Indie-pop band Whitney will release an eight-track EP featuring re-imagined versions of several of their top hits, including, "BLUE," "Giving Up," "MEMORY," "No Woman," "REAL LOVE," "TWIRL," and "Valleys," as well as a cover of Beach House's "Other People."
---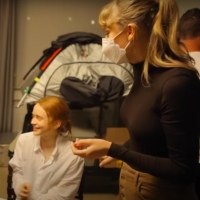 VIDEO: Taylor Swift Shares 'All Too Well' Short Film Behind-the- Scenes Video With Sadie Sink & Dylan O'Brien

December 8, 2022

Taylor Swift has released a behind-the-scenes look at her 'All Too Well' short film, which she starred in and directed. The video also features her co-stars, Sadie Sink and Dylan O'Brien. The release is part of Swift's current efforts to re-record her music catalogue in order to own her own masters. Watch the new video now!
---
VIDEO: Jon Langston Shares 'I Only Want You for Christmas' Music Video

December 8, 2022

32 Bridge Entertainment / EMI Records Nashville recording artist Jon Langston taps into the holiday spirit with the music video for "I Only Want You For Christmas," out now. Taking the stage for karaoke with "Santa" to perform the track, the clip was filmed at festive Nashville favorite, Santa's Pub.
---
VIDEO: WE tv Drops KOLD X WINDY Supertease

December 8, 2022

"Kold" Wise (Sh'Kia Augustin, Black Lightning)'s group member Renee "Windy" Johnson (Nijah Brenea, Rap Sh!t), is a rapper dedicated to the city streets. As Malika's career begins to ignite, the challenges she faces start to stack up. Her credit card fraud catches up with her, and rival artists view her as a threat. Watch the video trailer now!
---
Interview: Playwright Samuel D. Hunter Discusses Adapting THE WHALE Into a Film

December 8, 2022

BroadwayWorld caught up with playwright Samuel D. Hunter after The Whale's highly-anticipated premiere to discuss how he adapted the play into a film, how it was rehearsed like a theatrical production, Brendan Fraser's acclaimed performance, and more.
---