Click Here for More Articles on FOOD & WINE
Master Mixologist: Gabriel Rieben of MONTCLAIR SOCIAL CLUB in Montclair NJ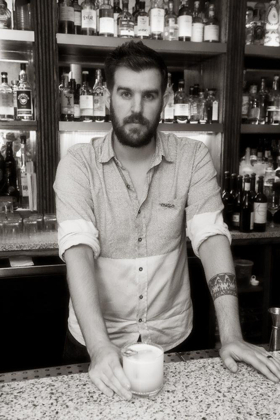 Beverage Director Gabriel Rieben brings to the Montclair Social Club team more than 10 years of experience in hospitality services and bar management around the world including locations in the United States, Australia, Europe. He has most recently worked at dullboy in Jersey City and Galli in New York City.
Broadwayworld.com had the pleasure of interviewing Gabriel Rieben for our "Master Mixologist" feature.
When did you first become interested in the cocktail culture?
When I lived in Sydney, Australia, I started barbacking in a wine bar. One night, a bartender became sick and I had to jump behind the stick, then I started to enjoy learning about all of the aspects of bartending, especially creativity.
What innovations in mixology and bartending do you find fascinating?
I loved the fact that bartenders are using more and more food ingredients and developing cocktail menus like chefs, playing with flavors from around the world.
How do restaurant and bar guests encourage your creativity?
With the abundance of websites about food and beverages, as well as bars and restaurants, guests have become more and more knowledgeable. Personally, this has led me push myself to think outside the box, to utilize creativity with different ingredients and more obscure, artisan spirits and create some quite unique drinks.
What are your preferred "classic cocktails" and why?
The Negroni, for me, it's the most simple and balanced drink ever invented.
What are some of your favorite infusions and how you like to use them in drinks?
One day for fun, I did a blue cheese and lemon olive oil-infused vodka with a great friend who is also bartender. It's more of a fat-wash style than a traditional infusion, and the result just blew our minds. We had been looking to replace the classic martini garnish with blue cheese olives. It was pretty cool!
As for a personal favourite, you can't go wrong with Campari-infused cacao! It's just an amazing infusion for a twist on classics like the Boulevardier or Negroni.
Tell us about one of your signature cocktails and why it is distinctive.
We do a Mezcal cocktail called "Is Oaxaca Burning?" Mezcal has been hot for years now and I always like to add a mezcal drink on my menu. For this one, we play on the smoke and savory notes. We muddle guava jam with cholula chipotle smoke, cherries syrup and two types of bitters (cranberry and lemon), add mezcal then stir. We serve the drink up and garnish with a brandied cherry and lemon twist. It's exotic, fruity and savory.
I always put cocktails I create through taste testing to make sure every element of the drinks shine. I hate having a drink with 8 ingredients listed, but you taste just two. For me, this not a well crafted cocktail. Balance and flavors are always essential when I create.
Give us your perfect pairing for a cocktail and a culinary selection.
French bold cheese and a Negroni.
Tell us a little about your company or restaurant.
As we do with our drinks, at Montclair Social Club we work hard to deliver a memorable experience for our guests beyond their expectations, for their full visit, while staying cool and casual. Our design evokes the boldness and grandeur of the art deco era, which has a lot of historical significance in downtown Montclair. We have a very talented and well-traveled veteran chef, Michael Merida. He's developed a creative global American menu which changes seasonally. Many items are designed to be easily shared, and he has many signature dishes. We have a feel-good vibe with great live music or a DJ most nights. Musical styles range from jazz to soul, funk, R&B, Latin, house and more.
Montclair Social Club is located at 499 Bloomfield Avenue, Montclair, NJ 07042. For more information, hours, and menus, call 973.436.4200 and visit https://montclairsocialclub.com/.
Photo Credit: Courtesy of Michael Barr