Review: NEXT@90 CANIPAROLI / BREINER / OISHI PREMIERES at San Francisco Ballet Shows Just How Thrillingly Relevant Ballet Can Be
The 2nd festival program of immensely rewarding world premieres runs through February 8th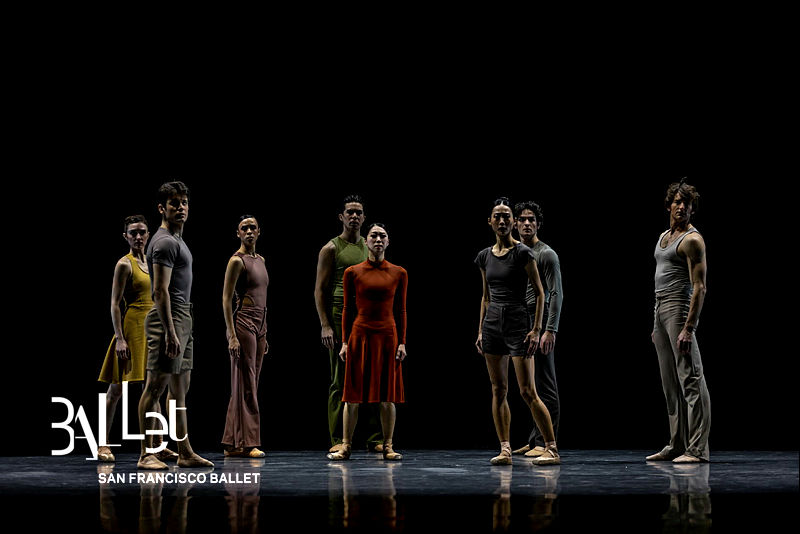 It is a rare and wonderful thing when a centuries-old artform is able to illuminate how we are living right now, but that is exactly what Val Caniparoli's entrancing ballet Emergence manages to do as it opens the second program of San Francisco Ballet's next@90 festival of world premieres. To be honest, as much as I've enjoyed many of the dozen or so Caniparoli ballets I've seen over the years, I wasn't expecting the now 71-year-old choreographer to create something that felt so contemporary, so of-the-moment. And as an added complication, Caniparoli was a late addition to the next@90 lineup after another choreographer scratched. He was thus forced to come up with the ballet in record time, making it on dancers he had inherited from the previous choreographer. All I can say is, Caniparoli clearly rose to the occasion, with bells on, creating the freshest and most interesting ballet so far in the festival.
Set to a contemporary classical score, Bulgarian-born composer Dobrinka Tabakova's "Concerto for Cello and Strings," Emergence is a pandemic ballet that deftly portrays what we've all been going through these past three years. And lest that sound dry and dreary, I can assure you it is anything but. It's not so much the individual steps as the overall progression of the character relationships within the piece that resonates so deeply. After a brief aural intro of buzzy static over a faint heartbeat, various voiceovers offer snippets of the difficulties and fears of living in COVID times. This was especially concerning for dancers, as their artform and thus their livelihood depends on close human contact. And even when the worst of the pandemic receded, there remained the fear that things could still turn on a dime. As the final speaker says with dread, "Are we going to be forced back into isolation again?"
The dancing begins with a cast of eight suggesting a community that disperses, leading to a series of isolated solos where the dancers skitter across the stage to Tabakova's agitated ostinatos. This is followed by a segment of slower duets where the participants feel both intimate with, and distanced from, each other, mirroring how we "sheltered in place" circa 2020-21, grateful for at least some intimate human contact even as we struggled with the lack of privacy in our own homes. These dyads gradually start to take notice of each other, sometimes briefly intersecting before the entire group reconstitutes for a final tableau that feels both hesitant and hopeful, supported by the complex and slightly unresolved harmonies in Tabakova's music.
Susan Roemer's understated costumes are a key element in the emotional impact of the ballet. She dresses the dancers in simplified and stylized facsimiles of contemporary streetwear in muted colors that look like what pandemic isolation felt like. If I have any criticism of the ballet, I would just say it doesn't need the introductory voiceovers to provide context. Just the way the dancers relate to each other and how that keeps shifting over the duration of the 30-minute ballet make it clear what the piece is about. Every step of the way, I just kept thinking to myself, "Oh yeah, I have so been there." As have we all.
The entire cast simply could not have been better, but what resonated with me most deeply were Nikisha Fogo's fierce fluidity, and a tender transitional duet for Lucas Erni and Angelo Greco, two men normally featured for their spitfire qualities. Just for the record, the other dancers were Ellen Rose Hummel, Misa Kuranaga, Steven Morse, Aaron Robison and WanTing Zhao. Lovely and heartbreaking, each and every one.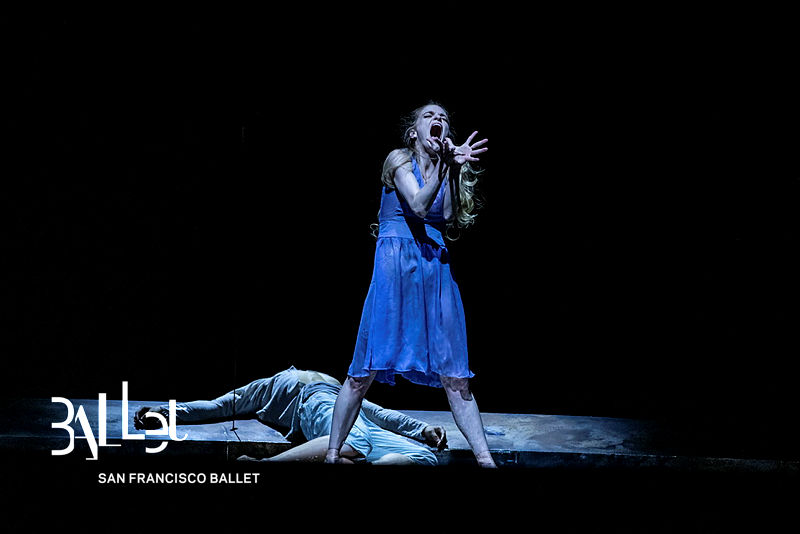 Next up was Bridget Breiner's The Queen's Daughter, loosely based on the tale of Salome and set to Benjamin Britten's astringent "Violin Concerto." Given that so many contemporary choreographers have crashed and burned when attempting a satisfying story ballet, it's no real surprise that Breiner has not succeeded here. The narrative thread is fuzzy at best, and just when the dancing starts to get more interesting, it becomes subsumed by the confusing and ponderous plot. Breiner has somewhat reinvented the tale with the aim of giving Salome more agency in her own story, but the end result feels the same - another tale of men behaving badly and women paying the ultimate price, and Breiner's choreography is simply not interesting enough to make up for the work's longueurs. It doesn't help that Jürgen Kirner has designed some particularly unflattering costumes for The King and The Executioners.
What The Queen's Daughter does have going for it is another impeccable cast. Everyone onstage is working with great commitment, albeit often to very little effect. What keeps the piece watchable, and at times even quite compelling, are the central performances of Sasha De Sola as The Daughter (i.e. Salome?) and Wei Wang as The Prophet (i.e. John the Baptist?). The former is as much an acting role as a dancing one, and De Sola seems haunted by her destiny from her very first entrance. Wang possesses a luminous, beguiling ethereality that sets him apart from everyone else onstage. Both dancers have just kept getting better and better over the past several seasons, and it is a thrill to see them reach a new level of maturity here in creating characters with real gravitas. It's not their fault that they're stuck in a bit of hokum.
The program closes with Yuka Oishi's Bolero, which both is and isn't what you'd expect from the title. Overall, it's a boatload of fun, even if it's at times overthought and overwrought. Set to the iconic Ravel music, the ballet begins in silence with house lights still up as dancers in identical two-toned grey suits enter one by one, peering out at the audience, meandering distractedly or rushing onstage as if late for some important occasion before forming a jittery line of silhouettes against an upstage drop that recalls the static on an old black and white TV set. The dancers then form and reform into various small groups before coalescing into a larger community. So far, this is all very reminiscent of the first movement of Jerome Robbins' Glass Pieces, but as they say, if you're gonna steal, you might as well steal from the best.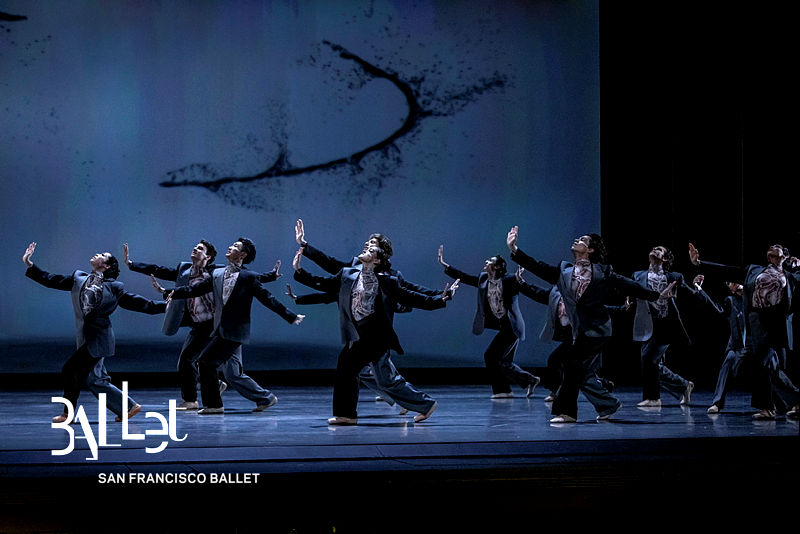 Up to this point, the "music" has been a hodgepodge of percussive sounds that alternates with the stirrings of the familiar Ravel theme before giving over to it entirely in the ballet's concluding section. Once that happens, you can feel the audience collectively exhale as the ballet settles into the wild ride that we all expected going in. Meanwhile, the dancers' grey suits have given way to body stockings covered in biomorphic abstractions, but I can't tell you what they're meant to signify. The animated imagery on the backdrop gradually becomes more cosmic until it finally suggests some kind of voyage hurtling away into deep space. The dancers fly across the stage in Oishi's propulsive, shimmery movement with an energy that matches the frenzy of the music. If the ever-shifting projections, fussy costume change and deconstructed Ravel all feel needlessly overcomplicated, it still delivers a thrilling finale. But then, with that Ravel score, how could it not?
Once again, the dancing by the entire cast was superlative, all 16 of them bathed in sweat by the end and looking exhausted and exhilarated due to the relentless pace of the music. Notables amongst this protean team were Esteban Hernández and Julia Rowe, who danced a legato, understated pas de deux that was 180 degrees from their airborne hijinks in a Mozart ballet the night before, yet every bit as effective. They make a wonderful team and I hope they continue to be given more chances to dance together. The ever-amazing Yuan Yuan Tan turned in yet another unforgettable performance in a career already chockfull of them. She seemed to exist inside the music as she used her otherworldly skills to suggest a supernova bursting into space. But then again, everyone onstage was terrific, sending the audience home in a burst of energy.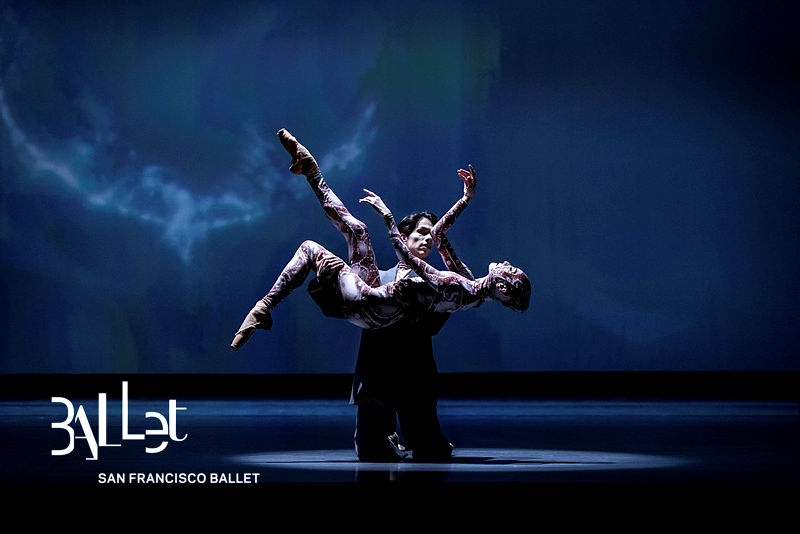 [All photos by Lindsay Thomas]
Performances of San Francisco Ballet's next@90 Caniparoli/Breiner/Oishi Premieres continue through Wednesday, February 8th at the War Memorial Opera House, 301 Van Ness Avenue, San Francisco, CA. Running time is approximately 2 hours 15 minutes, including two intermissions. For tickets and additional information, visit www.sfballet.org or call (415) 865-2000, M-F 10am-4pm.