Princess Cruises' BORN TO DANCE Pays Tribute to Theater's 'Unsung Heroes'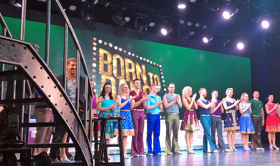 The latest collaboration between Princess Cruises and Stephen Schwartz is called BORN TO DANCE. On October 7, 2017, press and friends of the creators were treated to a special performance of the show aboard the Regal Princess while ported at the Brooklyn Cruise Terminal.
Created and directed by Daniel C. Levine, the show pays tribute to what he calls musical theater's "unsung heroes," the dancers who are usually relegated to the background in musicals. The show also celebrates our most iconic choreographers and chronicles the progression of choreography from the early days of Broadway to present day.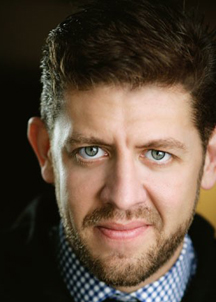 That's a tall order for just 53 minutes. Levine told me that the show was originally two hours long, and 15 shows that were represented in that version had to be cut, including an Andrew Lloyd Webber section and a piece from GUYS AND DOLLS. The final result is a fast-moving show with mostly abbreviated numbers that require numerous fast costume changes. With none other than William Ivey Long as the designer, however, each costume has been created to facilitate those quick changes.
Interspersed between the numbers are short film clips and video interviews on screens behind the performers. In these interviews, well-known dancers and choreographers, such as Ann Reinking, Warren Carlyle and Andy Blankenbuehler, talk about the life of the dancer and the choreographers who have inspired them. Most moving among the videos are interviews with the Regal Princess dancers themselves, in which they describe what dance has meant to them.
The cast of the show includes four singers and a dozen dancers who come from all over the world, including Australia, Brazil, the UK, and Ukraine. The performers must learn at least four shows for each cruise.
A surprising number of shows and choreographers are represented in the 53-minute BORN TO DANCE, including OKLAHOMA!, CAROUSEL, ON THE TOWN, WEST SIDE STORY, CHICAGO, SWEET CHARITY, HELLO DOLLY!, MOVIN' OUT, ONCE, HAIRSPRAY, CATS, FOSSE, A CHORUS LINE AND MAMMA MIA!
While choreographers such as Bob Fosse, Agnes de Mille, Jerome Robbins, Gower Champion, Michael Bennett, Twyla Tharp, and Jerry Mitchell are celebrated, the actual choreography was created by Al Blackstone. The styles of these greats are just "in his bones," he told me. "I was raised on these films and these musicals, and you can't hear this music without your body wanting to move that way." So he allowed his memory to be his inspiration and tried to create something new for each piece.
Stephen Schwartz pointed out the magnitude of Blackstone's accomplishment. "He's done something really remarkable, I think, because after all, this is a compendium of the development of Broadway choreography. And what Al has been able to do without actually stealing is to really give you a taste of the difference between Agnes de Mille and Jerome Robbins and Bob Fosse and Gower Champion and Jerry Mitchell and so on, and then also show you his extraordinary choreographic skill."
Princess gave Blackstone a workshop of sorts for his preparation. "I could hire as many dancers as I wanted and work in a studio in New York for two weeks to create the choreography."
The task of arranging the music into short pieces that would weave seamlessly from one to another was given to Bryan Perri, who was happy to take on the difficult job in part because of his reverence for dancers. "My whole life I've been in awe of what dancers do...and the stories they tell often without words. That's very inspiring to me," he said.
For director Levine, launching a show on a cruise ship comes with some unique challenges. "For me, it's a different animal to try to put up a show on a cruise ship.... I'm used to being able to be in a theater from 9:00 in the morning until 6:00 at night. That can't be the case on a cruise ship because this theater is used for so many things during the day. So it might be that on a Thursday, while we thought we'd have a 6-hour rehearsal, we only have an hour and a half."
The benefits far outweigh the challenges, however, according to Levine. "I can't think of any other place around the country on Broadway, regional, or anywhere where producers would say, 'Here's the budget, you've got a year to make this, and it's going to run for several years.' That doesn't happen. If you're creating shows for theater in New York or around the country, from workshop to production it's often four or five years." Then, after all those years of work, your show can close within a week, never to be seen again. That isn't a worry on a cruise ship.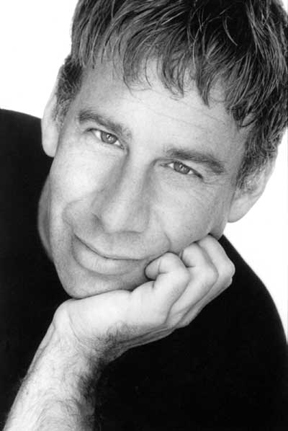 Schwartz says this was one of the draws for him to work with Princess and one of the reasons why everyone he asks to participate says "yes." The company has made a commitment to elevating the level of entertainment in the cruise ship industry and wanted to be the first to include shows that couldn't be seen anywhere else.
Princess was also adamant that the shows Schwartz helped create would tell a story and touch the audience rather than provide a solely "razzmatazz" experience. This is important to Schwartz, who prefers shows with that human element.
Since some travelers on cruise ships don't speak English well, however, the shows have to communicate to this international clientele. Schwartz's first show for Princess was MAGIC TO DO, a magic show with his original music. While BORN TO DANCE includes the video interviews, people who speak any language can enjoy the movement.
Schwartz's next show for the cruise line will be SECRET SILK, an Asian folk tale in collaboration with puppetry expert John Tartaglia and The Jim Henson Company. While most of the songs used in the show will be familiar, Schwartz has brought in a couple of Asian composers to create some new songs.
Schwartz has been contracted to produce four shows for Princess, but he already has an idea for a fifth. "I'm seeing if I can persuade them to extend this a little bit because I actually have two ideas that I think would work well for them and in different parts of the world."
He is quick to point out, however, that his role with regard to BORN TO DANCE has been solely as a creative producer. "I think the closest analogy is to being Maxwell Perkins, to being an editor.... It's a new role for me to be a producer, and the nice aspect of being a producer for an organization such as Princess is it doesn't come with the responsibility most producers have of having to raise money. I don't have to raise a single penny, so I can truly be an artistic producer. But definitely, the creators of this show are Dan, Al, and Bryan."
BORN TO DANCE brings home something acclaimed choreographer Warren Carlyle says in one of the show's videos. "It takes a certain humanity [to be a dancer]. They're unlike anybody else in this world."
PHOTO CREDIT: BORN TO DANCE director and cast: Melanie Votaw
Related Articles View More Dance

Stories
Melanie Votaw is a dancer/singer/actress who studied ballet, tap, jazz, modern, and character dance for nearly 20 years. Her teacher was one of the fastest (read more...)