Review: NYCB Evolves the Classics of Tchaikovsky & Balanchine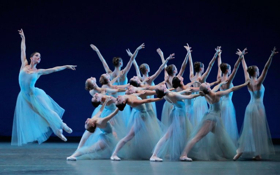 "My muse must come to me on union time" - George Balanchine
In the history of classical ballet, it's hard to find a pair more perfect than Balanchine and Tchaikovsky. Balanchine's choreographic style, defined by quirky syncopations and dramatic port de bras, punctuates the longing percussions of Tchaikovsky's scores. The exchange of movement and music is a call and response; a mutual muse that appears when beckoned. This is the best way to describe New York City Ballet's artistry on the evening of January 29, 2018. As the dancers took the stage for three Balanchine classics, you could feel both the tradition of precedent and excitement of modernity in the air.
The program began with a personal NYCB favorite: "Serenade". Choreographed as an
ode to celebration and synchronicity, the corps de ballet's timing started off rocky, but quickly regained composure as the dancers brought new meaning to the piece with their unique presences. NYCB favorites Ashley Bouder and Lauren Lovette led the piece with complementary talent; Bouder's dynamic precision beautifully offset Lovette's willowy movement quality. While the piece wasn't as seamless as usual - heavy pointe work and timing inconsistencies - it still brought me to tears, all thanks to the integrity of Balanchine and Tchaikovsky's mutual muse.
Up next was "Mozartiana", a jubilant piece that begins with the lead ballerina dancing
with four very talented School of American Ballet students. Led by Sara Mearns, the
group of five performed in earnest, focusing on their fancy footwork. Because she is
known for her penchant for the dramatic in both movement and expression, it was a joy to see Mearns perform with breezy lightness and a smile. This infectious quality
increased when Russell Janzen appeared. The duo danced as two pieces of a puzzle,
working together to complete Balanchine's intricate and delicate choreography. It was delightful.
But it was the final piece, "Tchaikovsky Piano Concerto No. 2", that was by far the most pleasant surprise of the night. Led by Teresa Reichlen, the company was completely in sync, dancing with rapid-fire speed and passion. Reichlen was a vision; her long, lithe limbs moved like lightning through the space, emphasizing the piano's sweet and uplifting notes.
Don't miss your chance to see New York City Ballet's Winter Season - get your tickets
today!
Photo Credit: Paul Kolnik