BWW Review: AVIGNON THEATRE FESTIVAL Presents ROMANCES INCIERTOS, UN AUTRE ORLANDO By FRANÇOIS CHAIGNAUD And NINO LAISNE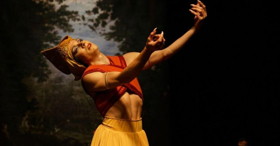 With François Chaignaud on stage The Avignon Theatre Festival's intimate Cloître des Célestins is a jewelry box of dance treasures. Chaignaud and collaborator Nino Laisné offer three tender and patient acts of dance alongside four astounding musicians. These three acts surround historic icons of androgyny and gender. By respecting the execution of the artistic forms while foundationally undermining their gender presumptions Chaignaud and Laisné give an ancient dignity to what are wrongly conceived to be contemporary contemplations of gender and sexuality.
The first of the three icons presented is Doncella Guerrera, a young girl who decides to go to war disguised as a man. The second of these three is poet Garcia Lorca's San Miguel, and the third his androgynous Romani dancer La Tarara. Chaignaud's choreography never skirts by on prowess or gimmick but incorporates a distinct choreographic quality. He spirals effortlessly with his head forward and shoulders hunched as though to create a whirlpool. Later he draws himself upright as his hands whirr with impossible energy. He pushes all boundaries as he also sings onstage in both a disarming falsetto and a resounding bass.
The iconography of each of the acts is never overloaded with cryptic research, or needless plotting. They are warm personifications. The Doncella Guerrera enters wearing historic war garments. Her incredibly constructed helmet shields her face in shadow during much of the first performance. The San Miguel enters on spear shaped stilts and garbed in a large vibrant orange skirt. Then, undone from the stilts by the four musicians, performs the remainder of the piece en pointe. Lastly, the Romani woman makes her entrance through the audience. She is enveloped in a shawl and a large purple skirt and daringly high heels. Chaignaud then strips off the skirt to reveal high waisted black pants in which he performs the remainder of his flamenco variation.
The mood is often somber, but never self-important. Two elegant paintings by chief painter Marie Maresca and painter Fanny Gaudreau are upstage facing the audience. Anthony Merlaud's beautiful chiaroscuro lighting design highlights the at times placid, and at times violent landscape within these works. The figures onstage are both otherworldly and personal thanks in large part to the talents of a thirteen person costuming team. The musicians, who play graceful music interludes as well as accompany the dance, command a quiet stage presence. Daniel Zapico is transporting on the theorbo and the baroque guitar. Jean-Baptiste Henry adds not just music but also his own enchanting movement when his accordion expands and contracts. François Joubert-Caillet performs his viol de gamba with care and clarity. Lastly, Pere Olivé performs the percussions with both a delightful sense of play and a classicist's mindfulness of the artistic whole. Such a lush synthesis is in no doubt thanks to the vision of musical director Nino Laisné. Both he and Chaignaud give a presentation of all the multitudes within the human body. Under their care tired responses of the body's relationship to social gender crumble. This isn't the result of self-important proselytizing, but an elegant evening of sumptuous dance.
Photo credit: Nino Laisné
Related Articles View More Dance

Stories