BWW Interview: Nimbus Dance Works Brings Equity Home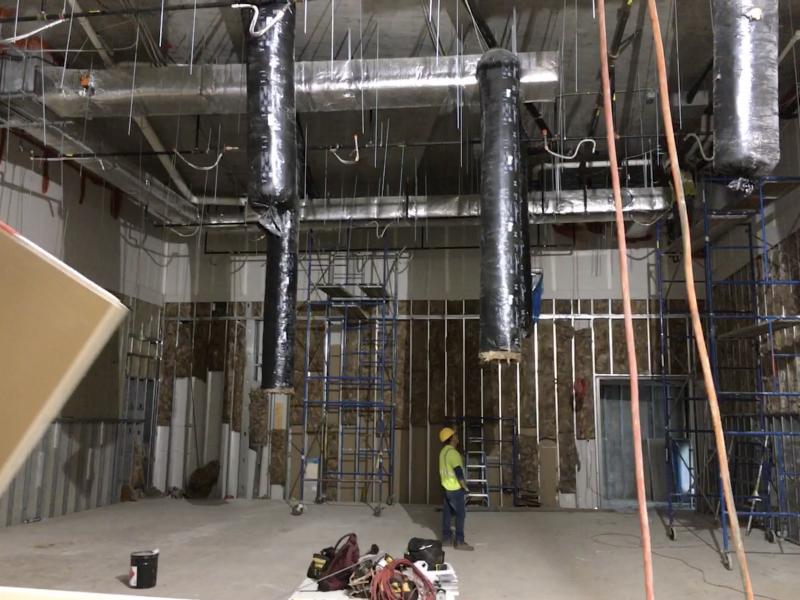 "Hey Sam! How you doing?", a dapper looking Indian couple called out while strolling by a construction site in the middle of Jersey City's Powerhouse Arts District. "Their kids go to my school," their target bashfully explained, as if to underplay the fact that everyone in JC seems to know Sam Pott and the incredible work he is doing with Nimbus Dance Works. On the cusp of the company's 15th season, it is easy to see why he is the talk of the town. These past two months, Nimbus has successfully: hosted a huge gala, presented numerous community performances, produced a collection of mid-career artists in concert, debuted new works at the Hudson Vogue Pride Ball and NJPAC with NJ Orchestra, initiated a new round of fundraising, started production on The Jersey City Nutcracker, and--most importantly for Pott--introduced thousands of kids to the transformative power that art can have in their lives.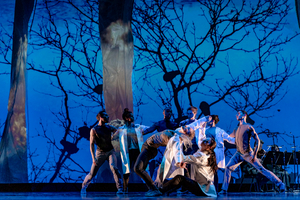 That's the key to understanding Pott, who retired from dancing as a soloist with The Martha Graham Dance Company six years ago to focus on running Nimbus full-time: he sincerely believes in arts education, even going so far to found a school of dance after realizing that Jersey City lacked substantive training opportunities for aspiring performers. Since then he has made it his mission to cultivate relationships with seemingly everyone throughout New Jersey and New York in support of arts-based community activism. Something I've heard frequently from funders, educators, and politicians during my research into his work is that "Sam is everywhere."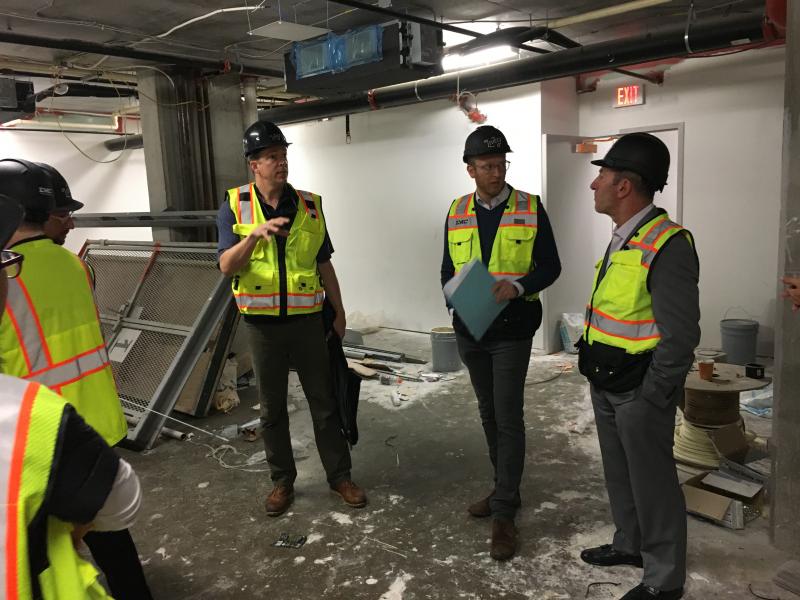 On this particular day, Pott was leading a tour of investors and reporters through the bones Nimbus Arts Center. Even in its current state of construction, the three story facility is a beauty to behold. In addition to a gorgeous lobby visible through walls of face-front glass, NCA will also house its own flexible performing arts venue, a floor of dance studios for classes, an art gallery, and office space that the company will split with Saint Peter's University, with which Nimbus is partnering to develop a new dance minor.
After surveying the space, I found myself choking up with emotion at the thought of Nimbus's students--many of whom come from communities of color and receive substantial scholarship support--marching across the lobby of THEIR new home. Having taught children from marginalized neighborhoods myself, I know what feeling ownership towards one's after-school space can mean to a child who may not have the most secure home life.
With all of the work that he does as an educator, fundraiser, and activist, it's easy to forget that Pott is also an excellent choreographer, though when asked about that he quips that he feels more like a politician. That's because on average he attends at least two political events per week, usually to press for greater support of the arts. In a previous interview he explained:
"Political figures here publicly declare how important the arts are all the time, but I don't think they really understand what kind of financial support--and support from city planning and the community--is necessary in order for the arts field to professionalize and become sustainable."
Despite that persistent critique, I have seen officials from Jersey City's executive political establishment--usually City Council President Rolando Lavarro or Mayor Steven Fulop himself--show up to support every event of Nimbus' civic engagement that I have reviewed. While that show of goodwill is appreciated, Pott is aware that it only happens because of the valuable work he is doing for the community. That fact doesn't trouble him though it does make categorizing his endeavors difficult and applying for grants or funding an obstacle course.
Nimbus is usually labeled an "educational organization" which bars it from receiving funding for developing choreography or expanding operations, even when they are doing that work better than all other candidates. Call it a case of byzantine bylaws, and though those strictures are frustrating, they also motivate Pott to work harder; because he knows that decisive conversations about what gets supported usually take place in a room full of well-meaning people who all share the same tastes and who do not know or speak with their constituents.
"Those conversations are valid", Pott concedes, "but I've found that they exclude the people we are actually trying to serve. I've been a part of that group, so I know what it is. We forget that the point of the conversation is to reach the family in a part of Jersey City that would never get to see a show in New York City. So it's our job--as people who are creating work and who want to use the work to reach a broader audience--to go meet those people. And as much as we want to tell them what they should or shouldn't like, it's our job to bring our aesthetics and values closer to the people who need to be served with art.
In other words, have a conversation with people instead of lecture them.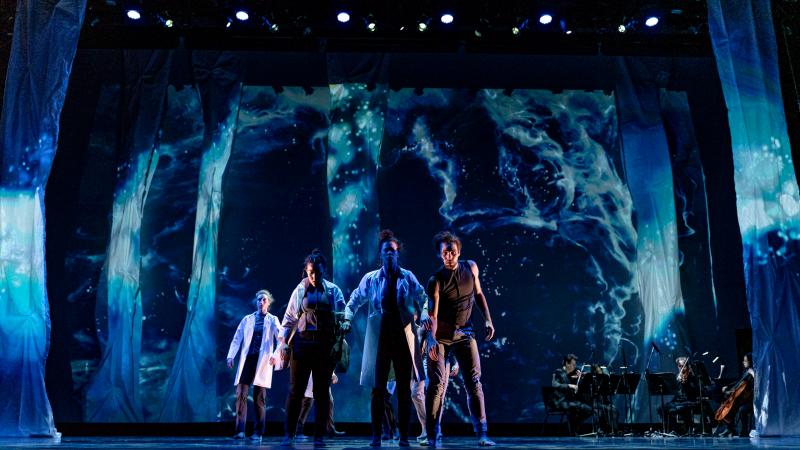 "I'm not trying to create work for the elite dance audience of New York," Pott states emphatically. "That's not who our audience is. Ultimately we hope that New Yorkers will catch up with us and see that we are producing high level sophisticated work. But it's not for them; it's for our community." It's a solid point that is frequently ignored by artists who are trying to expand their audiences. For Pott, it's a two way street: If you want people to support you, you have to respect their values in return. He continues, "I want to earn everybody's respect and that doesn't mean saying what yacht club I'm a member of. Respect comes from being able to level with people on every spectrum, and earn their acknowledgment by virtue of being able to dance, put on a good show, teach their kids, and walk into their community comfortably."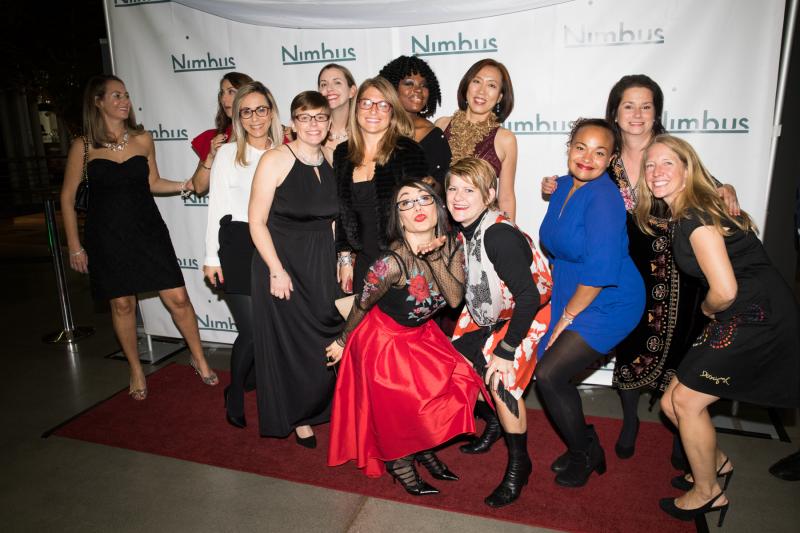 Pott's community appreciates his devotion to representing their values and they respond in kind whenever he needs help. All 325 seats of Nimbus' recent Crystal Gala were completely filled and paid for, mostly by everyday people who wanted to support Pott's vision. One gala attendee proudly explained that:
"I got money for my ticket off of Cash app. I posted on Facebook that I needed to buy a ticket to Nimbus' gala and people came through. I mean, if I was broke and about to lose my house people wouldn't help me like that. But because it was Sam, they wanted to make sure they supported him because they see the way he supports us."
Rather than pull in a big ticket celebrity to honor at his galas, Pott selects community organizers, teachers, fundraisers, and activists who are doing the hard work to make sure that traditionally marginalized communities are receiving access to quality arts training and the services that they need to thrive.
This year's chief honorees were Greg Belew and Charles Epstein, divisional president and vice president of development of LMC, the corporation that is designing and constructing Nimbus Art Center. Epstein actually led my tour of the construction site and eagerly answered every question I had about the space. I was confused by his earnestness and pride until Pott informed me that his daughter attended the school at Nimbus. I should have figured as much; with 400 core students and over 4,000 students benefiting from Nimbus' ongoing programs at 16 schools throughout Jersey City, it seems that everyone is connected to Sam Pott and his vision. What unites them all is their belief in his commitment to equity. After 15 years of operating, that vision is finally about to gain its own home.
Nimbus Arts Center opens in the heart of Jersey City's Powerhouse Arts District in the spring of 2020. If you would like to learn more about the center or contribute towards Nimbus' ongoing capital campaign drive, visit: https://www.nimbusdanceworks.org/nimbus-arts-center-at-the-lively/

Related Articles View More Dance

Stories