BWW Dance Interview: Stefanie Nelson - Artistic Director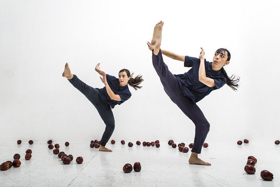 Stefanie Nelson is the Artistic Director of Stefanie Nelson Dancegroup, a New York City-based contemporary performance ensemble. Her work distills deeply personal ideas into highly kinetic, expressive, and provocative works that are rooted in cross-media collaboration with artists working in music, video, and visual arts. Described as "instinctual, untamed, and edgy," Nelson's dances have been presented at some of the foremost contemporary performance venues in the United States, including Joyce SoHo, Dance Theater Workshop, LaMama Moves!, Lincoln Center Out-of-Doors, and Jacob's Pillow, and internationally in Canada, Mexico, and Italy, among others. Nelson is an accomplished teacher as well as the founder and artistic director of DANCE ITALIA, an annual summer dance intensive held in the cities of Agropoli and Lucca, Italy. She recently served as a Choreography panelist for New York Foundation for the Arts Artists' Fellowships and curated a series How high is the ceiling in my glass castle? (and other perceived limitations) at Triskelion Arts in Brooklyn. www.sndancegroup.org
Q. When did you first become interested in dance?
A. I'd been taking piano lessons for years and decided to quit in seventh grade. My mother suggested I come with her to take a dance class instead. That was it; I was hooked.
Q. Any special influences on your early years, teachers, performances?
A. Marya Warshaw at the Center for Modern Dance Education, who became the Founder and Director of BAX; my high school dance teacher, the incredible and tireless Alice Teirstein, who cemented and expanded my love for moving; Elizabeth Streb, who rocked my world at a summer intensive. I wore my bruises like a badge of honor that summer, and there were plenty. She was groundbreaking to me; changed my way of thinking about walking. An especially poignant performance moment happened in high school while waiting in the wings to go on stage. I was heightened, super alive, bursting with anticipation and fear. This moment became the basis for all of my college admission essays. It was powerful and passionate and informed many subsequent choices.
Q. Did you study dance in college and, if so, where did you attend college. Were you more focused on ballet or modern?
A. I took mostly modern and contemporary dance classes at Cornell University. At the time, I wasn't intending to pursue dance as a profession, I double majored in psychology and English, but dance was the winner.
Q. What was your first position in a dance company?
A. My first company position was with Ann Moradian's Perspective's in Motion, which soon after led to a position with Anna Sokolow's Players Project. Getting to work with Anna on a new piece, Four Songs (1995), before she passed away was an incredibly moving and terrifying experience! Time in the studio with Anna was intense, to say the least, and this was when she was already in her late 80s. There was no mellowing with age; it's hard to imagine that a rehearsal process could've been more demanding, though we all heard the story of Anna throwing a chair at her Juilliard students to get them to run 'honestly,' as opposed to offering her a posed 'dancer' run. She was serious, focused, extremely direct, and passionate. At that time I was a young dancer in a room with a legend, so it was a very heightened experience for me, as well as a privilege, to have that access to her, to be part of her creative process, or to be in her apartment looking at personalized artwork from her friend, Leonard Bernstein. During my time with the company I performed in Ride the Culture Loop, Session for Six, Dreams, Rooms, From the Diaries of Franz Kafka, Kurt Weil, Ballad in a Popular Style, Opus 65, Ballade, and Frida.
Q. When did you first become interested in choreography?
A. I had a bit of an "aha!" moment working as a young dancer in a creative process with Christopher Gilles, who danced with the Paul Taylor Dance Company for many years. He singled me out during rehearsal to praise me for my timing choices and the material I had come up with for an open section of his piece. He was already very sick at the time, so it was another heightened studio experience for me. He was fragile and very thin--this was shortly before he passed away, so I think it was all the more poignant to hear at that time. He told me I should think of pursuing choreography. Those words in that moment led me in a new direction.
Q. When did you first found your company?
A. In 2000. I decided to formalize my work into a not for profit company structure. I have a good friend who offered to do all of the incorporation paperwork free of charge, which made the decision quite easy, since he worked at a law firm specializing in work with not for profit companies
Q. Your PR material says that your work distills deeply personal ideas into highly kinetic, expressive, and provocative works that are rooted in cross-media collaboration with artists working in music, video, and visual arts. Could you explain that in some detail?
A. I'm drawn to messy and flawed human interaction, so the work usually stems from a passionate, emotional place. I like things that are real and honest, whether they are in the realm of social interactions (not so good at small talk or niceties, for example), the physicality of a performance, or just saying what you mean without filters or subtext. My work may be described as provocative since it may make traditional theatergoers feel uncomfortable, without being crass for its own sake. I'm not interested in beautiful or beautifying movement; I find raw, passionate, and awkward quite beautiful. I try to always approach the work with honesty and integrity, which, I believe, resonates somehow.
I look for collaborators who have similar sensibilities and who are interesting to me as human as well as artists. Life is short, so stick with the people you like, who are good to you and good for your work. I've worked with composers Sahand Rahbar and Jonah Kreitner on a number of pieces, as well as lighting and set designer Solomon Weisbard.
Q. How do you work with musicians and media specialists?
A. I send piece notes, inspirations, and structural ideas to get everybody on the same page. The level of immersion depends if the artists are local or not. For my latest project, A My Name Is..., I sent Sahand way too many what's app messages and long emails trying to describe what sort of sounds I need for specific sections and the kind of energy I was looking for. I would scour YouTube and send him messages saying, "something that feels like this, with this type of build but with these instruments, or I'd like the piece to begin with natural sounding medium to high piano notes, which will become lower and more distorted as the piece progresses, since the spine of the piece is gravity and verticality." He asked me to send visual images that correlated with my ideas, but I dropped the ball a bit on that one and ended up explaining and describing (and confusing him) much more than if I had sent what he asked for, "a picture that says a thousand words" kind of simplicity. For Jonah Kreitner, a local composer, I asked him to create a piece based on evolving cycles, the idea of a revolving door, and he came up with something very moving and evocative and cinematic, which gets repeated a couple of times in the piece. It really depends on the artist and what they ask for in order to understand the vision.
Q. Tell me about some of your dances in detail.
A. Many of my pieces revolve around themes of isolation and misunderstanding. For example, Prolegomena II (2012), was originally conceived as a multimedia camera obscura installation. This work evolved over the course of a year, during which my collaborators (visual artist Karolien Soete and composer Alexander Berne) and I collected stream-of-consciousness accounts from participants. This piece is a journey into the subconscious, inspired by my ongoing fascination with literal and metaphorical darkness. I was curious about what happens when you are confined in a small place, in absolute darkness, devoid of sensory references. What do you bring in this space with you? What comes to you? Oddball Zebra, which I have shown at Triskelion Arts in Brooklyn in 2013, was inspired by Michel Pastoreau's book The Devil's Cloth: A History of Stripes. The work centers around an archetypal clown, evoking a Middle Ages tradition of zebra-like patterns used to identify outcasts, lunatics, lepers, prostitutes, and entertainers. The 2015 companion piece, Striped Three, worked on similar themes: focused on three emblematic power figures of the collective imagination - A King, a Queen, and a Jester - that inhabit every narrative from ancient fairytales to the Hollywood blockbusters.
Q. You are the founder and artistic director of DANCE ITALIA. Could you tell me about that and what you've accomplished there?
A. In 2011, I founded Dance Italia in Lucca, where I had been teaching dance classes. Since then, Dance Italia has developed into a vibrant community of international students, performers, educators, and choreographers who gather in Agropoli and Lucca each summer. The Festival, now entering its 8th edition, offers a rigorous dance experience in a supportive atmosphere, fostering a creative exchange of ideas, encouraging exploration, and providing the opportunity to experience a diverse spectrum of dance/movement disciplines.
The program is designed for intermediate and advanced level students. Dancers expand their skills through daily classes, workshops, discussions, informal showings and performances. Four-week-long Master Class workshops accompany a core technique schedule, each taught by a prominent artist/teacher currently working in the field.
Since 2011, the program has welcomed over 300 students from dance academies around the globe including prestigious dance institutions like Juilliard, SUNY Purchase, NDT II, Artez, among others. Providing teaching opportunities and residencies for artists has been a wonderful gift!
Q. How would you describe your teaching technique?
A. My teaching technique focuses on creativity, spontaneity, and fun. I especially enjoy working with children, since they are honest and endlessly curious. I like to work more in creative processes at the moment more than technique classes. When I do teach technique classes and workshops, which I call "i&I" (impulse and instinct), they are generally guided improvisations which may be interrupted to stop and discuss initiation points, clarity of weights, direction, etc.
Q. Tell me about "A MY NAME IS..." in detail.
A. A My Name Is... is an evening-length contemporary dance work for four performers, featuring original music by composers Sahand Rahbar and Jonah Kreitner, with set and lighting designed by Solomon Weisbard, stop-motion video photos by Elisa D'Amico; David Shenk is our Special Project Advisor. The piece was inspired by a series of happy birthday messages sent to me by a family member who didn't remember having sent the previous messages. Each was poignant and quite heartbreaking.
Inspired by the phenomenon of forgetting, the gestural vocabulary in this dance grows in the same way one's language skills develop and disintegrate over time (learn, repeat, remember, only to forget.) It is a reflection on the absurdity of it all with a physical focus on gravity and repetition.
Influences during the research portion of this process were, Fraying at the Edges, an article by N. R. Kleinfield in the NY Times Magazine and Memory's Last Breath by Gerta Saunders, about the author's experience with her own Alzheimer's diagnosis.
Q. What can we expect from you in the future?
A. I'm organizing a series of CREATIVE EMPOWERMENT WORKSHOPS, free of charge, to members of our local community starting this winter.
GIRLS MOVE US (GMU) is a leadership program designed to socially and physically empower teenage girls, providing safe space to self-reflect, take risks, and use their voices. I dislike the term "now more than ever" but really, now more than ever in this vile, post-integrity and truth, Trumpistan currently masquerading as the US.
Stefanie Nelson Dancegroup's EVERYONE CAN DANCE initiative addresses our City's disabled community, providing performance opportunities for participants. We are grateful for support from the NYC Department of Cultural Affairs to help us get these initiatives off the ground.
SNDg will also be offering more support to young artists in terms of residencies and exposure both here in NYC and abroad at Dance Italia, as well as continuing to create new work.
Photograph: Maria Baranova
Related Articles
View More Dance

Stories