Woodcraft Store Manager Writes Guide to Learn Carving with Soap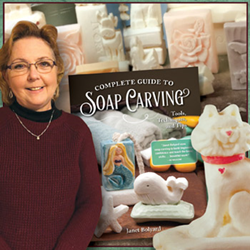 A new book by Janet Bolyard, manager of the Phoenix Woodcraft store, introduces potential carvers to the craft by using soap. Her "
Complete Guide to Soap Carving
" is now available at Woodcraft and other retail stores.
"Starting with inexpensive soap and creating your own tools out of upcycled materials is an economical way to find out if you like carving enough to graduate to knives, gouges and wood," Bolyard comments in a blog written by Woodcraft Public Relations Manager Lori Harper. To learn more about Bolyard's carving journey, and the beginning of soap carving, read Harper's blog at https://www.woodcraft.com/blog_entries/soap-carving-is-good-clean-fun.
Bolyard's interest in carving began in her fifth grade class in Kansas. Challenged to carve something from soap using popsicle sticks as tools, she carved a poodle (the family's pet) and won first place. As an adult she learned woodcarving and became hooked when she studied under caricature carver Dave Stetson. Over the years she has been active in carving clubs and won a number of awards in competitions.
While living in northern California, she became interested again in soap carving through a popular kids' soap carving program offered by the Tri-Valley Wood Carving Club. When she and her family moved to Phoenix, Arizona, she brought the soap carving idea with her. Today, Bolyard says she has her "dream job" teaching carving classes and managing the Phoenix Woodcraft store, where she has worked for 10 years.
Bolyard begins by showing readers how to make tools from wood, using ice cream bar or popsicle sticks, and then shows how to make "the ultimate DIY sharpening setup" to keep the tools sharp. The 26 project tutorials take the reader through several carving styles – relief carving, in the round, caricature, stylized and chip carving. Handy templates and "go bys" are included in the back of the book to help guide carvers through each project. Bolyard's instruction is straightforward and easy to understand, and there are plenty of photographs to illustrate each step in the process.
The delightful projects – Cat with Attitude, Chillin' Penguin, Mother Seal with Pup, Sudsy the Snowman, Soap-on-a-Rope Pirate, Woodsy Bear and farm "Kritters," just to name a few – are organized into novice and advanced categories. The novice section also includes workshops to learn how to make "soap-on-a-rope" and use mortise-and-tenon joinery to make a project that stands upright. How to make "melt-and-pour" soap for more carving options and how to carve elaborate flowers are covered in the advanced section.
Bolyard is scheduled to do a book signing at the Phoenix Woodcraft store on Saturday, December 1, from 10:30 a.m. to 12:30 p.m.
To learn more about Woodcraft, contact the store nearest you, visit http://www.woodcraft.com or call (800) 535-4482. To learn about Woodcraft franchise opportunities, visit http://www.woodcraftfranchise.com or email woodcraftfranchise@woodcraft.com.