WACO Theater Center Celebrates One Year Anniversary With Homecoming...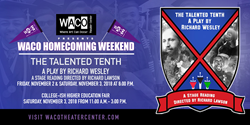 WACO Theater Center celebrates one year of service in Los Angeles and will commemorate this milestone with a celebratory weekend. WACO Homecoming weekend will kickoff with a stage reading of The Talented Tenth by legendary playwright
Richard Wesley
, featuring an all-star cast including
Glynn Turman
, ("Queen Sugar",
Terrell Tilford
(The Young and the Restless) and
Victoria Platt
(NCIS: New Orleans), with
Vanessa Williams
(Soul Food, Days of Our Lives),
Ben Cain
Jr. (Searching, Abduction), Kennedy Zimet (Only Light), and WACO Co-Artistic Director
Richard Lawson
. Stage readings will take place Friday, November 2nd and Saturday, November 3rd 8pm-10pm at WACO Theater Center in the heart of North Hollywood's arts district.
"The Talented Tenth", Richard Wesley's comedy-dramedy, kicks off homecoming celebration Friday, November 2nd at WACO Theater Center. Richard Wesley's comedy-drama explores the journey of a group of affluent, black baby boomers who appear to be falling short of the mandate set forth by the great educator W.E.B. DuBois when he predicted his people would be saved by the "talented tenth who, by education and exceptional ability, will extend a helping hand to the less fortunate and build them up." We are thrilled to bring "The Talented Tenth," back to WACO Theater Center as we celebrate our one year anniversary," said Co-Artistic Director Tina Knowles Lawson. "The "Talented Tenth" is an incredible production that shares a universal story," recalls Director Richard Lawson. "It forces audiences to think long and hard about the responsibilities demanded of society's minorities-racism, race and color barriers within communities of color are all worked through," Lawson continued.
WACO Homecoming Weekend continues with a College-ish Higher Education Fair, Saturday, November 3rd at 10:00am. The Education Fair college fair will host a multitude of institutions including 2-year and 4-year colleges, trade schools, small businesses, and companies representing jobs in the public service industry. The afternoon will include a conversation with Marcus Scribner, star from ABC's award-winning series "Black-ish." The conversation will explore complexities of the application process, deadlines and presenting a full view of oneself in college essays.
An encore reading of 'The Talented Tenth" will occur, after the WACO Higher Education Fair, on Saturday, November 3, 2018 at 8:00 pm. WACO Homecoming Weekend will culminate with the WACO College Spirit Party, immediately following Saturday's stage reading.
WACO Homecoming Weekend will highlight WACO Theater Center's community mentorship programs Tina's Angels and Richard's Warriors focusing on the education and empowerment of teenage girls and boys, as well as the Mobile Arts Theater, which will take theater, music and visual arts to communities around the greater Los Angeles Area. Higher education is a just one of the pillars of the Angels and Warriors mantra which strives to uplift young people through the arts. "Through exposure to the arts, our students can see the world through the lens of art and the endless possibilities at their fingertips," said Tina Knowles Lawson.
ABOUT WACO THEATER CENTER
WACO Theater Center is dedicated to the empowerment of artists within a diversified pool of LA communities. The mission is to create a space Where Art Can Occur and where students are taught to develop their true purpose and awaken their individual power source which fuels their art. For more information on programs, classes and upcoming events, visit http://www.WACOTheaterCenter.com and follow @WacoTheater on Instagram and Facebook, @wacotheater on Twitter
.
TICKETS
The college Fair is free and open to the public. Tickets can be purchased for the Talented Tenth Stage Reading on Friday, November 2nd and Saturday, November 3rd 8pm-10pm, visit https://wacotheatercenter.com/events/.
PRESS CONTACT
Erica Tucker
WACO Theater Center
erica@wacotheatercenter.com
Related Articles View More Books

Stories
More Hot Stories For You