U.S. Pizza Team Athletic Trials to be on ESPN Networks for the First...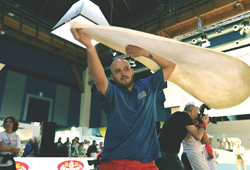 Thanks to a new partnership between PMQ Pizza Magazine and Go Live Sports Cast, this year's U.S. Pizza Team Athletic Trials will be broadcast for the first time on the ESPN networks at 12 p.m. (ET), Monday, January 14. ESPN3 will have the complete coverage live.
The competition takes place at the Mid-America Restaurant Expo (MAREXPO), to be held January 13-14 in the Greater Columbus Convention Center in Columbus, Ohio.
Daniel Lee Perea, PMQ Pizza Magazine's senior media producer, will cover the play-by-play action along with color analyst and former World Pizza Spinning Champion Jamie Culliton as well as U.S. Pizza Team Captain Michael LaMarca.
Competition events include Largest Dough Stretch, Fastest Pie-Making, Fastest Box-Folding and the prestigious Freestyle Acrobatic category.
The winner of the Freestyle Acrobatic competition will represent the U.S. Pizza Team in Parma, Italy, this April at the 28th annual edition of the World Pizza Championship.
"We are excited about this partnership between Go Live Sports Cast, PMQ Pizza Magazine and the U.S. Pizza Team," said Steve Green, PMQ's founder and publisher. "We look forward to bringing pizza acrobatics—an art form that blends dough-spinning skills with athletics and synchronized dance—to a larger audience. Not only are these pizza athletes amazing artists and entertainers, they're also the pizza restaurant industry's goodwill ambassadors to the world."
"My family has been in the pizza business since 1953," states Frank Mazzella, owner of Go Live Sports Cast. "We thought it would be a great fit to our season schedule of broadcasts on the network. It will be interesting and exciting to see a pizza being flipped around and no one getting in trouble for it."
About the US Pizza Team:
Started in 2000 by PMQ Pizza Magazine, the U.S. Pizza Team sponsors regional and national competitions to field an annual team of culinary and acrobatic pizzaioli representing the American pizza industry at international competitions. Their mission is to create learning opportunities for team members to be shared in the pages of PMQ Pizza Magazine, the industry's leading business publication, to foster camaraderie, and to provide publicity opportunities for team members and their restaurants.
About Go Live Sports Cast
Go Live Sports Cast is an online and IPTV destination for Internet Broadcast sports including Pro arena soccer, Pro indoor football, Boxing and MMA, hockey, basketball and other sports. Call us at 1-734-675-7325, or visit http://www.GoLiveSportsCast.com to get your game on the air. GLSC is a subsidiary of Soundque Entertainment Inc. in Michigan. We produce live Internet video streaming, provide full production services and broadcasting, A/V rentals, marketing, media buys, and media planning to offer our clients a better online experience.
Related Articles View More Books

Stories
More Hot Stories For You