Phi Kappa Phi Announces 2017 Literacy Grant Recipients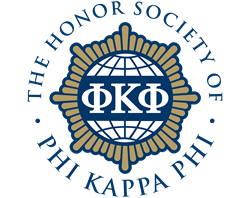 The
Honor Society
of Phi Kappa Phi, the nation's oldest and most selective all-discipline
Honor Society
, today announced its 2017 Litera
Cy Grant
recipients. The grants of up to $2,500 were awarded in support of 14 literacy projects across the nation.
The LiteraCy Grant Program, established in 2003, provides funding to Phi Kappa Phi chapters and active members for new and ongoing projects that reinforce part of the Society's mission "to engage the community of scholars in service to others." Drawing from a multidisciplinary society of students and scholars from large and small institutions, the grants help fund projects ranging from traditional reading initiatives to those fostering learning in cultural, digital, financial, health, historical literacy and beyond.
The 2017 recipients and their respective projects are:

Michelle Allison, Brookwood's Leveled Reader Library
Alexandra Kelly Brooks, Juvenile Detention Center Science Outreach Program
Valarie Burke and Katelyn DiBenedetto, Project Transforming Tomorrow
Russell Carpenter, Community Reads
Lesley L. Casarez, Families Who Read Together
Rhonda Cooksey, HIKE Up Literacy
Dalia Karina Delanuez, Tiny Book House
Benjamin Jacob, My Story Matters: A Literacy Project
Leah McCurdy, Bringing "To the Mountain!" to Their Ears
Tulsi Patel, Para Tu Salud: Una Campaña de Alfabetismo (For Your Health: A Literacy Campaign)
Will Porter, Mozambique Music School
Muthukrishnan Sathyamoorthy, Born to Read for Minority Children
Tettra Scott, Improving Literacy Begins with Parents 2017
Emily Taylor Beighley, Paws and Tales
"Phi Kappa Phi is pleased to see a broad diversity in the projects awarded LiteraCy Grants this year," said Society Executive Director Dr. Mary Todd. "Literacy, by definition about more than reading alone, is knowledge of a particular subject. Phi Kappa Phi members' love of learning is central to the successful transmission of knowledge, whatever the subject."
The winning projects were selected for a grant based on a number of criteria including the project's scope, student and community involvement, impact, duration and ability to achieve success.
In addition to literaCy Grants, Phi Kappa Phi awards $1.4 million each biennium to qualifying students and members through study abroad grants, graduate fellowships, awards for post-baccalaureate development and member and chapter awards.
To learn more about this year's recipients and projects, please visit http://www.phikappaphi.org/literacy.
About Phi Kappa Phi
Founded in 1897, Phi Kappa Phi is the nation's oldest and most selective collegiate Honor Society for all academic disciplines. Phi Kappa Phi inducts approximately 30,000 students, faculty, professional staff and alumni annually. The Society has chapters on more than 300 select colleges and universities in North America and the Philippines. Membership is by invitation only to the top 10 percent of seniors and graduate students and 7.5 percent of juniors. Faculty, professional staff and alumni who have achieved scholarly distinction also qualify. The Society's mission is "To recognize and promote academic excellence in all fields of higher education and to engage the community of scholars in service to others." For more information, visit http://www.phikappaphi.org.
Related Articles View More Books

Stories
More Hot Stories For You