New Jersey Artist Releases #1 Bestselling Book on Dragon Wisdom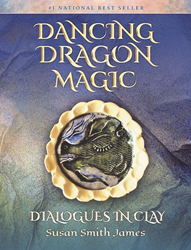 For clay potter
Susan Smith
James, happiness showed up in an old garage she renovated into a potter's haven. She began working the clay in her Pilesgrove, New Jersey fixer-upper farm only to experience surprising shapes of dragon clay pots in character-filled images with varying colors and sizes. Fast forward several years, and the dragon pots generated a new #1 bestselling book that inspires and dares to be different.
"This book is the culmination of a journey that has taken me through time and space. I have been given the opportunity to create in clay, photography, ink and words, to connect with dragon energy and to birth a book that somehow seems much greater than the sum of my efforts," says James, who has been a professional potter for three decades.
Once the dragon pots began having conversation, James was fortunate to take pen to paper and discover wisdom from an unlikely source. James shares some of her favorite messages from the dragons who mysteriously seemed to come to life as she created them.
The Sun Dragon
"With fire and light, I illuminate the world. What darkness can exist when I am present?"
The Night Dragon
"I live in darkness, but do not be afraid, great light still shines there, just look at the magnificent stars, you can only see them when the world is dark!"
The Moon Dragon
"I seek Peace and help it to grow. Anyone can expand peace, simply by noticing it."
The Cloud Dragon
"Our offspring are our most important contributions to the planet."
The Day Dragon
"Increase your love with music and song, spread it freely over the entire planet!"
The Smoke Dragon
"Duty and honor are important aspects of everyone's soul. Make sure that your actions reflect your spirit."
The River Dragon
"Life can be gentle and quiet, like a flowing stream, or turbulent and fast, like roaring rapids, it is entirely your choice!"
Icthianna, the Merdragon
"Follow the path that sits in your heart, great treasure lies all along the way."
The Ocean Dragon
"Wealth, Power and Possessions mean nothing, unless you use them to support things other than yourself!"
Happy Publishing CEO Erica Glessing chose to release the new book "Dancing Dragon Magic: Dialogues in Clay" to support art, creativity, storytelling, and she adds, the dragons were very insistent. The book went to #1 on Amazon in the category of Dragons and Mythology immediately upon release. "Author Susan James has a gift with clay, imagination, and she has kept the sense of childlike wonder that you seldom see. She celebrates not only dragons, but the butterflies on her farm, the way her chickens wake her up in the morning, and how to connect with the mysteries of the universe," explains Glessing. "Her dragon stories are second to none. The dragons quite literally come to life in this new book."
Dancing Dragon Magic: Dialogues in Clay is available on Amazon and bookstores online globally (Happy Publishing, 2018).
About the Author
Susan Smith James creates dragons in clay. One day she asked the pots what they had to say. To her surprise, they let her listen in on their conversations and the beginnings of this book took shape.
Related Articles View More Books

Stories
More Hot Stories For You