In Time for Christmas, New Children's Picture Book 'Letter from Santa...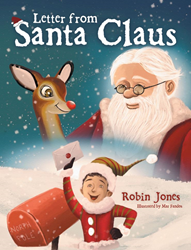 In the new children's picture book "Letter from
Santa Claus
" by
Robin Jones
with illustrations by Mar Fandos, readers are introduced to five-year-old Robin who is ill with pneumonia and had to be hospitalized in the time leading up to Christmas in the year 1949. Based on Jones' real life experience, he presents a touching and heartwarming story accompanied by charming artwork that highlights the magical spirit of Christmas time that can be enjoyed by readers of all ages.
While Robin was in the hospital, his hardworking, loving and caring father would visit him every day and read him stories such as "Rudolph the Red Nose Reindeer" which helped cheer him up. Still in the hospital with Christmas approaching, Robin decided to write Santa Claus a letter and soon after received a response from him that his father read to him.
The letter from Santa Claus detailed all of the preparation in the North Pole leading up to Christmas such as how he receives his elves and what Mrs. Claus was busy doing. The healing and kind words from Santa were so powerful that they helped Robin recover just in time for Christmas and he was able to spend the holiday at home with his family.
"I still have the original letter from Santa my father gave me 70 years ago," said Jones. "I remember fondly the love and compassion my father and nurses at the children's hospital showed me while I was sick. The uplifting message of the letter and everyone's encouragement helped give me the strength to recover from pneumonia, which at the time, was something children and the elderly had a hard time recovering from."
A perfect story to share during the holidays, "Letter from Santa Claus," is sure to be a favorite for years to come. To learn more please visit http://www.robinwjones.com.
"Letter from Santa Claus"
By Robin Jones
ISBN: 978-1-5320-3227-1 (sc), 978-1-5320-3228-8 (e)
Available through Amazon, Barnes & Noble and iUniverse
About the author
Robin Jones is part of the Storytellers Guild in Victoria, British Columbia and received the encouragement from his fellow members to publish this story after sharing his real life experience with them. He still has the original copy of the letter from Santa 70 years later. As a father of six, grandfather to seven and with one great grandchild, Jones loves family time and children and knows the importance of family values. In addition to writing, Jones is self-employed as a designer, builder and renovator. He received his Bachelor's degree from York University in Toronto in Geography Urban Studies. For several years as a teenager, Jones helped distribute Christmas boxes to the poor. "Letter from Santa Claus" is his first published book and he is currently working on his next story.
For Review Copies and Interview Requests:
LAVIDGE – Phoenix
Lauren Dickerson
480-998-2600 x 601
ldickerson@lavidge.com

Featured at the Theatre Shop
T-Shirts, Mugs, Phone Cases & More
Related Articles
View More Books

Stories
More Hot Stories For You