BWW Review: Carol De Giere's Book 'Defying Gravity: The Creative Career of Stephen Schwartz, from Godspell to Wicked Revised and Updated 2nd Ed.' Soars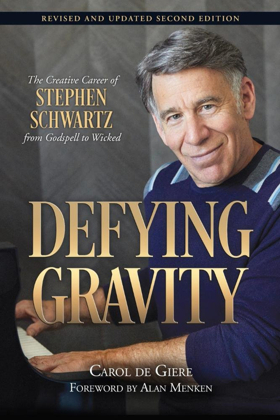 Carol de Giere's revised and updated second edition to her earlier biography, "DEFYING GRAVITY: The Creative Career of Stephen Schwartz," was a necessary Act II, since, as we all know, Schwartz's star has only continued to rise since 2008. It's a wonderful addition with brand new behind-the-scene insights on his latest projects. As her webpage states, "This new edition features a Foreword by Alan Menken and four new chapters covering Schwartz's more recent projects like The Hunchback of Notre Dame, The Prince of Egypt, and Wicked after Broadway. DEFYING GRAVITY Second Edition includes additional 'Creativity Notes' with comments from Schwartz about overcoming creative blocks, collaboration, and the artistic life."
A stunning 512 pages (with photographs and handwritten notes), de Giere's book is a thoroughly fascinating read as well as something of a musical theatre master class in written form -- one that has been lovingly lensed through the life and creativity of Stephen Schwartz. And, since this latest book already gives hints as to what is coming next, my guess is that in due time, she'll be writing Act III. "It should be noted," she writes, "that this Updated Second Edition only includes project notes up through Spring 2018. Many new developments are forthcoming." Stephen himself adds that "At Seventy years old, I am busier than I've ever been in my life." All I can say is "fingers crossed for more - from Carol and from Stephen!"
One of the special delights of this "master class in written form" are de Giere's intimate "Creativity Notes," which give her audience access into Schwartz' (and others) creative process, as well as lessons he's learned along the way. From the notes we learn that emotional truth-telling helps him to communicate universally; if you get the structure of a musical right then a multitude of sins can be forgiven and when he's working on a new song, he asks himself, "What's the story I'm telling? Who's the character?" and "What is he or she feeling?" Aspiring writers would be wise to take his advice to heart for their own creative journeys.
In one of the Creativity Notes called "Clarity First," Stephen Schwartz says that his songwriting motto is, "In lieu of inspiration, do research." It's clear that Carol de Giere took his advice because "Defying Gravity" is a meticulously researched biography of one of the greatest living theatre and film artists of our time. (I'll bet you didn't know that the first seven notes of "Unlimited" are the same seven notes of "Somewhere Over the Rainbow!")
Carol de Giere's own story is a thesis on creativity as well. She writes in her introduction that after spending years as a Librarian she "longed to cross over to the creative side of the publishing world." So, she completed a writing degree and then got a job writing website content about musicians. "I was assigned last names with the letter "S." That's when 'Stephen Schwartz' came into my life." It was a serendipitous moment to be sure.
The idea of serendipity played a large role in Stephen's life, too. It was simply by chance that a college friend called him one night and invited him to come see "The Godspell." As Carol de Giere described the show, it was "Woodstock made Biblical." Stephen was soon brought on to help the show become a full-scale musical and "Godspell" went on to become to become his first blockbuster hit.
It was also serendipitous when his friend John Bucchino invited Stephen to join him and singer-songwriter Holly Near in Hawaii for a few days. Holly told him about a book she was reading called "Wicked" by Gregory Maguire saying, "It's the Oz story from the Wicked Witch of the West's point of view." Carol writes that "his reaction was visceral." And so, his journey down the yellow-brick road began by sheer happenstance, though I must add that his instinct for good storytelling came from years of experience and expertise.
That was the bright side of serendipity. Prior to that time, as Alan Menken writes in the new Forward for de Giere's book, "Following his string of amazing successes, Stephen went through an extended period marked by tremendous creativity...and yet also a puzzling decline in commercial success...He apparently felt like he was fighting an uphill battle and was tired of the struggle. He had decided to return to school to do post-graduate studies at New York University towards a degree in psychology.
As de Giere adds in Chapter 14, "In 1991 Schwartz had given up on show business completely.... That fall he commuted from Connecticut to Greenwich Village to attend graduate school classes in psychology at New York University with the intention of becoming a therapist.... That's when an invitation from Disney intervened and the next leg of a legendary career journey began."
Just think of what would have been lost. There would have never been his partnership with Alan Menken and the subsequent Oscars for "Colors of the Wind" (Pocahontas) or "When You Believe" (The Prince of Egypt) -- or the Hunchback of Notre Dame's songs of hope ("Out There," "God Help the Outcasts" and "Someday") that inspired the LGTBQ community. And, perhaps most importantly of all for the Broadway stage, "Wicked" would never have come to life. Thinking of such losses reminded me of a quote by Frances Mayes in her book "Under the Tuscan Sun." There she writes, "Any arbitrary turning along the way and I would be elsewhere; I would be different." How lucky for us that Stephen Schwartz kept answering the creative call and continues answering it to this day.
Sometimes we look at someone famous and only see the bright shiny surface of success. As with the handsome playboy prince Fiyero in Wicked, looks can be deceiving. Part of de Giere's genius is that she doesn't shy away from writing about Schwartz's gut-wrenching lows and the self-doubt and eventual burn-out that almost caused him to end his creative career. Her other genius is in the impeccable research she's done and the almost play-by-play of Stephen's creative process, especially in Wicked. For fans of the show, these insights are like having a peek into the Grimmerie. It is absolute magic.
Toward the end of the book, De Giere tantalizes us with the upcoming Wicked movie, plus several movie projects, as well as some revisions of old favorites. We look forward to Stephen Schwartz's new works and Act III of Carol de Giere's "Defying Gravity."
Defying Gravity: The Creative Career of Stephen Schwartz, from Godspell to Wicked Revised and Updated Second Ed.
Book by Carol De Giere
Forward by Alan Menken
Starring Stephen Schwartz
Disclosure: BWW's Linda Hodges's review of The Prince of Egypt is quoted in this book.
Related Articles View More Books

Stories
Linda Hodges is a theatre reviewer and playwright who's been covering the vibrant San Francisco Bay Area theater scene since 2009. She got her start (read more...)