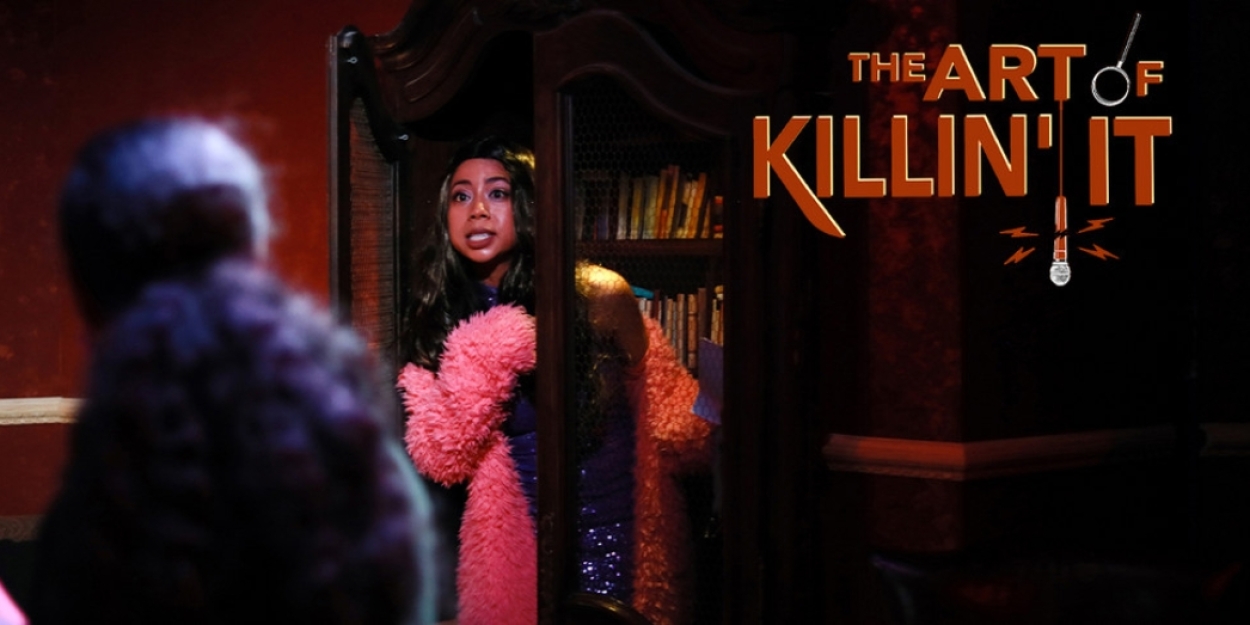 THE ART OF KILLIN' IT Revamped for Official Open-Ended Run
The Art of Killin' It is a hands-on, irreverent, immersive and interactive murder mystery show.
The Art of Killin' it has gotten a killer REVAMP! Since June 2022 this immersive murder mystery show has an official open-ended run. With multiple endings, more props and new special guest every show- this experience is to die for!
Audiences are invited to an evening at the lavish Hardigan Manor to enjoy an album release soirée for a popular Influencer-turned-Rapper. But when the night turns deadly, the guests (you, the audience) must investigate clues and interrogate suspects to try and solve the mystery.
The Art of Killin' It is a hands-on, irreverent, immersive and interactive murder mystery show. It's a classic "whodunit" with a silly hip-hop twist. Running since last June, come experience the revamped and upgraded immersive show. Citizen Sleuths and Amateur Detectives- you don't wanna miss this one! Audiences will get to enjoy an exploration game, a comedy and music show, and a killer party all in one. Explore four grand rooms, enjoy your choice of libations at the bar, converse with a myriad of wacky characters, and uncover their deepest, darkest secrets. Fans of Clue, Key & Peele, Knives Out, Astronomy Club, Sleep No More, hip-hop, slapstick comedy, or any true crime podcast... this is the show for you.
Tickets are available now! Book your spot as a Party Guest for general entry to the experience, or upgrade to a VIP ticket and gain 1 complimentary drink in a reusable TAOKI souvenir cup (+ discounted drinks when you use the cup), an exclusive TAOKI button and notebook from our merchandise collection, and finally- an exclusive pre-show hang with the star of the show. You'll get to see the other rooms before the rest of the guests and chat with the rapper before her album drops. Will more bodies drop before the album does? Uncovering whodunit will be unpredictable with a different ending every show.
Showtimes & Tickets Available at www.TheArtofKillinIt.com
Located at Future Proof: 32 Meadow Street, Brooklyn New York 11206 Runs Thursdays through Sundays
Cast: Aliria Geri, Aaron Laroche, Shenuque Tissera, Jasmine Malave, Imogen Finlayson, KC Wilson, Manatsu Tanaka, Ruben St. Vilus, Sasha Smith, Ash Marie Alina, Jeffrey Kitt, Julia Zhen, Jordon Waters, Evie Bradford-Altsher, and Emanuel Rodriguez/
Crew: Nicole Amaral, Amber Ink, Odion-Victoria Igbavboa, and Alyssa Rios
Creator: Jordon Waters
Director: Lawrence Stallings
Writers: Stephanie Marrow & Jordon Waters
Immersive Director: Kai Kim
Co-producer/Art Director: Amber Ink
Associate Producer: Ruben St. Vilus
Production Stage Manager: Nicole Amaral
Please note: proof of vaccination upon entry and masks are required per venue standards.