Grace Gianoukas Pays Homage to Dercy Goncalves in the Monologue NASCI PRA SER DERCY
By Claudio Erlichman The production runs from January 13th through February 26th, at Teatro Itália Bandeirantes.
Dolores Gonçalves Costa (1905 - 2008), known by her stage name Dercy Gonçalves, was a Brazilian actress, comedian and singer. In her 86-year-long career, she worked in the theater, revues, film, radio and television, becoming famous by her humorous use of vulgar language. In 1991, at the age of 85, she caused controversy by exposing her breasts while parading with a Samba school in Rio de Janeiro's Carnaval.
Dercy Gonçalves currently holds the record for the longest career as an actress with Guinness World Records (86 years).
She died on 19 July 2008 from pneumonia at the age of 103. She was buried in her birth town Santa Maria Madalena in Rio de Janeiro. Her mausoleum, designed by herself in 1991, has the shape of a glass pyramid. The conception is similar to Louvre Pyramid.
Dercy passed away without a play honoring her ever having been performed on Brazilian stages. Yet! The monologue Nasci pra ser Dercy, with Grace Gianoukas, written and directed by Kiko Rieser, seeks to unite the popular appeal and the actress's charisma with a deep research that shows the importance, often ignored, of the actress for the Brazilian theater and for the female freedom, as well as her unquestionable uniqueness. The premiere takes place on January 13, at Teatro Itália Bandeirantes, in a short season. Miguel Falabella makes a special participation in voice-over.
.
.
Dercy Gonçalves é uma das maiores atrizes brasileiras do século XX. Ela faleceu há 15 anos, em 2008, aos 101 anos, sem que jamais tenha havido nos palcos brasileiros uma peça que a homenageasse. Até agora! O monólogo Nasci pra ser Dercy, com Grace Gianoukas, escrito e dirigido por Kiko Rieser, busca unir o apelo popular e o carisma da atriz a uma profunda pesquisa que mostra a importância, muitas vezes ignorada, da atriz para o teatro brasileiro e para a liberdade feminina, bem como sua inquestionável singularidade. A estreia acontece no dia 13 de janeiro, no Teatro Itália Bandeirantes, em curta temporada. Miguel Falabella faz participação especial em voz off.
Dercy não cabia em rótulo algum. Desbocada e defensora da mais profunda liberdade, era muito recatada em sua vida íntima, chegando a se casar e enviuvar anos depois ainda virgem. Contestava frontalmente a censura da ditadura militar, mas se recusava terminantemente a levantar bandeiras políticas específicas que não fossem a da irrestrita liberdade e do respeito a todas as formas de existir.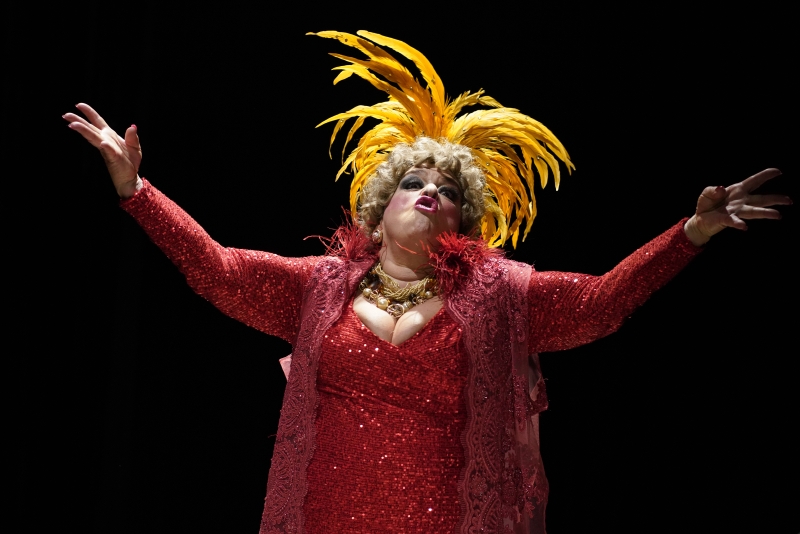 A atriz se consagrou como vedete do Teatro de Revista, mas sua maior contribuição ao nosso teatro se deu ao levar essa expertise para a comédia popular, que ela revolucionou inteiramente, trazendo textos fundamentais para o Brasil e instaurando uma nova forma de interpretar, que rompia com todos os padrões e inaugurava em nossos palcos uma representação genuinamente brasileira. Amada por quase todo o país, Dercy Gonçalves é uma figura largamente reconhecida, mas pouco conhecida de fato.
"Dercy Gonçalves é retratada quase sempre como apenas uma velha louca que falava palavrão", fala Kiko Rieser, que no texto procura revelar ao público a mulher grandiosa e complexa que ela foi. "Uma atriz vinda do teatro de revista que recriou a comédia brasileira. Uma mulher que era chamada de puta, mas que casou e enviuvou virgem, iconoclasta e devota, libertária mas avessa a qualquer bandeira, inclassificável e singular", completa o autor.
Sinopse
A peça começa com uma atriz, Vera, entrando no estúdio para fazer teste para o papel de Dercy Gonçalves em um filme. Conforme vai dando suas falas, ela se revolta contra o roteiro, cheio de estereótipos. Sua mãe era grande fã de Dercy e por isso Vera cresceu conhecendo e sendo influenciada pelo exemplo dessa artista icônica. Ela então, transformando-se em Dercy, começa a mostrar quem realmente foi essa mulher à frente de seu tempo.
.
.
"Nasci pra ser Dercy"
Texto e direção: Kiko Rieser
Elenco: Grace Gianoukas
Voz off: Miguel Falabella
Estreia dia 13 de janeiro
Temporada até 26 de fevereiro
Sexta e sábado 21h
Domingo 19h
Indicação 14 anos
Duração: 80 min
Ingressos:
Preços populares até o dia 5 de fevereiro: R$ 50
De 10 a 26 de fevereiro: R$ 80
Ingressos online: https://cloud.broadwayworld.com/rec/ticketclick.cfm?fromlink=2220835®id=150&articlelink=https%3A%2F%2Fbileto.sympla.com.br%2Fevent%2F79211%2Fd%2F172771%2Fs%2F1162490?utm_source=BWW2022&utm_medium=referral&utm_campaign=article&utm_content=bottombuybutton1
Horário Bilheteria
Terça a sábado, das 17h às 21h
Domingo, das 16h às 21h, ou até o início do espetáculo
Teatro Itália Bandeirantes - 292 lugares
Av. Ipiranga, 344 - República - São Paulo

FICHA TÉCNICA
Texto e direção: Kiko Rieser
Atuação: Grace Gianoukas
Voz off: Miguel Falabella
Cenário e figurino: Kleber Montanheiro
Desenho de luz: Aline Santini
Trilha sonora original e arranjos: Mau Machado
Canção "Malandrinha": Freire Júnior
Canção-tema "Só sei ser Dercy": Danilo Dunas e Pedro Buarque
Visagismo: Eliseu Cabral
Assistência de direção: André Kirmayr
Preparação corporal: Bruna Longo
Preparação vocal: André Checchia
Colaboração no processo: Fernanda Lorenzoni
Assistência de figurino: Marcos Valadão
Cenotécnica: Evas Carreteiro
Design gráfico: Letícia Andrade (Nós Comunicações)
Assessoria de imprensa: Flavia Fusco Comunicação
Mídias sociais: Inspira Comunicação
Fotos: Heloísa Bortz
Direção de produção: Paulo Marcel
Produtores associados: Fábio Hilst e Kiko Rieser
Elaboração de projeto: Kiko Rieser
Assessoria jurídica: Ana Capozzi
Realização: Ventilador de Talentos