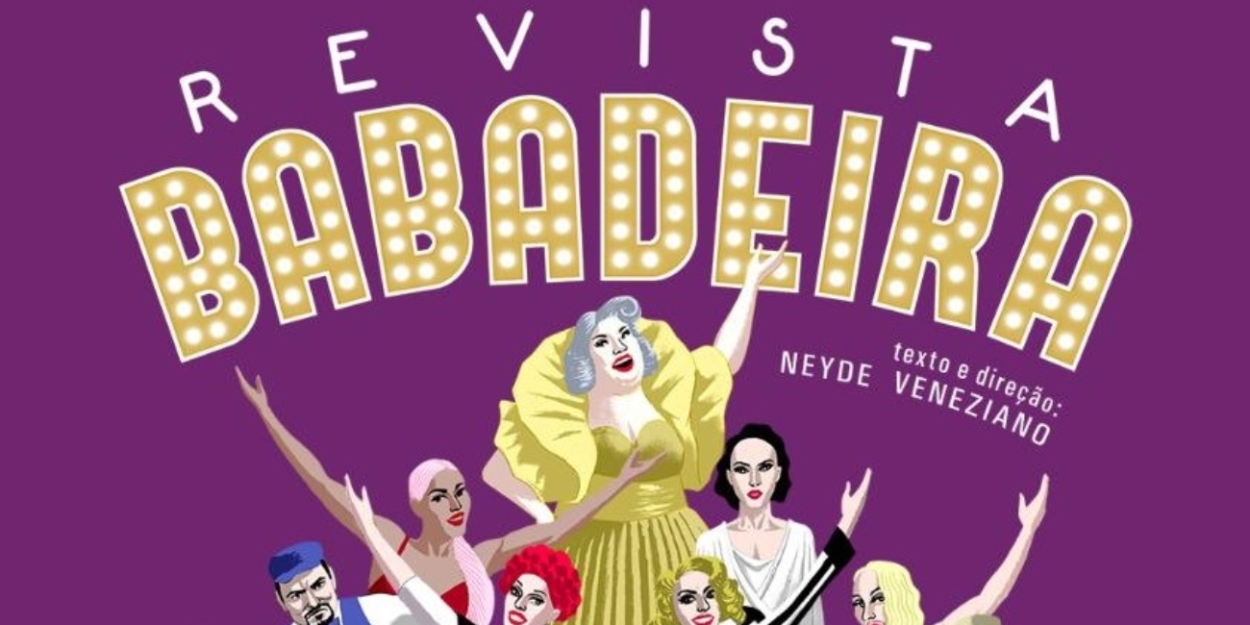 Contemporary Version of Revue Theater is Presented with Drag Queens in REVISTA BABADEIRA
By Claudio Erlichman. The production runs from January 20th through March 19th, at Espaco Cia. da Revista.
Revista Babadeira is a musical by award-winning director Neyde Veneziano, where she updates the Revue Theater genre through diversity and inclusion, with drag queens and without male chauvinism. With musical direction by Dagoberto Feliz, it has an original score by Danilo Dunas, scenery and costumes by Kleber Montanheiro and choreography by Paula Flaibann. There are 18 scenes, 12 actors on stage and new songs sung live.
An authority on the subject of Brazilian Musical Theater, Neyde Veneziano presents the result of his research on the contemporary format of the Teatro de Revista genre (Revue Theater) with the premiere of Revista Babadeira on January 20, 2023 at Espaço Cia. da Revista. Friday and Saturday at 21:00. Sunday at 7 pm. Season until March 19, free entry. Veneziano also imprints his name on the dramaturgy and direction of the show contemplated in the 38th Edition of Fomento ao Teatro by the project Teatro de Revista Hoje: Uma re-existência. There are 18 scenes, all with new songs sung live, 12 artists on stage - 10 drag queens and two musicians. There will be 24 sessions starting January 20th, on Fridays, Saturdays and Sundays, with free admission.
.
.
.

Musical da premiada diretora Neyde Veneziano onde atualiza o gênero por meio da diversidade e da inclusão, com drags e sem machismo. Com direção musical de Dagoberto Feliz, tem trilha original de Danilo Dunas, cenário e figurino de Kleber Montanheiro e coreografia de Paula Flaibann. São 18 cenas, 12 atores no palco e músicas inéditas cantadas ao vivo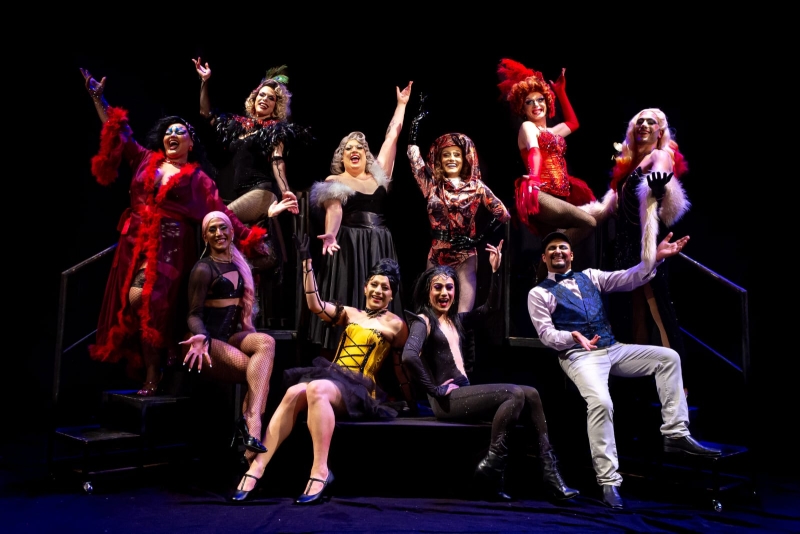 Autoridade no assunto Teatro Musical Brasileiro, Neyde Veneziano apresenta resultado de sua pesquisa sobre o formato contemporâneo do gênero Teatro de Revista com a estreia de Revista Babadeira no dia 20 de janeiro de 2023 na sede da Cia. da Revista. Sexta e sábado às 21 horas. Domingo às 19 horas. Temporada até 19 de março, entrada gratuita. Veneziano imprime seu nome também na dramaturgia e direção do espetáculo contemplado na 38ª Edição do Fomento ao Teatro pelo projeto Teatro de Revista Hoje: Uma re-existência. São 18 cenas, todas com músicas inéditas e cantadas ao vivo, 12 artistas no palco - 10 drag queens e dois músicos. Serão 24 sessões a partir de 20 de janeiro, às sextas, sábados e domingos, com entrada franca.

As primeiras etapas do processo de montagem envolveram, além da pesquisa, oficinas de Dramaturgia (com Neyde Veneziano, Dagoberto Feliz e as drags Thelores Drag e Alexia Twister), Filosofia vocal (com Marcelo Boffa), Clown Music Queer (com Dagoberto Feliz) e Drags en reviste (com Neyde Veneziano) realizadas durante 2022. Em seguida vieram a seleção do elenco e início dos ensaios em outubro. Quinze drags frequentaram as oficinas de preparação para interpretar as estrelas do musical. "Drags são hiperbólicas, são grandes, são fascinantes. O Teatro de Revista é o gênero mais apropriado para elas", afirma Neyde, que propõe um formato contemporâneo para o estilo.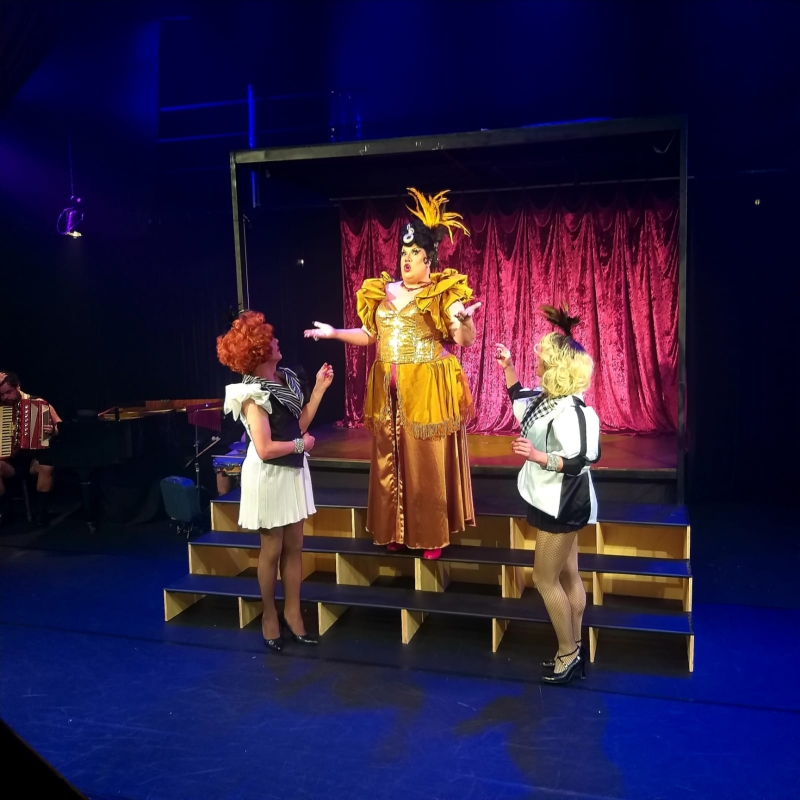 "Vamos atualizar o discurso. O teatro de revista era apoiado no machismo e na objetificação das vedetes. Hoje isso não tem mais sentido. A estrutura da revista segue maravilhosa, mas agora nosso discurso será sobre a diversidade, a inclusão e, principalmente, a liberdade", completa. Com roteiro costurado a quatro mãos - Neyde Veneziano, Dagoberto Feliz, Thelores Drag e Alexia Twister -, Revista Babadeira é um espetáculo de Teatro de Revista contemporâneo e atualizado por meio da ótica da diversidade e inclusão. Os quatro personagens centrais são: as duas commères (interpretadas por Alexia Twister e Thelores), Harmônio (Mercedez Vulcão) e a Revista Brasileira (alegoria - Josephine Le Beau). "As outras se desdobram em vários 'personagens episódicos', cantando e representando diversos tipos importantes do teatro de revista", explica a diretora.

Fio condutor:
A encenação de Veneziano optou pela linguagem do metateatro e abre com duas drags apresentadoras (commères) em busca do tema para escrever o texto de seu projeto contemplado no fomento. Ao som do piano de Demian Pinto, após trocas de ideias com os Deuses do Olimpo, a quem recorrem em busca de inspiração, elas encontram Harmônio, um sertanejo universitário, recém-chegado do interior a São Paulo. Expulso de casa pelo pai, a trajetória do personagem é o fio condutor do enredo. No desenrolar da trama, o agroboy revela estar à procura de seu tio, que, como ele, também foi expulso da cidade anos atrás pelo mesmo preconceito homofóbico. Entre músicas e quadros, o espetáculo se encaminha para a apoteose, em uma celebração à liberdade.

Pesquisa - por Neyde Veneziano:
"Durante muitos anos, dizia-se: "a Revista é o gênero de teatro que melhor representa a ideia que o Brasil tem de si." E que ideia seria essa? A resposta vinha rapidamente: "Samba, mulher e carnaval". Essa era a cara do Brasil transmitida pelo nosso Teatro de Revista, notadamente a partir dos anos de 1940, quando o grande produtor Walter Pinto inaugurava a era das grandes Vedetes. Anos se passaram. Os tempos são outros. O discurso machista daquele teatro de revista, que parecia ser somente uma leve brincadeira, já não se encaixa na nossa realidade mutante. Ria-se da lentidão do idoso, da preguiça do malandro, da indolência indígena, ríamos do neguinho esperto que roubava o pão doce e, principalmente, aplaudíamos a mulata que nos enlouquecia com seu gingado. Ríamos em coro. Sem perceber o mecanismo invisível das hegemonias. A voz do Teatro de Revista aos poucos silenciou-se.
A boa notícia é que ainda temos a fórmula brasileira! Trata-se de uma estrutura que reúne quadros e episódios fragmentados, sempre ligados por um fio condutor cômico, crítico e nada realista. Eis a receita. E, já que sabemos qual o "jeito" de fazer teatro de revista, por que não mudarmos, radicalmente, o discurso machista? Portanto, caros amigos, vamos apresentar uma Revista Brasileira Contemporânea! A Arte Drag caiu no gosto popular nas últimas décadas no Brasil e em grande parte do mundo. Em programas de televisão atores drag queens não se apresentam somente para suscitar o riso. Há alguns anos, a Arte Drag Queen se espalhou pelo mundo. A cultura pop che gou a seu auge com RuPaul Charles, um homem negro alto de peruca loira. Hoje, aos 60 anos, RuPaul é um dos nomes mais populares da Arte Drag no mundo."

Arte Drag e suas ideias de liberdade, igualdade, pluralidade e inclusão:
"Com ele, a Arte Drag Queen passou a ser conhecida e respeitada, com suas músicas, seus filmes, suas habilidades artísticas. Hoje, o programa no formato reality show está na 14ª temporada, com edições em, pelo menos, outros seis países. Todas essas qualidades abriram novos espaços para que outros artistas drags surgissem. Em 2021, RuPaul, ao receber seu 11° troféu do Emmy, tornou-se o artista negro que mais vezes recebeu a honraria. No Brasil não foi diferente. Em São Paulo e no Rio de Janeiro, principalmente a partir da década de 1990, drag queens ganharam espaços muito além daqueles ambientes em que, costumeiramente, utilizavam trabalhando em pequenas peça s cômicas de pouco valor dramatúrgico, para servirem de chacota e, por vezes, até serem ridicularizadas. A Arte Drag ganhou espaços nas casas de show, teatros, bares e boates.

Drags queens já não representam somente "entretenimento". Artistas drag queens lutam pelos direitos da comunidade gay e defendem a causa com um fervoroso ativismo político. Todos sabemos que, desde a Grécia antiga, ou até antes, homens se vestiam de mulheres para representar figuras femininas, já que às mulheres era proibido participar de uma peça de teatro como atriz. Quando ouvimos o termo drag queen, a imagem que nos vem à mente é a de um homem vestido, exageradamente, de mulher. Só que o termo drag vai muito além dessa defini&a mp;c cedil;ão de "homem vestido de mulher". O corpo de uma drag é uma tela em branco, que pode ser pintada e decorada como quiser. Pode ser um corpo feminino também, como o de Elke Maravilha. E esses corpos, vestidos e maquilados de forma extravagante, são "montados" para construir uma persona. E é essa persona "montada" quem vai transmitir a ideia de que as drags transpõem as fronteiras dos gêneros. O reconhecimento dessa quebra de barreiras faz com que as pessoas deem o primeiro passo contra o preconceito. À arte de transmitir as ideias de liberdade, igualdade, pluralidade e inclusão através da stravaganza denominamos Arte Drag."



FICHA TÉCNICA:
Pesquisa, dramaturgia e direção: Neyde Veneziano
Roteiro: Neyde Veneziano, Dagoberto Feliz, Thelores Drag e Alexia Twister
Direção musical: Dagoberto Feliz
Trilha especialmente composta: Danilo Dunas
Direção musical: Dagoberto Feliz
Assistência de direção musical: Demian Pinto
Cenário e figurinos: Kleber Montanheiro
Desenho de luz e operação: André Lemes
Coreografia: Paula Flaibann
Identidade visual - André Kitagawa
Assistência de produção: Clara Boucher
Assistência de direção: Zyon Colbert
Direção de produção: Zyon Colbert
Assessoria de Imprensa - M. Fernanda Teixeira, Macida Joachim/Arteplural.

Elenco: Alexia Twister, Antonia Pethit, Aprill XO, Divanna Kahanna Montez, Ginger Moon, Josephine Le Beau, Lacana Botafogo, Mercedez Vulcão, Thelores Drag.
Participação especial: Tony Germano.
Músicos: Daniel Baraúna, Demian Pinto.

SERVIÇO:
Temporada - De 20 de janeiro a 19 de março.
Sessões - Sexta e sábado às 21 horas. Domingo às 19 horas.
Espaço Cia da Revista - Alameda Nothmann, 1135, Santa Cecília. Tel. 3791-5200.
Horário da bilheteria - apenas no dia da sessão, abre com 1h de antecedência.
Entrada franca.

Ingressos Gratuitos: https://cloud.broadwayworld.com/rec/ticketclick.cfm?fromlink=2219365®id=150&articlelink=https%3A%2F%2Fwww.sympla.com.br%2Fevento%2Frevista-babadeira%2F1845064?utm_source=BWW2022&utm_medium=referral&utm_campaign=article&utm_content=bottombuybutton1

INSTA - @teatroderevistareexistencia