White Heron Theatre Company Creates Pre-Professional Training Intensive
This year's Intensive curriculum will include audition scenarios and on-camera work, access to how casting and artist representation can help shape a career and more.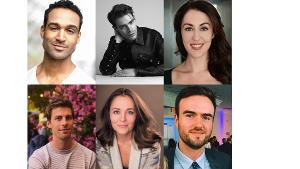 White Heron Theatre Company of Nantucket today announced "The Intensive," a pre-professional training opportunity for students 18 and older. The Intensive's faculty includes nationally recognized leaders in the entertainment industry and is hosted at the White Heron's state-of-the-art facility June 10 - 12.
"We are delighted to offer this new training opportunity on Nantucket," said White Heron Training and Education Director McCaela Donovan. "At White Heron, we have created a robust Student Company program for high school students, under the wonderful leadership of Jimmy Calitri. Many alumni from our Student Company have told us they want to continue to train and learn from professionals, signaling an opportunity for a program that eases their transition into the field. We have recruited incredible instructors to bring this exciting program to life."
This year's Intensive curriculum will include audition scenarios and on-camera work, access to how casting and artist representation can help shape a career with a seasoned agent, information on website creation, managing social media, as well as other facets of the business aspect of the profession with actors who have worked on Broadway, the West End, HBO and other areas of the entertainment industry. The Intensive will also cover the navigation of different geographical markets such as New York, Los Angeles, and London.
"White Heron has been committed to the education of young artists since our inception," said White Heron Artistic Director Lynne Bolton. "As our young artists have grown, it is now time to extend this rigor to students in the pre-professional stage of their training. A knowledge of practices, techniques to audition, superb classical acting training, and advice on finding representation - these are key elements to a successful launch of a young career. McCaela has done a superb job curating a program that will make a real difference in the careers of young actors. Her experience has served her well in the curation of a program designed to take students to the next level."
This summer's instructors include:
Scotty Anderson, a New York based casting director from Avy Kaufman Casting who has worked with acclaimed filmmakers such as Kathryn Bigelow, Ang Lee, Reinaldo Marcus Green, James Ponsoldt, George C. Wolfe, and Steve Zaillain among others and on critically lauded TV series for Netflix, Apple Studios, Hulu, Showtime, FX and Paramount. On Broadway, Scotty has worked on productions of LES MISERABLES, Jersey Boys, Phantom of the Opera, and School of Rock, among many others.
"The Intensive is an opportunity I wish I had as a young actor," added Bolton. "Advice and training from these professionals in the field gives young actors contacts in the business and the knowhow to help them launch their careers. Very few institutions offer curricula with this caliber of professional training and access to leaders in all aspects of the theatre business."
More information about the Intensive, including registration information, is located at www.whiteherontheatre.org/education.
About White Heron Theatre Company
White Heron Theatre Company is a professional, not-for-profit theatre company producing transformative, professional productions of classical and contemporary plays. For more information, visit whiteherontheatre.org.