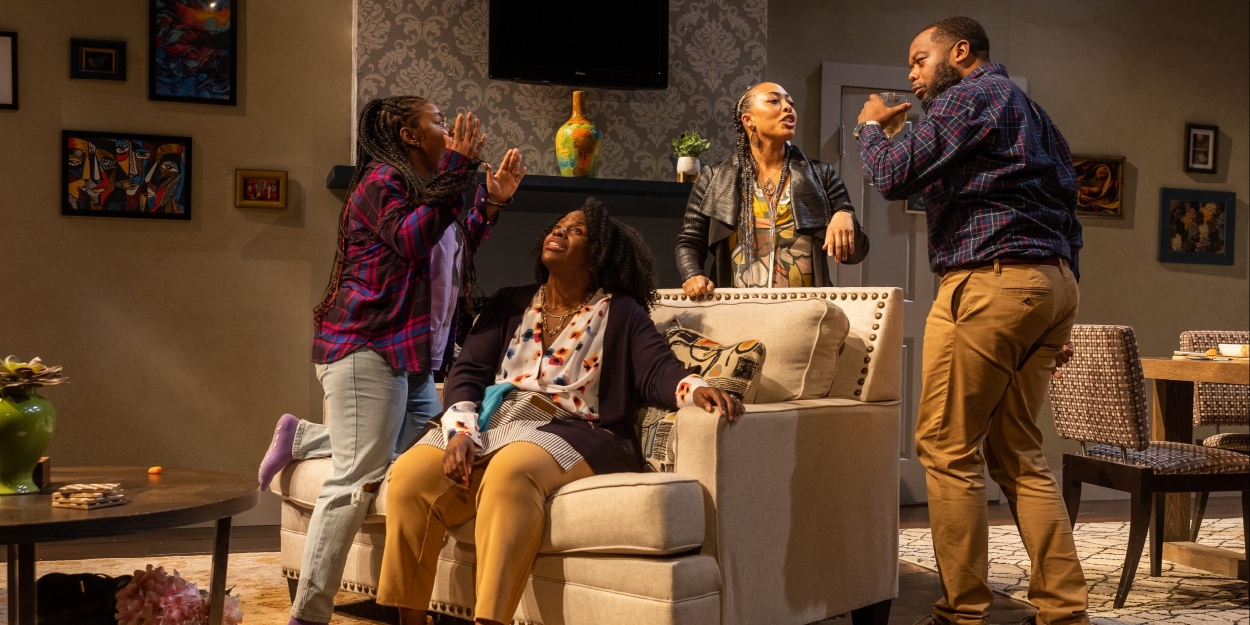 Review: FAIRVIEW at SpeakEasy Stage Forces Audiences to Look Inside Themselves and Reflect
This production runs now through March 11th.
"I'm uncomfortable" was the thought I had to myself after leaving SpeakEasy Stage's FAIRVIEW. I've had this thought while leaving the theatre before, but this time it was different. Usually, I feel that way because I didn't enjoy what I saw or was confused by it. But this time, it was precisely how the playwright wanted the audience to feel and it worked. Uncomfortable was exactly how I was supposed to feel.
FAIRVIEW (written by Jackie Sibblies Drury) examines race dynamics and how they play into our lives and our entertainment. The play opens with Beverly (Yewande Odetoyinbo) preparing dinner for her mother's birthday. Beverly is the glue that holds her family together. They are a typical middle-class, suburban family. Also in the family are Dayton (Dom Carter)- a typical father who loves his wife and daughter unconditionally and Keisha (Victoria Omoregie)- the daughter who is an academic and athletic star. They are later joined by Beverly's fabulous sister Jasmine (Lyndsay Allyn Cox). Throughout the first act of the play, we learn about the family and what their family dynamic is. Though they have their slight disagreements, it is obvious that the family truly cares for each other. The first act is reminiscent of a sitcom.
The second act of the play is when things start to get a bit twisted. We see the same scene we just saw, but this time the actors onstage are silent. What we hear instead is a group of (assumably) white people discussing the controversial question "if you could be a different race, which one would you be?" We spend the next half-hour or so listening to a discussion filled with some subtle and not-so-subtle racism. As the discussion evolves it becomes clear that the people speaking are observing the family onstage. I won't spoil what happens next but this play will (almost quite literally) force you to look at your inner self and reflect. And if you pay attention and obey to what is asked, it will make you uncomfortable but in the best way possible.
Each cast member shone in different ways and truly brought their characters to life. The standout performance of the show was by Victoria Omoregie as Keisha. She has one of the toughest roles in the play but from the second she walked onto the stage she gave it her all. Omoregie is fairly new to the scene, having graduated from Boston University in '22 but I cannot wait to see where she goes.
The play is brilliantly by Pascale Florestal who took this beast of a script and brought it to life in an entertaining but thought-provoking way. Aja M. Jackon's lighting design really aids Florestal in her storytelling.
Do yourself a favor and go see this show before it closes. It is truly not one to miss. Once again, SpeakEasy hit the ball out of the park.
FAIRFIEW by Jackie Sibblies Drury runs now through March 11th at the Boston Center for the Arts. The play is directed by Pascale Florestal and features designs by Erik D. Diaz (scenic), Becca Jewett (costume), Aja M. Jackson (lighting), and James Cannon (sound). The play also features fight and intimacy choreography by Amanda O'Donnell. Maegan A. Conroy serves as Production Stage Manager with Ty Ruwe as Assistant Stage Manager. Alex Leondedis serves as Assistant Director and Kira Troilo as Equity, Diversity, and Inclusion Consultant. For tickets and more information visit the SpeakEasy Stage website.
Photography by Nile Scott Studios.