BWW Review: SLOW FOOD World Premiere at Merrimack Repertory Theatre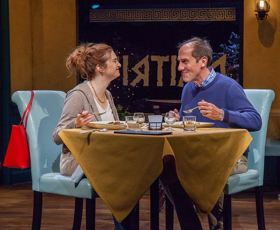 Slow Food
Written by Wendy MacLeod, Directed by Sean Daniels; Scenic Designer, Apollo Mark Weaver; Costume Designer, Deborah Newhall; Lighting Designer, Brian J. Lilienthal; Sound Designer, David Remedios; Production Stage Manager, Becca Freifeld
CAST (in alphabetical order): Brian Beacock, Daina Michelle Griffith, Joel Van Liew
Performances through February 3 at Merrimack Repertory Theatre, 50 East Merrimack Street, Lowell, MA; Box Office 978-654-4678 or www.mrt.org
We've all been there - sitting in a restaurant we didn't choose for any reason other than it was nearby and open, because we're starving and need to eat something - anything - before chowing down on the table linens, and waiting what seems like eons for the server to make an appearance. At last, the flamboyant waiter sashays over to introduce himself ("Hello, I'm Bryce - like the Canyon - and I'll be taking care of you"). He's way too chipper and already fifteen minutes too late to merit our appreciation, so we're chomping at the bit to place our order, while he - Bryce, or whatever his name happens to be - is still in the chummy, getting-to-know-you phase of our new relationship.
This is the premise and the situation for the unsuspecting couple, identified as Man (Joel Van Liew) and Woman (Daina Michelle Griffith), who have had a bad first day on their anniversary trip to Palm Springs, California. They had to rent a van, the hot tub in their very expensive hotel was broken, and they missed out on room service, so all they want is to have a beer and a nice dinner - quickly - at Dmitri's, a Greek restaurant the concierge told them about. Instead, in Slow Food, playwright Wendy MacLeod comes up with every imaginable (and unimaginable) way to delay their gratification, while simultaneously serving up 95 minutes of delicious comedy for the audience to relish.
Although the play is performed on a unit set (designed by Apollo Mark Weaver), with the couple seated at a table for two center stage nearly throughout its entirety, Director Sean Daniels sees to it that it is anything but static. The waiter (Brian Beacock) scurries about, in and out of the kitchen, off to the bar (in the direction of the wings), and hovers over the table like a predator. Meanwhile, Man and Woman engage in some very animated conversations with their server Stephen (with a "ph") and each other, resulting in a lot of movement, even while seated. Each of them also has the occasion to leave the table for a stealth errand, and they often seem on the verge of jumping up to escape the grip of the narcissistic nightmare who seems bent on their starvation. If you've never understood the concept of the term hangry, you'll get it after seeing Slow Food.
MacLeod says that her play is about middle-age and mortality. Man and Woman are celebrating their anniversary as they try to figure out how to reclaim their relationship at this stage of their lives, facing the empty nest syndrome and looking ahead to the vagaries of aging. Those concerns are just below the surface of the highly-charged situation at the restaurant, perhaps fueling their anger and anxiety elicited by the waiter. MacLeod also says, "Being trapped in a restaurant, waiting to be fed, is a metaphor for marriage."
Daniels does a good job balancing the madcap and the mundane aspects of the story, and all of it is brought to life by the full-throated performances of the trio of actors. Van Liew and Griffith convey the comfort of a long-married couple who know how to push each other's buttons, yet are always grounded by their foundation of unwavering love. They are the canvas on which Beacock finger-paints his brightly colored designs with fervor, flair, and a touch of the late Paul Lynde. Their authenticity, comedic timing, and rapport add up to a tasty recipe for a great night at the theater. Just one more thought - eat before you go!
Photo credit: Meghan Moore (Daina Michelle Griffith, Joel Van Liew)
| | | |
| --- | --- | --- |
| | Donations | Arts Orgs |
Related Articles View More Boston

Stories

Shows