Review: ROMEO AND JULIET: Capturing the Zeitgeist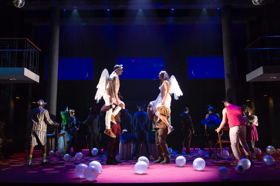 Romeo and Juliet
Written by William Shakespeare, Directed by Peter DuBois; Scenic Design, Wilson Chin; Costume Design, Ilona Somogyi; Lighting Design, Russell H. Champa; Original Music & Sound Design, Obadiah Eaves; Choreographer, Daniel Pelzig; Fight Direction, Rick Sordelet & Christian Kelly-Sordelet; Production Stage Manager, Emily F. McMullen; Stage Manager, Kevin Schlagle
CAST: George Hampe, Nael Nacer, Celeste Oliva, Omar Robinson, Khyati Sehgal, Kai Tshikosi, Lily Santiago, Maurice Emmanuel Parent, Marianna Bassham, Nancy E. Carroll, John Zdrojeski, Margaret Clark, Zaven Ovian, Dale Place, Ed Hoopman, Matthew J. Harris, Matthew Bretschneider, Will Lyman
Performances through March 31 at Huntington Theatre Company, 264 Huntington Avenue, Boston, MA; Box Office 617-266-0800 or www.huntingtontheatre.org
The Huntington Theatre Company digs into the William Shakespeare canon and pulls out a plum written more than four centuries ago. After dusting it off and giving it a spin in the time machine, Artistic Director Peter DuBois has crafted a contemporary, muscular version of the romantic tragedy Romeo and Juliet, featuring a who's who of the Boston acting community and introducing a pair of engaging newcomers to the local stage as the ill-fated young lovers. Inspired by the zeitgeist of American tribalism, DuBois' updating affirms the timelessness of one of the Bard's most enduring works.
Take a look at the deep bench playing on both teams in the grudge match of the Montagues (Romeo's family and friends) versus the Capulets (Juliet's troupe): Nael Nacer and Celeste Oliva (Lord and Lady Montague), Omar Robinson (Benvolio, R.'s cousin), and Matthew J. Harris (R.'s friend); Maurice Emmanuel Parent and Marianna Bassham (Lord and Lady Capulet), Nancy E. Carroll (J.'s nurse), Zaven Ovian (Sampson, an employee), Dale Place (Servingman), and Matthew Bretschneider (Paris, J.'s suitor). Adding to the embarrassment of riches in key roles, but unaligned with either side, are Ed Hoopman (Prince Escalus of Verona) and Will Lyman (Friar Lawrence). Completing the roster, Khyati Sehgal (Abraham), Kai Tshikosi (Balthasar), John Zdrojeski (Tybalt), and Margaret Clark (Petra) all making their Huntington Theatre debuts.
The new kids on the block are George Hampe (Romeo) and Lily Santiago (Juliet), a fresh-faced duo who fit together like hand in glove, radiating the joy and heat that Romeo and Juliet share in their unexpected and unlikely coupling. Immature innocents at the start, they grow up together before our eyes as the events play out. Romeo, the smitten, gentle lover, is forced by circumstances to become a fighter, and then a murderer, and Hampe is surefooted in each step of the unfortunate journey. Santiago is airy and lighthearted when we first meet Juliet, an ingenue unconcerned with weighty matters like marriage. She zooms into womanhood when love blooms and takes on an air of gravitas that reveals her character's depth.
Some impressions from selected performances: Harris is a very physical actor, displaying some great moves and dying a dramatic death; Robinson and Hoopman are both forceful; Parent is a quintessential Alpha male, and Bassham makes Mommy Dearest look tame; Carroll's nurturing affection makes her one of the few compassionate characters; Zdrojeski seethes with righteous bitterness; Nacer creates a sympathetic persona with limited stage time; and Place provides a little comic relief channeling Mr. Magoo as the sensory-impaired servant. Unfortunately, uneven sound made it very difficult to discern most of Lyman's lines, although his body language appropriately conveyed the Friar's uncertainty and anguish.
With design elements that are decidedly contemporary (Wilson Chin, scenic; Ilona Somogyi, costume; Russell H. Champa, lighting; Obadiah Eaves, original music & sound), this R&J feels evocative of West Side Story, especially in the festive party scene. With the ensemble displaying Daniel Pelzig's choreography in the background, Romeo and Juliet sway in a clinch in a spotlight downstage, like Tony and Maria at the dance in the gym. Uber-realistic fight scenes (fight direction by Rick Sordelet and Christian Kelly-Sordelet) are breathtaking and bloody, and bring home the palpable hostility between these two feuding families. DuBois distinctly establishes the dichotomy between the power of love and the power of hate, ultimately leaving us with the hope that the former will be the conquering force.
Photo credit: T. Charles Erickson (Company of Romeo and Juliet)